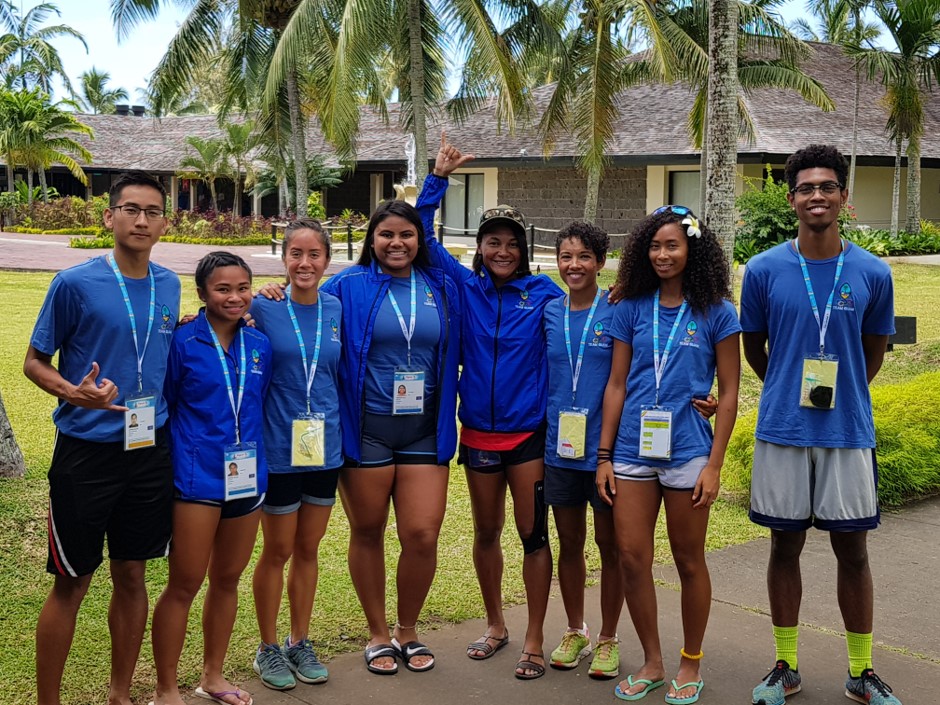 PRESS RELEASE – Athletics and Beach Volleyball opened the second week of competition for Guam athletes competing in the X Pacific Mini Games at the Korman Stadium in Port Avila, Vanuatu.  The athletics members include Shania Bulala, Genina Criss, Amanda Cruz and Athan Arizanga.
Bulala contested the Long Jump while Arizanga competed in the High Jump as both events were held simultaneously.  Both athletes recently competed in the Asian Indoor Games, Turkmenistan in October, where Bulala ran the 50m sprint and Arizanga the 400m.  
There were twelve competitors in the women's long jump competition.  Bulala scratched on her first two attempts and cleared the final attempt with a distance of 4.54 meters.  Mens high jump had nine athletes of which Arizanga cleared heights at 150cm, 160cm, 165cm, 170cm and 175cm before bowing out in eighth place, unable to clear 180cm. 
Genina Criss took to the track for the 800m distance event against a field of ten runners.  Criss, got off to a slow start, however, after the 400m turn, she began making her move reaching the middle of the pack before finishing in 6th place with a new personal record of 2:27.86 knocking off seven seconds from her previous best.
In the shot put event, Amanda Cruz qualified for the second-round finishing with a distance of 9.27 meters.  Cruz finished the field in 7th of nine competitors as she beat her previous best distance of 9.21m by .06 meters.
Bulala's 100 meter sprint closed out day 1 competition on the track.  She raced in heat 2 finishing in fourth place with a time of 13.1 seconds.  Bulala missed the field of eight finals finishing in 10th place out of 17 competitors.
Our athletes were quite happy with their performance as lack of facilities on Guam was a major culprit in the field events.  Our athletics delegates would like to extend their appreciation to Guam High for their continued support and assistance in providing them with the facilities to train in.
Action continues on Tuesday, December 12, 2017 at 3:55 p.m. at the Korman Stadium for Team Guam's Athan Arizanga who competes in the 400m race.
Beach Volleyball action kicked off for Team Guam at 6:45 p.m. at the Korman Stadium Court.  Tatiana Sablan and Kendra Byrd took to the court against Fiji who won the XXI Commonwealth Games qualifier held last week on the same court.
Guam's duo got off to a rough start unable to penetrate through a taller Fijian team suffering a first set loss 8-21.  Sablan and Byrd were able to get through the early games jitters and excitement, settling in for the next set.  They were able to keep the match tight keeping with a two point margin and even leading the set 11-10 on great team play to keep the Fijians at bay.  However, the strength and speed of the Fijians realed off consecutive points on kills and a couple of ace serves to eventually move past Guam 15-21.
Team Guam takes to the court at 6:20 p.m. at the Korman Stadium court against Papua New Guinea.

QUICK HITS
3rd place: Big ups to the Para Todu Rugby Club for finishing 3rd out of 16 teams in the Manila 10's Rugby Tournament today. Biba Guam Rugby!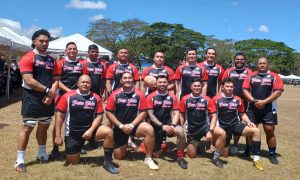 ——————————————
Guam MTB National Championship: Edward Oingerang and Jennifer Camacho are your 2023 MTB national champions. Oingerang finished the course in 1:13:24 while Camacho won her second straight title in 54:08.