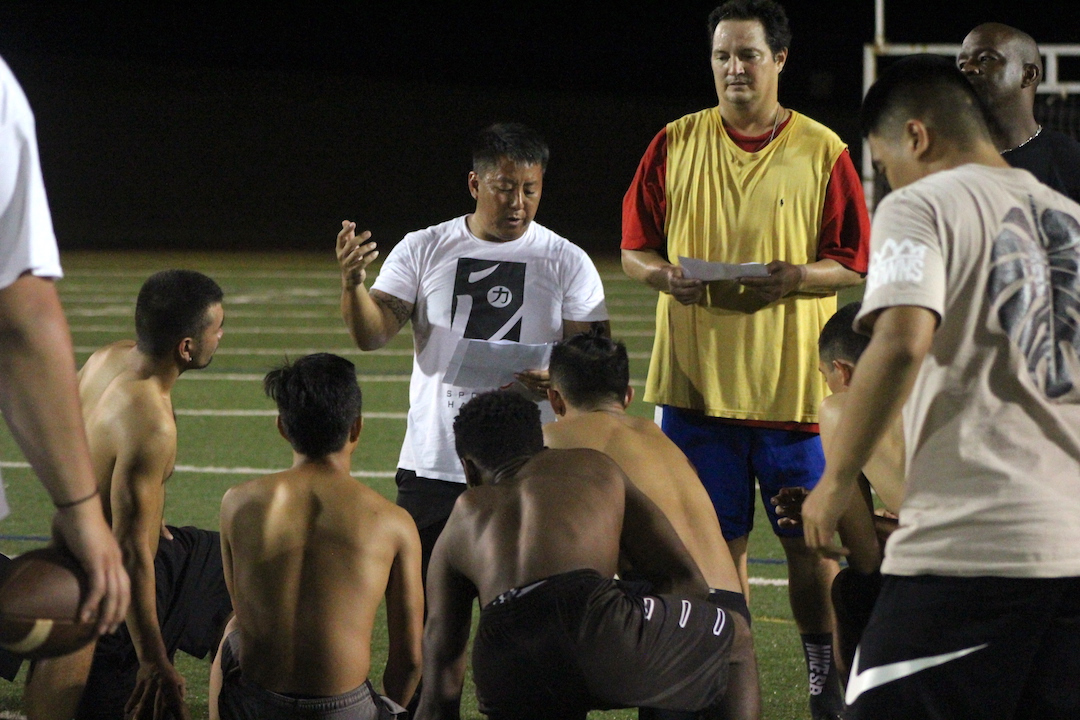 By Robert Balajadia
18 of Guam's high school seniors are going through the motions of an authentic college football combine camp, headed by Hawaii's professional Chad Ikei at the Guam High field.
Ikei's College Football Showcase & Combine Camp started Monday with linebackers and defensive backs, continued Tuesday with the offensive and defensive linemen and wrapped up senior work with the offense and skill positions Wednesday. The Combine is exclusive to seniors, but the underclassmen will get a chance to flex their skills on Thursday.
Typical combine testing drills such as a 40-yard dash, vertical jump, broad jump, shuttle & 3-cone drill were standard. Each player then got the experience of running skill-specific drills like throwing on the move as a quarterback or reaction and route drills from receivers.
Monday – LB & DB
Tuesday – DL & OL
Wednesday – QB, WR, RB, TE, P, K
Evan Bejerana – CB (JFK)
Kyler Valencia – CB (FD)
Fred Lumagda – LB (Tiyan)
Raven Santiago – LB (FD)
Christopher Parker – DL/OL (JFK)
Daraven Perez – NG (FD)
Jimmy Green – OT (FD)
Dillon Parke – QB (Southern)
Daniel Phillips – QB (FD)
Kai Akimoto – FB (FD)
De'Aundre Cruz – RB (FD) *out
Jonah Hahn – TE (JFK)
Xavier Naputi – WR (FD)
Tyler Pangelinan – WR (Tiyan)
Will Sanders – WR (Guam High)
Andrew Blas – WR (Tiyan)
Giancarlo Abril – K (FD)
Atdao Natividad – P (Southern)
After assessing three days worth of football skills, Ikei sees the want from the Guam kids which has left a positive impact on the professional sports performance coach.
"A lot of the kids weren't familiar with certain drills, but they listen well and picked up quickly and gave great effort, it's exciting to see. Out of 31 kids, having 18 show up is a huge testament to these kids who are starting to believe they can do it," said Ikei.
One athlete in particular, FD Friar Xavier 'X' Naputi, has impressed Chad with his natural athletic ability, sporting a 4.66 in the 40-yard dash in his first time doing the drill.
"[Naputi] has great speed for high school level, decent size at 5'10, has great hands. He could be a great slot receiver at the collegiate level and I think he's going to be on the radar for a lot of coaches," added Ikei.
For Naputi, the overall experience has unlocked new levels of football conditioning and understanding for him and is grateful for the kind of exposure Ikei's Combine Camp could bring him.
"It's amazing what everything coach Chad is teaching and showing us. It's a blessing that he's here helping us get college exposure and we're all glad to have him," added 'X' on the combine.
Another Friar caught Ikei by surprise in defensive lineman Daravan Perez.
"For a big guy, he moved really well and had good footwork. He eventually has to focus on his nutrition aspect because he's carrying a little more than he should right now. But, he has a lot of potential and if he takes care of himself here, he's got a real shot at some of the smaller schools," added Ikei.
Many of the Combine attendees were running drills for the first time, but their lack of football college training only made them hungrier. For Southern senior Atdao Natividad, the experience in getting to run combine drills has been a great enough ride.
"It's a blessing because I never thought I'd get this far in my football career. It's eye-opening showing that kids from Guam can actually make it off-island and do big things while they're out there," said Natividad.
The combine wraps up Thursday with the underclassmen and Ikei feels hitting the younger generation will be the best way to build momentum for future combines.
"I couldn't do it without a lot the help from all the coaches from JFK, Tiyan, Guam High and FD. And we couldn't have gotten anything done without our sponsors like Ambros and the Shimizu family, the Calvo family and the Crisostomo family at Cars Plus as well as GSPN helping out," stated Ikei.
PHOTO GALLERY BROUGHT TO YOU BY:

QUICK HITS
Guam MTB National Championship: Edward Oingerang and Jennifer Camacho are your 2023 MTB national champions. Oingerang finished the course in 1:13:24 while Camacho won her second straight title in 54:08.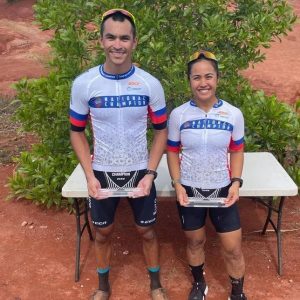 ——————————————
Kobe Miyashita, with St. John's coach Arvin Flores, was named the 2023 IIAAG Middle School Boys Volleyball MVP!