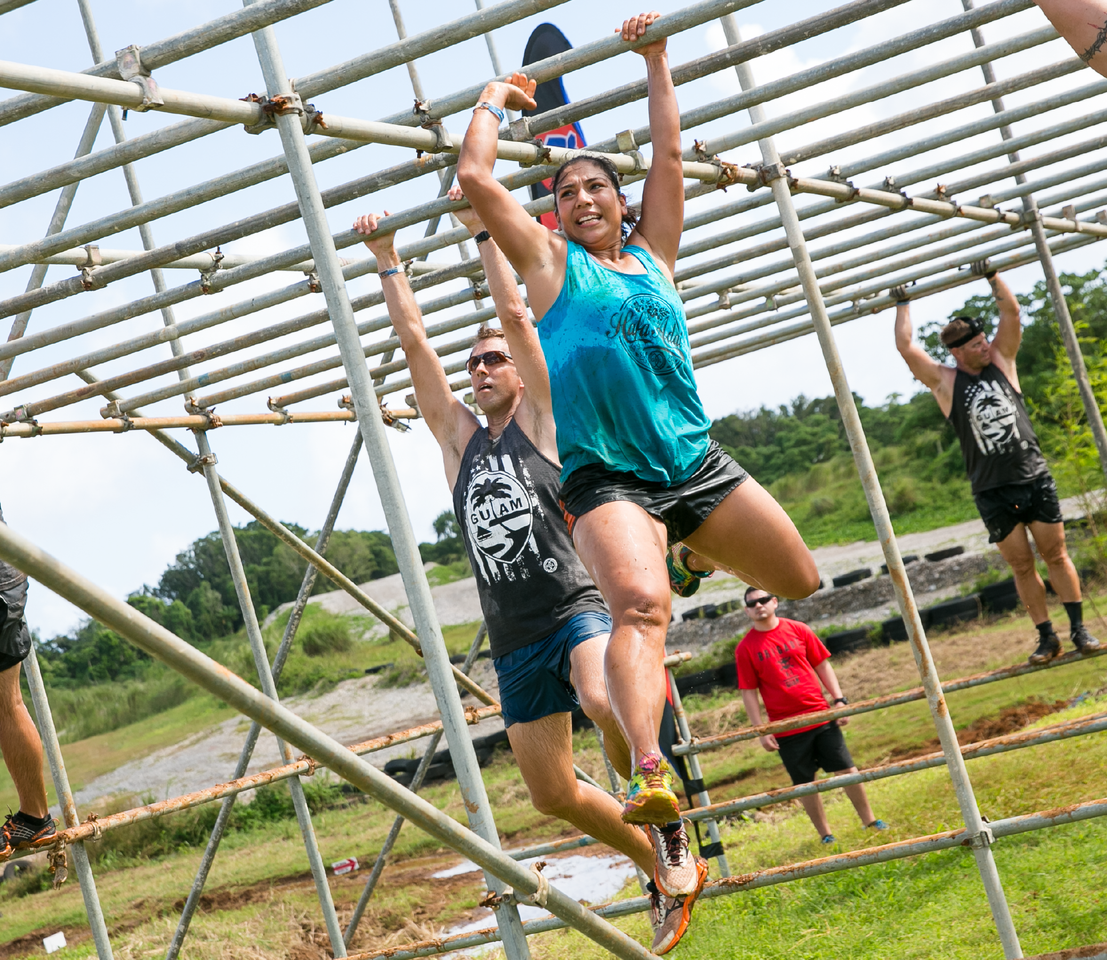 By Robert Balajadia
KONQER, Guam's original obstacle course challenge, is gearing up for another heart-pumping event in 2017 KONQER 'Storm the Bay' at the Gov. Joseph Flores Memorial Park in Ypao. This year, the Konqer team is extending their reach to Palau to be the islands original obstacle course challenge with a new partnership with Palau Visitors Authority.
Konqer in Palau is set for June 10-11 while the event on Guam is scheduled for October 15th.
"If Palau is on your bucket list, this is a great time to go since we have integrated some 'snorkelling' and rock-island tour into the even during out transport back and forth from Koror to Peleliu," said KONQER event producer Kaz Endo.
Endo stated that the Palau and Guam courses will feature plenty of scenic spots during the race that gives the competitor a unique way of seeing the island.
"What batter backdrop than Tumon Bay?" said Endo to give the Guam competitors a taste of what to expect.
Newbies welcome!
The KONQER obstacles will be as challenging as you're willing to make it. Endo also assured that KONQER caters to various levels of physicality and fitness levels if you happen to be on the fence of whether or not KONQER is for you.
"The secret is in the degree of difficulty they choose when they hit a obstacle or challenge. For this reason men, women and children of all shapes and sizes will find our race more recreational and approachable than most OCR events out there. In addition to the thoughtful course design, we've made children 14 and under FREE," said Endo.
Students 15-17 pay $40 and Adults can pay as low as $75 during the early bird special. The event will feature food vendors, a beer garden and a lot of extra activities, making for a family-friendly event.
"We also have very special kiddie KONQER playground setup for toddlers," added Endo.
For the fans and KONQER Brigade
KONQER has seen exponential growth since 2015 and are expecting around 1500 competitors and general foot traffic at the 2017 event.
"This will be the most spectator friendly event we've held and we see it being well attended by our brigade as well as the casual and curious spectators," said Endo.
15-signature 'SPRINT' obstacles will make up the event, which will become a staple for KONQER events from 2017 on.
"For those trying to set benchmarks (times) this is the section you can do so. The remaining 20 additional obstacle or challenges are location specific so that will keep the event always fresh and new for our veterans and for the rookies. It'll be a reason to be jealous for not doing earlier KONQER events," said Kaz.
When asked for the specifics of the some of the events in KONQER 'Storm the Bay', Endo kept it mostly spoiler free.
"We've stripped most of the typical 'mud' runs and integrated more natural materials to the island such as beach waters, sand and jungle. We have plenty of surprises so everyone will just have to show up on event day to find out!" added Kaz.
For more info on the event as well as registration, visit www.voltsportstour.com or contact PIVOT Marketing Director Kelli Wed 671-646-4448.
PHOTO GALLERY BROUGHT TO YOU BY:

COMING SOON …
High School Football starts Sept. 29
Brawl 3: Oct 13
Guam's Strongest Man and Woman Competition October 29
QUICK HITS
The Figo Islanders 40s women's softball team took gold in the Senior Softball World Championship in Las Vegas. Figo came out of the loser's bracket and beat the Arizona Belles 17-3 in the AA division championship game Sunday afternoon.
Other Guam teams that played in the 40s tournament were: Team SOTTA (women's) and Bud Light Guam, Friars 671 and Sindalun Guahan (men's).
Sindalu finished a respectable 4th out of 24 AAA division teams.