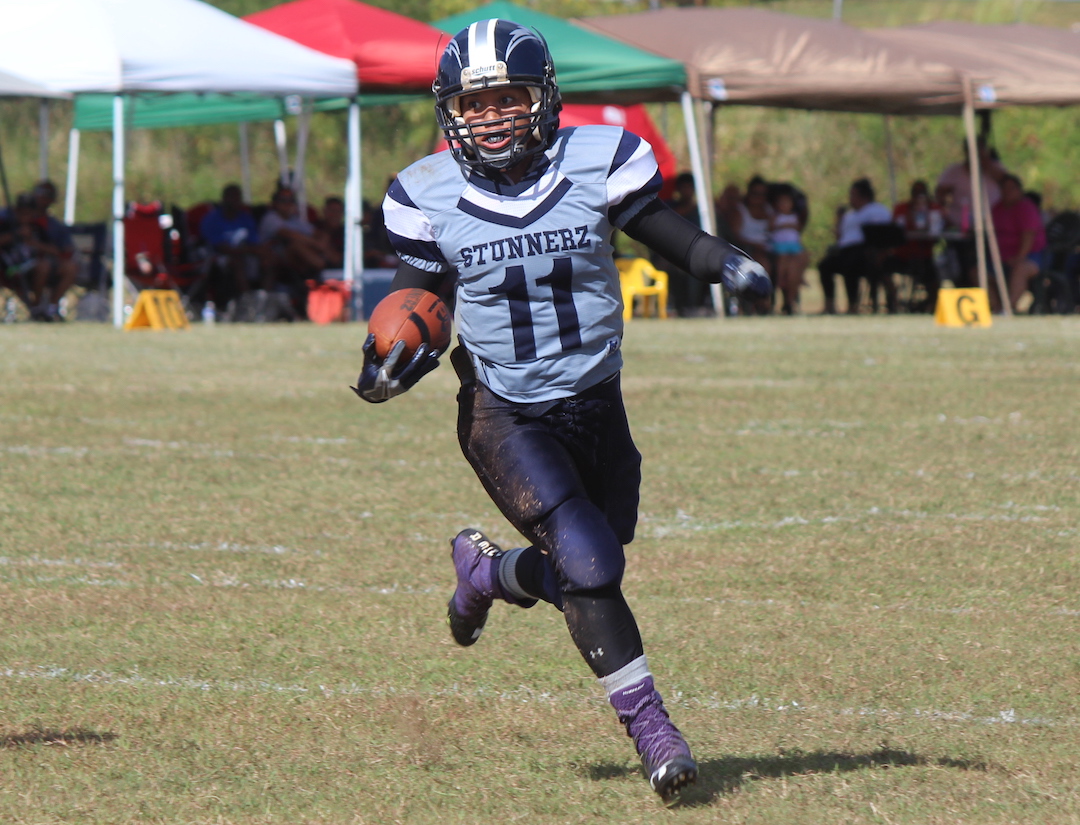 By Robert Balajadia
Team Legacy and the Island Stunnerz will face off for the GWTFL title after both teams earned semifinals wins Saturday afternoon at the UOG Field. The hot summer sun featured two one-sided games with Legacy beating the Saints 32-0 while the Stunnerz dropped the Falcon Raiders 22-6.
Stunnerz 22, Falcon Raiders 6
Running back Deniece Hoya had a strong start to the game scoring two touchdowns in the first half, putting the Falcon Raiders in a deep hole early while also losing two of their dynamic offensive threats Anya Brown and Januarie Strong to 1st quarter injuries.
Hoya scored in the 1st quarter on a run to the outside and a successful two-point conversion gave the Stunnerz a quick 8-0 lead. She then spurned the Falcons, securing an 11-yard pass from quarterback Lani Jackson early in the second quarter for a 14-0 lead.
Despite scoring the early points, Hoya gave all the credit to her offensive line.
"The only way the backs are going to score is if the o-line works together. We're nothing without their blocks and all the hard work they do. Them and my defense, they hold it down for us," said Hoya.
The Falcon Raiders couldn't stop the Stunnerz run game in the second half which led to a 3rd quarter 33-yard score from Danielle Vaughn, followed by another successful 2-point conversion for a 22-0 lead.
Up next for the Stunnerz is a rematch with the five-time champion Team Legacy. The Stunnerz had the jump on Legacy in their regular season meeting, but Legacy shook off the early deficit to win in convincing fashion.
The title game will be another shot for the Stunnerz to try and figure out the puzzle that is the Legacy dynasty.
"We're just going to keep doing what we do. If it works, we don't need to fix anything but just keep with it," added Hoya.

2022 GSPN I MÅS METGOT COMPETITION
2022 GSPN I Mås Metgot Competition Recap
2022 GSPN I MÅS METGOT COMPETITION
2022 GSPN I Mås Metgot Competition Recap
2022 GSPN I MÅS METGOT COMPETITION
2022 GSPN I Mås Metgot Competition Recap