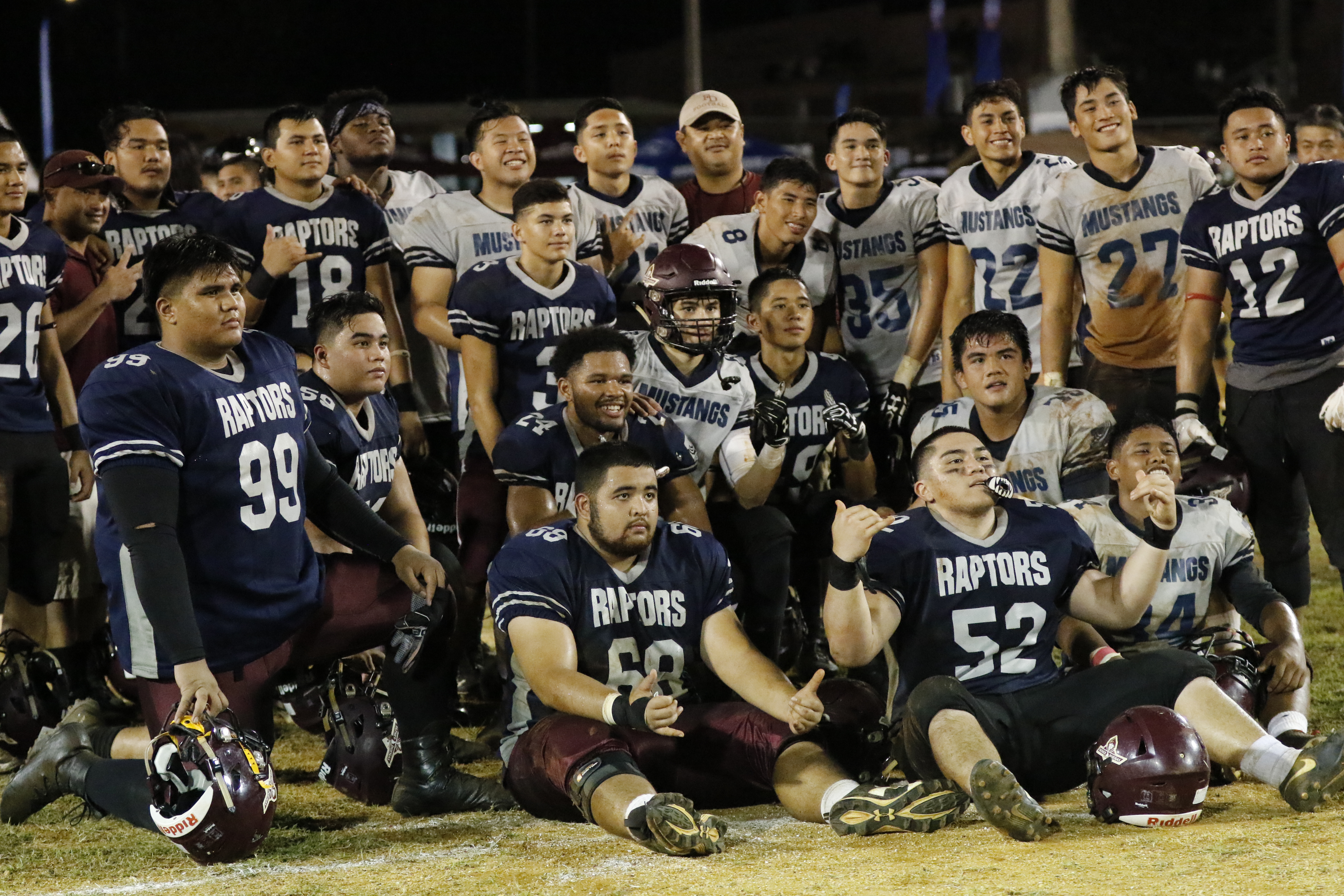 By Jay Leon Guerrero
The stars came out to shine in the Triple J High School All star football game presented by GSPN at the Hal's Angels Field in Dededo between the Mustangs and Raptors. With all the talent on the field, it was FD's Daniel Phillips from the Mustangs that had the evenings most outstanding performance.
Phillips accounted for all four touchdowns for the Mustangs to help his team defeat the Raptors 27-19. If Phillips was on your fantasy football team, congrats on the victory! Phillips threw for two touchdowns and rushed for the other two touchdowns to earn the player of the game honors.
Phillips played against his regular season teammates (FD) in the All-Star Game with big names and hard hitters on the Raptors squad.
"They really wanted to take it to me but… it was fun going up against my FD brothers and there was some friendly trash talking. It was a good game and I was honored to share the field with good talent," said Phillips.
IIAAG Offensive MVP Xavier Naputi (FD) from the Mustangs returned the opening kickoff 63 yards to set up an early touchdown from nine yards out with Phillips throwing to Aaron Jamanila (GW) for the early 7-0 advantage. Giancarlo Abril (FD) converted the successful extra point attempt for the Mustangs.
"I was able to practice with Aaron (Jamanila) and I knew right away what a good talent he was. We had so many offensive weapons and Aaron was one of them. He made a great move at the line of scrimmage in the touchdown play to get open and it was my job to find him," said Phillips.
Jamanila had three catches for 67 yards.
Raptors answer
The Raptors got on the board later in the first quarter with sophomore sensation Kein Artero (FD) got loose in the open field to score a 61-yard touchdown to trail 7-6 after a failed two-point conversion.
The Mustangs looked to keep their offense rolling and were moving the chains but their drive was halted by an interception by Fred Lumogda (Tiyan) from the Raptors. Lumogda accomplished something no defense was able to do this year, pick off a pass from Phillips.
Lumogda and the Raptors defense gave the offense good field position and they turned to star running back DeAundre Cruz (FD) who ran in a 22-yard touchdown. The Raptors led 12-7 after another failed two-point conversion run.
Phillips answered before halftime to put his team up 21-12 by halftime. Phillips ran the ball in a broken play for a 42-yard touchdown. Tiyan Titans defensive back Mark Laanen from the Mustangs made a huge play by picking off his teammate in the regular season, Titan quarterback Kobe Quiambao from the Raptors, to set up another touchdown run by Phillips.
The Mustangs led 21-12 at halftime.
Both teams had fun in the third quarter with defensive players playing offense. Unfortunately, there's a reason why they play defense and neither team was able to score in the third quarter.
In the final quarter, the Mustangs scored again with Naputi scoring on a 25-yard reception from Phillips to make the score 27-12 after a failed two point conversion.
The Raptors started moving the chains with runs from Kamerin Toves (Sanchez) and Justin Camacho (JFK) picking up valuable yardage. Quiambao later connected with his favorite target Tyler Pangelinan (Tiyan) to put the Raptors in Mustang territory. Quiambao threw a touchdown pass two plays later to Artero to cut the deficit to 27-19 after Pangelinan kicked the extra point.
Game called
The game came to an abrupt end after an injury was suffered by a player from the Mustangs. With medics on the scene, head referee John Benavente called the game with about six minutes left in regulation.
Phillips threw nine completions for 137 yards. He also rushed twice, both touchdowns, for 63 total yards. Naputi had four receptions for 51 yards and a touchdown for the Mustangs.
Cruz led all running backs on the ground with 75 yards on 11 carries and a touchdown. Quiambao threw a touchdown and accounted for 144 yards on nine completions. Artero had two touchdowns and had 102 total yards (67 rushing and 35 receiving). Pangelinan had three receptions for 53 yards, Jonah Hahn (JFK) had 20 receiving yards for the Raptors.
The GNYFF Matua division had their first all star game with the Mustangs winning the game 13-0. Dylan Manibusan rushed for a 23 yard touchdown and quarterback Darren Cepeda scored from a yard out for the victory. "It was a great experience! Both teams had alot of fun today," said Cepeda.
PHOTO GALLERY BROUGHT TO YOU BY:

Foody's Fun Facts
Foody's Fun Facts with Arren Yatar
UOG Tritons Pitcher Arren Yatar shares some of his fun facts and tells us about his favorite YouTube channel!
Foody's Fun Facts
Foody's Fun Facts with Arren Yatar
UOG Tritons Pitcher Arren Yatar shares some of his fun facts and tells us about his favorite YouTube channel!
Foody's Fun Facts
Foody's Fun Facts with Arren Yatar
UOG Tritons Pitcher Arren Yatar shares some of his fun facts and tells us about his favorite YouTube channel!
COMING SOON …
Asia Pacific Little League
National Triathlon Championships
GML Makeup Games
FD Alumni Basketball Tournament (ongoing)
QUICK HITS
UOG hired Tatiana Sablan as the new volleyball coach. Sablan served as the original volleyball coach for UOG back in 2016 and she has been rehired to lead the more "beach" oriented program in 2022-23.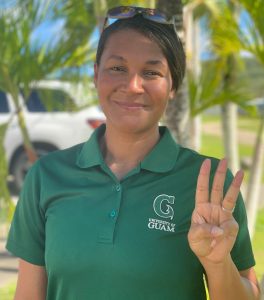 ———————————————–
Palau history: Outfielder Bligh Madris was called up by the Pittsburgh Pirates today to become the first Palauan to make it to the major leagues. The lefty Madris was batting .304 with five home runs and 20 RBI at Triple A before getting the Call Up!