By Robert Balajadia
The Triple J High School Football All-Star Game, presented by GSPN, is set to take over the Hal's Angels Field this Saturday, November 11th. Check in with the Mustangs and their pass-happy team before the big game!
The league's most frequent end zone visitors are huddled up on the Mustangs roster. Grabbing the MVP in FD Friar Xavier Naputi, league-best quarterback Daniel Phillips and the catch-happy Aaron Jamanila with the first three picks was exactly the direction Mustangs coach Danny Cepeda wanted to take his team.
"The last two All-Star games came down to the passing game so I had a plan heading into the draft. I'm happy I was able to draft all the guys I wanted. There's a bunch of guys on the roster who can make plays. It's amazing that we get to be in this position to work with these players," said Cepeda.
For Phillips, having an offense built specifically around his skill set is a new feeling given his years under the run-heavy FD Friar system. At his disposal are a plethora of pass catchers, which also include Panther Resean Jacobs and Tiyan's Andrew Blas, and Phillips can't wait to spread the ball around come Saturday.
"It's an odd feeling, but a cool feeling. I'm looking forward to being able to get the ball to these great receivers. Practice has been great and I feel like I'm establishing a great connection with all these guys. First and foremost, I want to make sure everyone has fun out there. We want to win, it's in our competitive nature, but we want to have fun at the same time," said Phillips.
The core of the Friar offensive line will be blocking Phillips with key plug ins from the JFK Islanders in Chris Parker and Gecko All-Star veteran Jose San Miguel.
The defense for the Mustangs is also built in a specific way with a host of speedy linebackers and secondary units that have no issues getting all around the field.
Linebacker Makoa Bamba is a freakish athlete and fellow Guam High linebacker Jaylen Dowdell is one of the best ball trackers in the league. Defensive ends Kobe Onedera of the Friars and Gecko Davin Benavente are speedy edge rushers who are capable run stoppers. Shutdown corner Mark Laanan from Tiyan, linebacker Jon Espino from the Geckos and Joshua Sablan from the Sharks provide end-to-end coverage.
First year All-Star Raven Santiago from the Friars had a breakout season and is now enjoying the fruits of his labor in being able to play in the 2017 All-Star Game to end his senior year. For first timers like Santiago, the moment to suit up with the leagues best is a rewarding experience.
"It's extremely special to me to be here," said Santiago. "I've been playing for the past three years and it's hard to get into a game like this. In the end, it all just comes down to hard work. I know that the team will come together Saturday."
A prelude to the 2017 All-Star Game will be the showdown of the Matua Stars of the Triple J GNYFF. Fans will get the chance to witness future All-Stars and the youth will get a chance to see what awaits them in the high school scene.
Cepeda, who has a son playing in the Matua All-Star Game, believes the annual All-Star Game is great for the future of the sport on island.
"The numbers that came out to the Matua All-Star practice was great. That game is going to be a good show too, and then those kids get to see the high school kids play so it's going to be a great night," added Cepeda.
MUSTANGS ROSTER
COMPLETE ROSTER
#8 Xavier Naputi (WR/FD/12th) *not pictured
#6 Daniel Phillips (QB/FD/12th)
#12 Aaron Jamanila (WR/GW/11th) *not pictured
#22 Giancarlo Abril (K/FD/12th) *not pictured
#21 Mark Laanan (CB/Tiyan/12th) *not pictured
#27 Kai Akimoto (FB/FD/12th)
#92 Kobe Onedera (DL/FD/11th)
#31 Kin Rivera (C/FD/11th)
#63 Jimmy Green (OT/FD/12th)
#34 Raven Santiago (LB/FD/12th)
#56 Jaylen Dowdell (LB/Guam High/12th) *not pictured
#77 Jose San Miguel (OG/GW/11th)
#18 Makoa Bamba (LB/Guam High/11th)
#29 Jon Espino (LB/GW/11th)
#75 Nick Akimoto (OG/FD/11th)
#47 Christopher Parker (OL/DL/JFK/12th)
#11 Andrew Blas (WR/Tiyan/11th)
#21 Christian Cabrera (NG/U/GW/11th) *not pictured
#9 Resean Jacobs (U/Guam High/11th)
#21 Nathaniel Pinaula (S/FD/11th) *not pictured
#24 Davin Benavente (DE/GW/10th)
#9 Javier Lujan (RB/Tiyan/12th) *not pictured
#3 Jerome Quichocho (LB/GW/11th)
#1 Keanu Salas (CB/GW/10th)
#10 Rickey Macias (QB/GW/9th) *not pictured
#35 Joshua Sablan (U/Sanchez/10th)
#66 Zavier Cruz (OG/Tiyan/11th) *not pictured
#35 Tatum Aflague (WR/FD/12th)

QUICK HITS
3rd place: Big ups to the Para Todu Rugby Club for finishing 3rd out of 16 teams in the Manila 10's Rugby Tournament today. Biba Guam Rugby!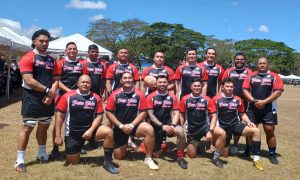 ——————————————
Guam MTB National Championship: Edward Oingerang and Jennifer Camacho are your 2023 MTB national champions. Oingerang finished the course in 1:13:24 while Camacho won her second straight title in 54:08.