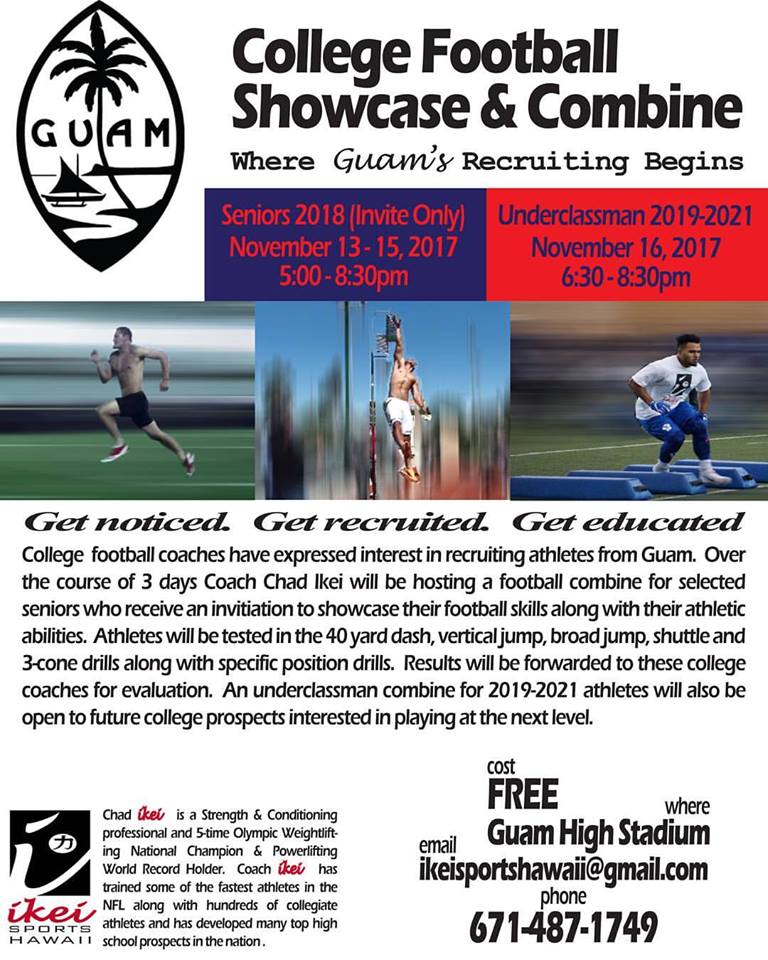 By Robert Balajadia
When one door closes, a better and more convenient one is bound to open.
That would be the case for Guam and its football ties to Hawaii. Over the past three years, an invitation from Hawaii was extended to a select few of Guam's high school football stars were given the opportunity to compete in High School Football All-Star Games in Hawaii, most recently former FD Friar Leon Shimizu and Guam High Panther Solomon White.
That is no longer the case as one of the All-Star Games has decided to no longer include players from Guam.
Enter Chad Ikei, the sports performance coach in Hawaii who's made annual trips to Guam (married to a Chamorrita) and who has been a strong voice for the island's talents. Starting next week, November 13, Ikei will be bringing the first ever Senior College Showcase & Combine Camp to Guam.
"Over the past three years there had been Guam players attend and showcase their skills against some of the top players in Hawaii in front of college coaches and every player that attended the game went on to play in college. So, I thought it would be a great idea to do a college showcase & combine camp here in Guam in order to give these young men a chance to be evaluated by college coaches via on-line video," said Ikei.
So far, 27 college programs will be tuning in to the Combine Camp.
"All I'm hoping for is that these young athletes give it a try and should they have the opportunity to continue playing football in college while achieving a higher education then we'll be able to say the camp was a success. Either way if we can get most of the senior invites to participate whether or not a college coach shows interest in them, they will walk away with no regrets and that too will be a success," added Ikei.
Thirty one seniors have been given the invitation to attend the Combine Camp but less than a fraction of those 31 have given confirmation. Those who have not confirmed will be given until November 11th before their invitation gets rescinded and no walk-ups will be allowed to participate.
"Should they fail to meet the deadline their names will be removed and they will not be able to participate so I'm hoping all those that are interested will respond back to confirm their spot at the camp," affirmed Ikei.
Although the combine is exclusive to seniors who will be headed to college, Ikei assured there will be an open underclassmen combine scheduled for Nov 16 for 9th-11th graders and they are welcome to walk-up and register for the underclassmen combine on the day of the event which is open to all schools and football athletes in the graduating classes of 2019-2021.
"I believe there is so much potential in Guam and I'm hoping that we can make this camp an annual event that will eventually attract much more college coaches to come and recruit our athletes from Guam and as our slogan for this camp goes 'Where Guam's recruiting begins'," said Ikei.
Kinds of drills
A specialist in coaching performance drills that are high on scouts radar, Ikei is giving Guam's seniors a full rundown.
Each athlete will be put through a series of evaluations which will include their height, weight, hip & shoulder mobility testing along with the typical combine testing drills (40 yard dash, vertical jump, broad jump, shuttle & 3-cone drill). Following the combine testing there will be position specific drills where each player will be grouped by position and designated drills will be performed.
Golden opprtunity
Maybe it's youthful ignorance coupled with self doubt, but the stigma for most high school athletes on Guam is that competing at a collegiate level isn't possible. Given Guam's recent success in sending athletes annually to attend college via athletic scholarships, the invisible walls holding the every-athlete back are becoming more invisible.
Ikei shared the story of Shimizu to help reinforce how truly talented Guam athletes are and just how beneficial an opportunity like the Senior College Showcase & Combine Camp is for the island's athletes.
"There are so many talented athletes here on the island and this is the reason we are putting this camp together. A great example is 2017 FD graduate Leon Shimizu, whom I'd have the honor of working with last summer. When he first came to train with me in Hawaii his goals were to get bigger, faster & stronger for his senior year of football but when I asked him what college did he want to play football at his answer was 'I don't think I'm going to play in college'.  When I asked him 'why not?', he really didn't know but rather just thought that high school was it for him and didn't think about playing in college, although he said he'd love to continue playing. After spending the summer training and attending one of our GPA Football College Showcase Camp he realized that he could compete with some of the best kids in Hawaii and now his mindset had changed and he started to believe in himself and his abilities which led him to continue working hard in school and bettering himself for football. Now he's playing college football at Allegheny College in Pennsylvania."
Ikei will also be in attendance for the Triple J High School All-Star Game this weekend and you can be too! (info below)

QUICK HITS
Guam MTB National Championship: Edward Oingerang and Jennifer Camacho are your 2023 MTB national champions. Oingerang finished the course in 1:13:24 while Camacho won her second straight title in 54:08.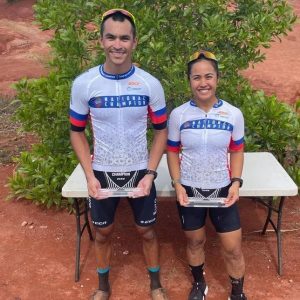 ——————————————
Kobe Miyashita, with St. John's coach Arvin Flores, was named the 2023 IIAAG Middle School Boys Volleyball MVP!