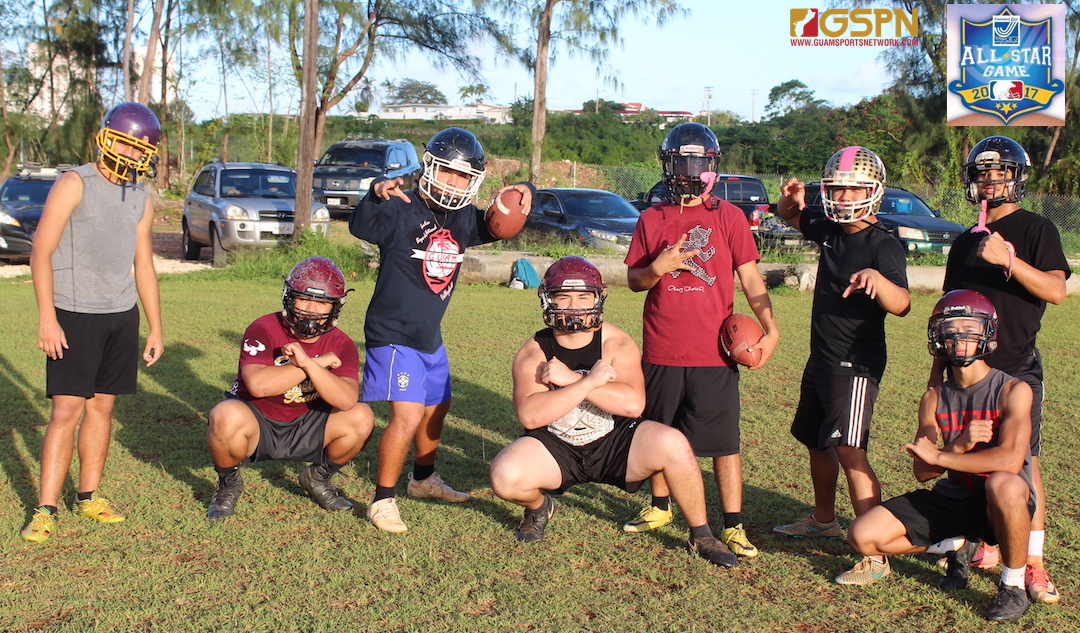 By Jay Leon Guerrero
The Triple J High School All Star Football Game, presented by GSPN, will kick off Saturday Night at the Hal's Angels Field. The Raptors and the Mustangs will take the field at 6:30 pm. GSPN visited the Raptors' team practice and the players were eager to take the field on Saturday.
"Our goal is to go out there and have fun," said GW's Calvin Aguon.
Aguon said he reunited with some old friends and made some new friends on the Raptor All Star team. With the snake style draft team selection, teammates will have the opportunity to go against each other. Aguon's GW teammate Aaron Jamanila is on the Mustangs squad, Aguon didn't reveal any smack talk within the two.
"I guess everyone's just going to have to come to the game and find out," said Aguon.
JFK head coach Allen Blend and his coaching staff will make their All-Star game debut on Saturday. They did not reveal a game plan or a strategy for the big game against the Mustangs led by head coach Danny Cepeda.
"The boys have worked hard all season and now it's their time to let their hair down and have some fun. Of course, we are going to try and win the game but our main goal is for them to have fun," said Blend.
Blend said most of his players were in the Guam Youth Football program and he's seen some of these players since they were six years old.
"They are entering the next level of football and hopefully some of them can come back and mentor or coach youth level football in the future. So we were open to see what plays they want to run as well," said Blend.
The IIAAG Defensive MVP Chase Spotanski was excited and honored to take the field with the best players in the high school level. 
"Right now it's all for fun; I'm enjoying the competition and the good vibes," said Spotanski. "We are going to have some fun with the offense and defense, you might see me at quarterback," said Spotanski who said he's good for five to ten yard completions.
On offense, Tiyan quarterback Kobe Quiambao will start the game and will look to pass to receivers Aguon and Tiyan teammate Tyler Pangelinan. FD's Kein Artero and tight end Jonah Hahn from JFK will run routes. Protecting Quiambao will be tackles Joshua Relativo and Hanson Ignacio from Sanchez, Ethaniel Cali from GW and Kyle Mcintosh from FD. Jake Uncangco from Sanchez and Jobe Guzman from FD will be the guards. Pangelinan will also be available for field goals.
FD's DeAundre Cruz, JFK's Justin Camacho, Aguon and Kamerin Toves from Sanchez will share time at running back for the Raptors. The fullback for the Raptors will be Kameo Toves from Sanchez.  FD's Cruz was excited to join the talented backfield.  
"I'm a senior so this is my last high school game, I'm looking to go out there and just have fun with my teammates," said Cruz.
Cruz will be on the opposite sideline as teammates and fellow FD seniors Daniel Phillips and Xavier Naputi. Cruz admits there is some small trash talking among his teammates in school but it's all for fun.
"Yeah our guys on defense weren't able to hit Daniel in practice so now they finally got their chance," joked Cruz.
FD's Rylan Napoleon, Jaylen Delgado, Isaiah Reyes and linebacker Austin Peredo will all have their one shot of sacking Phillips this Saturday. Joining the FD defensive linemen will be GW's William Rios. The linebackers leading the Raptor defense will be Spotanski and Tiyan's Fred Lumogda. The Raptor secondary will feature JFK's Evan Bejerana and a trio of FD backs Kyler Valencia, Noah Diaz and Brandon Kinsella. Southern High's Atdao Natividad will punt for the Raptors. The nose guard for the Raptors will be FD's Daraven Perez.
Prior to the high school All-Star game, the Matua division all-stars will take the field for their first ever All-Star game. The Matua All-Stars will kick off at 4 pm. The gates will open and 3 pm and refreshments and food from Outback Steakhouse will be sold.  
RAPTORS ROSTER
COMPLETE ROSTER
Chase Spotanski (LB/JFK/11th)
De'Aundre Cruz (RB/FD/12th)
Kobe Quiambao (QB/Tiyan/12th)
Tyler Pangelinan (WR/Tiyan/12th)
Kamerin Toves (RB/Sanchez/10th)
Fred Lumogda (LB/Tiyan/12th)
Rylan Napoleon (DT/FD/11th)
Isaiah Reyes (DE/FD/12th) *not pictured
Justin Camacho (RB/JFK/11th) *not pictured
Joshua Relativo (C/Sanchez/10th)
Brandon Kinsella (S/FD/12th)
Noah Diaz (CB/FD/11th) *not pictured
Jobe Guzman (OG/FD/12th)
Calvin Aguon (RB/GW/12th)
Kyle Mcintosh (OT/FD/12th)
Kyler Valencia (CB/FD/12th) *not pictured
Jake Uncangco (OG/Sanchez/12th)
Hanson Ignacio (OT/Sanchez/11th)
William Rios (DE/GW/10th)
Jaylen Delgado (DT/FD/12th)
Daraven Perez (NG/FD/12th)
Jonah Hahn (TE/JFK/12th)
Evan Bejerana (CB/JFK/12th) *not pictured
Austin Peredo (LB/FD/12th)
Kein Artero (RB/FD/10th)
Ethaniel Cali (OT/GW/11th) *not pictured
Atdao Natividad (P/Southern/12th)
Kameo Toves (FB/Sanchez/10th)

QUICK HITS
Guam MTB National Championship: Edward Oingerang and Jennifer Camacho are your 2023 MTB national champions. Oingerang finished the course in 1:13:24 while Camacho won her second straight title in 54:08.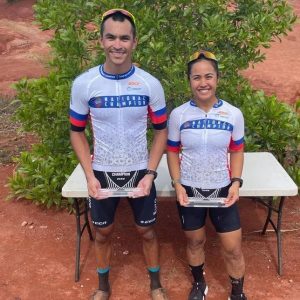 ——————————————
Kobe Miyashita, with St. John's coach Arvin Flores, was named the 2023 IIAAG Middle School Boys Volleyball MVP!