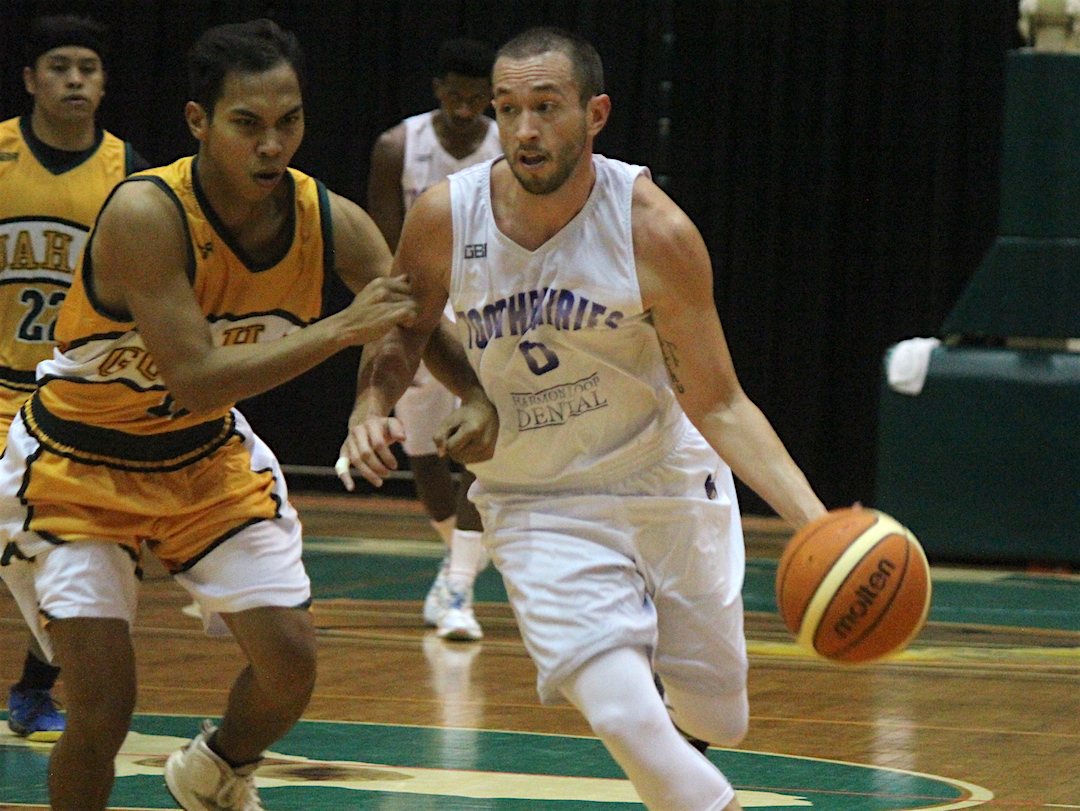 By Robert Balajadia
The two-time defending champion Toothfairies were in much need of win Sunday afternoon after suffering a rough four-game skid in the GBA's 3rd season. The short-handed squad of only eight players rode an offensive wave for a 109-66 win over the UOG Tritons.
James Stake led the way for the Toothfairies with 25 points and 10 boards as the team only started with a six-man rotation. Defense fuelled the Toothfairies in the first quarter after they managed to jump out to a 21-3 lead with the only points for the Tritons coming off free throws.
"Our defense really created our offense today. If we play hard on defense it just makes our offense easier. In the half-court setting, we try to work for the best shot and not force anything," said Stake on the flow of the game.
UOG ended the opening period on a 7-0 run to get within 21-9, but the Toothfairies continued to punish the Tritons interior defense with easy buckets from big-man Cannell Russ, who finished with 18 points off 9-of-12 shooting. The Toothfairies stayed in control at halftime up 49-33.
"We play with a lot of heart despite being a small unit. We understand, after four losses in a row, we can't continue to have slow starts. It's now or never, so whoever is on the court we expect them to give it their all. We needed to come out and play strong today and we did," said Stake on the state of the team.
Earvin Jose scored 19 points and the player-coach Jin Han added 17 points and 10 rebounds to round out the Toothfairies leading point getters. Triton Ryan Nanguata had a team-high 15 points and AJ Carlos and Dez Fikes scored 10 each.
The Toothfairies sit at (3-4) on the season and the Tritons fall to (1-6).
Other Scores
Bombers 95, Outlanders 81
PHOTO GALLERY BROUGHT TO YOU BY:

QUICK HITS
The Figo Islanders 40s women's softball team took gold in the Senior Softball World Championship in Las Vegas. Figo came out of the loser's bracket and beat the Arizona Belles 17-3 in the AA division championship game Sunday afternoon.
Other Guam teams that played in the 40s tournament were: Team SOTTA (women's) and Bud Light Guam, Friars 671 and Sindalun Guahan (men's).
Sindalu finished a respectable 4th out of 24 AAA division teams.