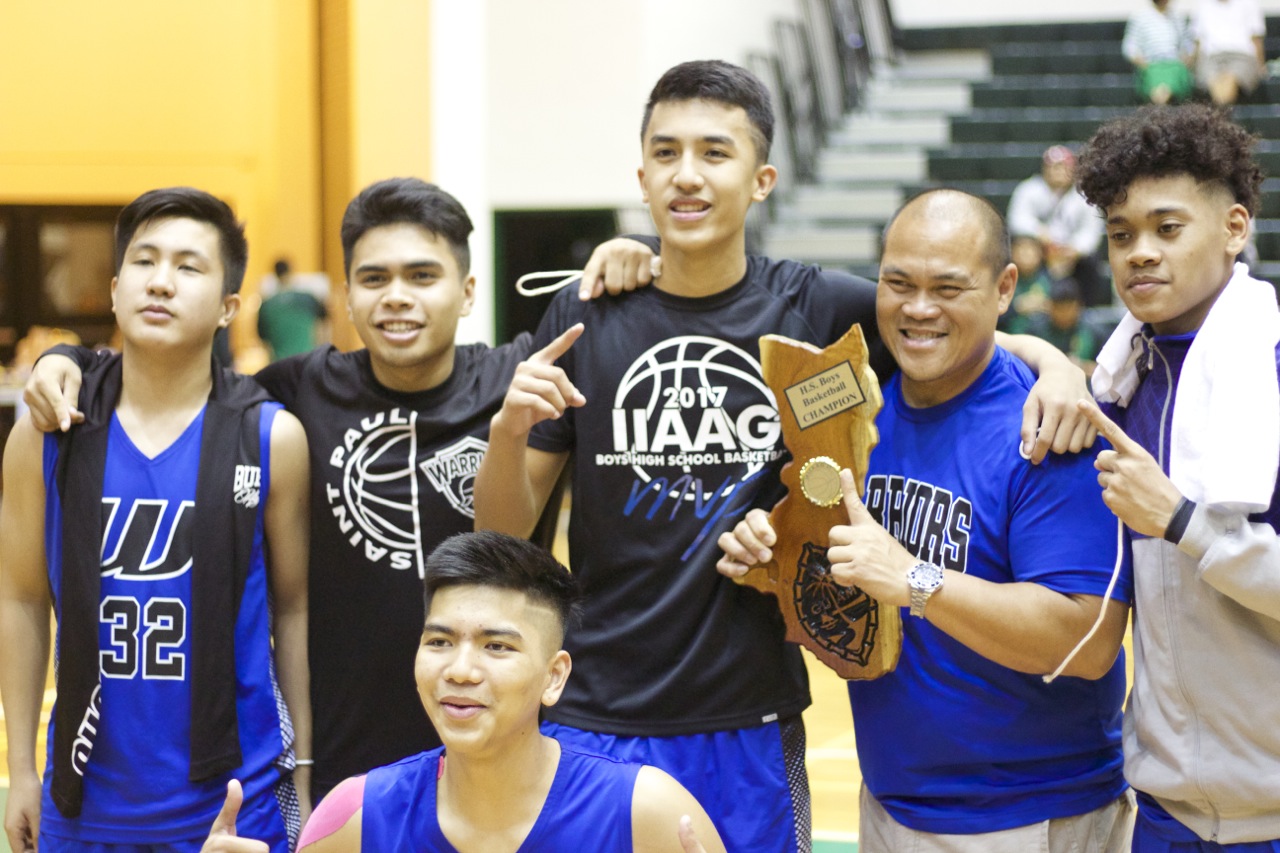 By Jay Leon Guerrero
An instant classic.
Fans flocked into the UOG Calvo Field House and got their worth of every dime they spent to witness an action-packed IIAAG Boys Basketball championship game between the undefeated St Paul Warriors (13-0) and the second seed FD Friars (11-2).
The Warriors led the entire game but trailed momentarily in the beginning of the fourth quarter before executing pressure defense to take back the lead, holding on for a 63-56 victory.
"It's was a great show, my hats off to FD. They made adjustments, we made adjustments and fortunately for us our shots fell more than theirs in the end," said St. Paul head coach Neo Pineda. The Warriors last won an IIAAG title in 2011.
The Warriors led by as much as 10 points but surrendered their lead to open up the final period after Friar guard Tomas Calvo hit a three-pointer to go up 47-46, FD's first lead of the game. A turnover by the Warriors led to a lay-up by FD's De'Aundre Cruz that got the Friar crowd going crazy as they led 49-46.
FD inserted their top scorer and defender Kyle Gaitan who entered back into the game with four fouls. Gaitan, along with forward Leon Shimizu, were in foul trouble for the entire game. Seconds after making his way back onto the court, Gaitan got called for an offensive foul with 5:45 left in regulation forcing him to foul out and watch the rest of the game from the bench.
The Warrior confidence grew as they continued to gamble with their triple team trap and ended up taking the lead with IIAAG MVP Jason Diaz putting them ahead at the free throw line, leading 55-53.
"Our focus was to lock down on defense and try and limit them to one shot," said White of their strategy.
The Warriors executed on defense and got a huge stop. White drove down court after a Warrior defensive rebound and found Jericho Perez open under the basket to go up 57-53.
The Warrior guards immediately hounded the FD backcourt and forced a crucial turnover. The Warriors took their time on offense, weaving the basketball back and forth to try and find an open shot. The ball somehow got to forward Josh Gatchalian as he got fouled by FD's Leon Shimizu, who then made his exit in the game after fouling out. Gatchalian made both free throws, putting the Warriors up comfortably 59-53.
Calvo drained a three-pointer with less than a minute remaining in a comeback effort for FD as they trailed 60-56. The Friars then got a huge stop on defense that led to a runout with Calvo racing down court with 46 ticks in the game. Calvo soared to the basket and was met by a Warriors defender under the basket where the whistle blew in favor of the Warriors, hitting Calvo with an offensive foul. The Friar bench erupted in disbelief which proved a pivotal moment in the contest.
St. Paul guard D'Angelo Gallardo added insurance free throws as the Friar faithful fans headed to the exits with four seconds left after after desperation shots couldn't land. Gallardo scored 11 points for the game.
White, a sophomore, led the Warriors with 20 points, four rebounds, five assists and four steals. IIAAG MVP Diaz had 13 points, five rebounds and four assists.
"It's an amazing feeling to bring a championship back to St. Paul," said Diaz. "It's wasn't an individual effort, it took the whole team to win tonight".
Gaitan had 14 points and six rebounds in limited action. Cruz had a team high 17 points and eight boards. Calvo had 12 points, Shimizu had five points, 10 rebounds and two blocks.
"I give a lot of props to FD for giving us a good fight. It was the last game of the season and I promised the seniors I'd give my best for them," said Perez.
Perez came off the bench and was 4-6 from the field for 12 huge points for Pineda's squad. The Warriors are a young team and look to defend their title next year with only two seniors leaving the team via graduation.
"I'm feeling good and looking forward to next year. We are just going to go out and do the same thing we did this year which is to be undefeated Champs again," said White.
Consolation Game
In the third place consolation game, the Sanchez Sharks defeated the Guam High Panthers 53-42. JB Obra and Aaron Castro had 18 and 16 points, respectably for the Sharks. The Sharks were without their top scorer Anthony Castro in the second half after he suffered an ankle injury. RJ Kranz led the Panthers with 14 points, DJ Williams and Russell Corpening each scored 11 points for Guam High.
PHOTO GALLERY BROUGHT TO YOU BY:

QUICK HITS
The Figo Islanders 40s women's softball team took gold in the Senior Softball World Championship in Las Vegas. Figo came out of the loser's bracket and beat the Arizona Belles 17-3 in the AA division championship game Sunday afternoon.
Other Guam teams that played in the 40s tournament were: Team SOTTA (women's) and Bud Light Guam, Friars 671 and Sindalun Guahan (men's).
Sindalu finished a respectable 4th out of 24 AAA division teams.