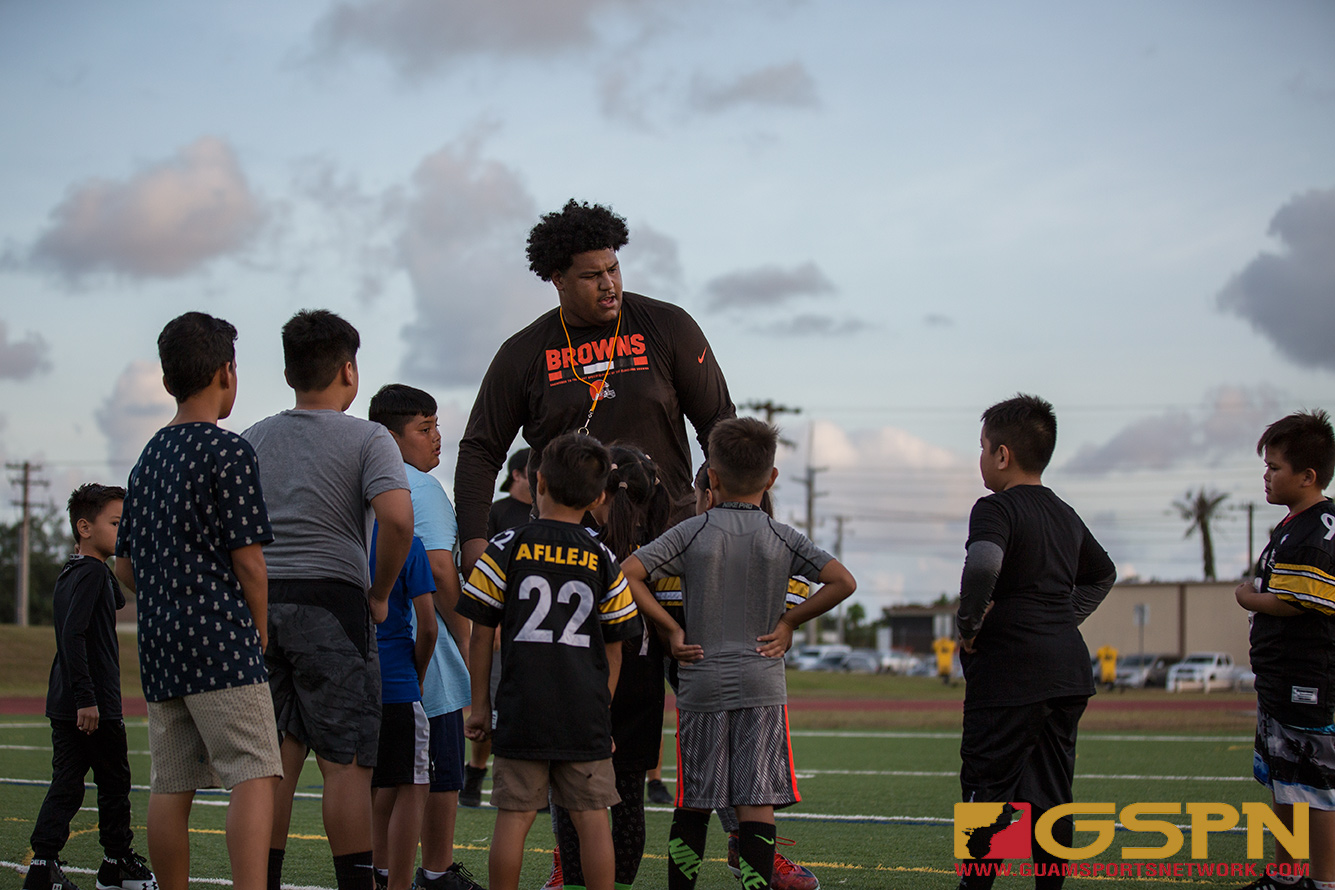 By Patrick Lujan
Football is the only youth sport that imposes a weight restriction on Guam and Zach Banner wants to see that changed.
"Guam's biggest problem right now and the setback that they have in football is the weight rule," Banner recently said on his Intagram post. "In football, period, the weight rule is stupid."
The weight restriction was Banner's biggest takeaway from his coaches and players camps he held on Guam last month along with fellow Cleveland Browns player Larry Ogunjobi.
A league-mandated weight restriction in the Guam National Youth Football Federation (GNYFF) bans heavier kids from playing the sport, leaving most 'overweight' players watching from the sidelines and unable to play until high school when there is no weight limit.
All other youth leagues on Guam, including soccer and basketball, do not have weight restrictions.
Banner understands that the weight restriction has the best intent for the safety of children in a contact sport, however, teaching and coaching the proper way of playing could alleviate those concerns.
"Football, at all ages, even obviously in the NFL, you have guys who are bigger than other guys. You have skill positions and then the offensive line. When you have these positions that are running into each other, there's a safe way to protect them. There's a safe way to coach football. My mother didn't want me to play football in second grade but it took my father to tell her that he'll teach me how to play safe football."
Banner played youth football in Tacoma, Wa in a league with no restrictions, though neighboring counties did have weight restrictions.
"You're holding kids back. Think about that," Banner went on to say. "You have underdeveloped O linemen and D linemen who are big their whole life but can't play football until high school. Larry Ogunjobi is a rare case that plays (late) in high school and make it to the NFL."
GNYFF PERSPECTIVE
The GNYFF is an independent league which mirrors the American Youth Football, a larger stateside organization similar to Pop Warner.
League President Ivan Shiroma acknowledges that the weight restriction is in place for safety issues.
"It is a safety issue," Shiroma said. "Every major organization has a weight restriction in their program."
Currently, the weight limits is as follows:
Matua Division (165 lbs-below)
Metgot Division (130 lbs-below)
Manha Division (100 lbs-below)
"Every year, the board can adjust the weight and age, but we try to stay consistent," Shiroma added. "We'll consider anything as long as everyone votes for it. I'm not going to close the book on it, if they want to discuss it, no problem."
League Vice President Allen Blend sees the benefits of the ban lift but prefers a careful approach to the issue.
"It only makes sense, but before we open the floodgates, we have to take a look at what we do because we're going to set precedence," Blend said. "I understand the need to add bigger kids. We need to make an educated decision. Everyone who has a vested interest in this has to come to the meetings. I'm in support of it and I'm open to ideas but we have to run this with a fine-toothed comb."
Blend, who is also the head coach of the JFK Islanders, says he sees the negative impact on the high school level as most big kids get their first taste of the sport at that level and need to learn the basics of the sport.
The high school teams also acquire players out of position as lighter players are forced to play in the trenches in the youth game because of the weight ban.
League board member and Guam Raiders President Paul Blas feels that a weight increase and not a total lifting would work best.
"I think we should increase the weight. I don't think we should do away with removing the weight (restriction)," Blas said. "Do we need bigger players? Yes we do. The bigger kids will only make the game better because they'll be able to control the line."
For Banner, who continues to hold Guam football close to his heart and will continue to move the sport forward to the best of his abilities through his football camps, "the biggest thing we need to do right now is change this weight rule. And that's the thing I'm going to urge the administration and the coaches. Guam, just know I love you and we're making movement."
NEW AGE BRACKETS
GNYFF did make a change that it hopes to improve the league as well as assist the high school game and that's with a new age bracket.
Old Bracket
Matua 15-under
Metgot 12-under
Manha 9-under
New Bracket
Matua 14-under
Metgot 11-under
Manha 8-under
YOUR THOUGHTS
So what do you think? Do you feel the youth league should lift the weight ban? Vote on our sports poll on the right of our GSPN website.

QUICK HITS
Guam MTB National Championship: Edward Oingerang and Jennifer Camacho are your 2023 MTB national champions. Oingerang finished the course in 1:13:24 while Camacho won her second straight title in 54:08.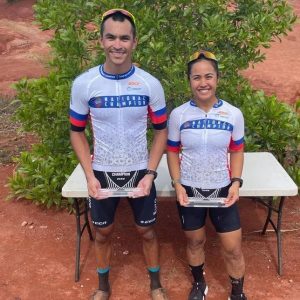 ——————————————
Kobe Miyashita, with St. John's coach Arvin Flores, was named the 2023 IIAAG Middle School Boys Volleyball MVP!