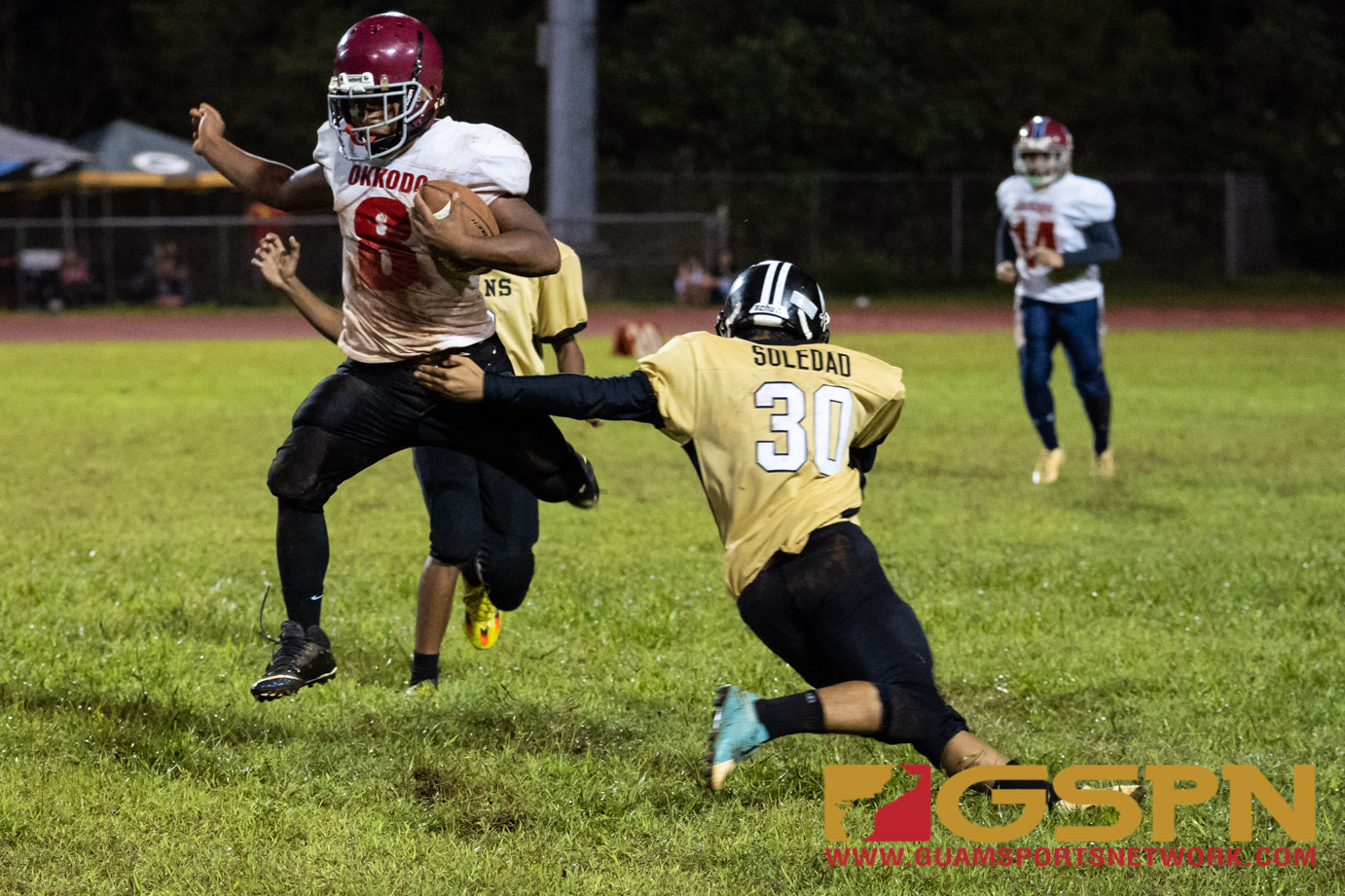 By Robert Balajadia
The Okkodo Bulldogs picked up a win on Week 1 of the season via forfeit, but Saturday night they earned their first win on the football field after defeating the Tiyan Titans 27-12 at home in the second game of a rare football double-header.
The Bulldogs vs. Titans was originally scheduled for Friday night, but lighting issue forced Friday's contest to be postponed to Saturday.
Leading the charge for the Bulldogs was running back Conan Baza, who scored his first two touchdowns in his high school football career. The Bulldog defense forced four Tiyan turnovers, which included an opening quarter pick-six from senior defensive back Nicholas Panganiban to give the home team the edge from the jump.
"I felt we had a great chance to win this game, so after the first interception I felt like it gave the team a lot of momentum. But I made a lot of mistakes and I really just wanted to play through that," said Panganiban on his strong play on the day.
The Bulldogs turned a closely contested first half, with the scored tied six all, into a 21-6 second half sparked by bruising runs.
A holding penalty wiped off a 30-yard run from Ethan Sanchez to get inside the 10, but Baza made good a play later by barreling through the Titan defense for a 25-yard touchdown run in the 3rd. Baza had to fight off three Titans in short space while also dragging a Titan's defensive back on his legs to get into the end zone. Baza's touchdown and a successful PAT put Okkodo up 13-6.
The Bulldogs started to create more separation in the 4th quarter after Ethan Sanchez hauled in a 20-yard pass from quarterback Damian Cruz to put Okkodo up 21-6, following a 2-point conversion from Baza.
Tiyan quickly struck back with quarterback John Angoco hitting reciever Trifon Valencia in the back of the end zone for a 15-yard score to cut the lead 21-12.
The Titan's comeback was short lived as Panganiban turned a muffed punt into chunk yardage on the after touchdown kick-off, bringing the ball to the Titan's six yard line. Baza added the finishing touches on the run to secure Okkodo's lead 27-12.
"I knew coach was going to plug me in a lot today because I've been getting a lot of reps in practice. I scored my first touchdown ever today and I give all the effort to my team for helping me get it. I made the touchdown's for my family and my girlfriend," said Baza.
Baza also came away with a game clinching interception to allow the offense to kneel out the clock.
"I looked at the quarterback and I saw him looking at his receiver in the flat, so I just dove and didn't really expect to catch it. I'm just happy we won the game," said Baza on his game-clinching play.
Most football teams were coming off a short week of practice due to the typhoon, and Okkodo was no different. With managing to fit in just one week of practice and no school all week, the Bulldogs just wanted to get on the field.
"We have a talented coach and we just wanted to show him that we could get this win. We played mostly to prove to him and ourselves that we could do it. We're a young and new team and we have a lot of talent, but we just haven't been able to show our all."
Okkodo will play the FD Friars thisSaturday and the Titans will try and slow down the red-hot Southern Dolphins next Friday.
PHOTO GALLERY BROUGHT TO YOU BY: