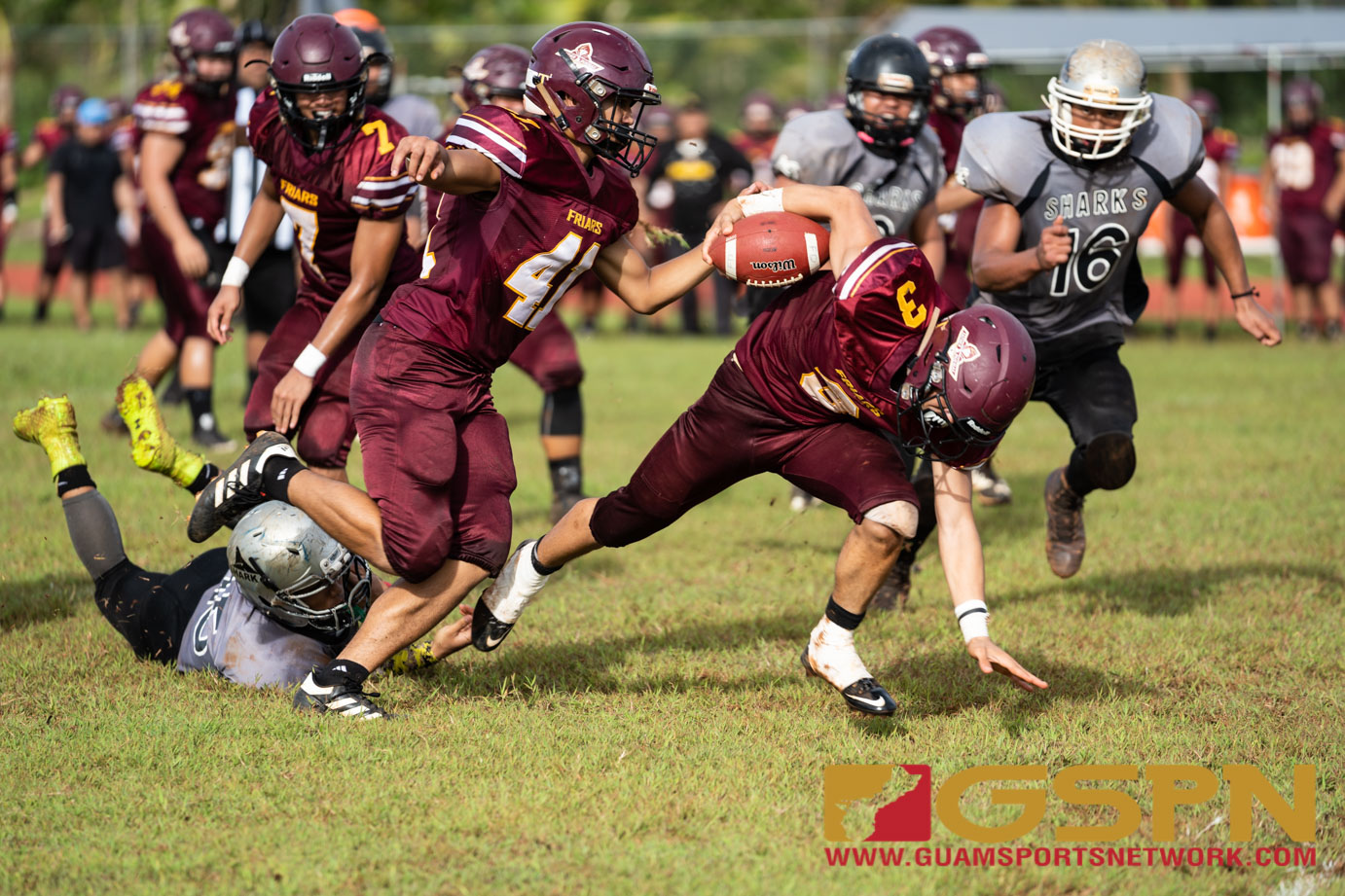 By Robert Balajadia
With the IIAAG dealing with setbacks all week long due to typhoon Mangkhut, football found its way to carry on Saturday in a double header at the Okkodo Field. The FD Friars defeated the Sanchez Sharks in the 3 pm game 28-8 and the Okkodo Bulldogs picked up their second win of the season over the Titan Titans in the evening game at 7 pm.
Saturday's games were in question due to the field lighting, which had moved the Okkodo vs Tiyan match from Friday (Sept 14) to Saturday. The GW vs Southern game had to be postponed due to the setbacks.
Friar offense looks sharp
Turnovers and penalties have plagued the Friar offense in the first three weeks of the season, but not a single turnover and no more than three penalties hindered FD Saturday afternoon.
Friar running back Kein Artero only needed nine carries for 153 yards and two touchdowns and quarterback Nick Anderson threw 5-of-9 for 106 and two touchdowns, his most efficient game to date.
"A performance like today gives me a lot of confidence, but it's my job to share that confidence with the team. Out there, the linemen are protecting you, the receivers are protecting you and my receivers are the ones catching the ball so it's important to share the love," said Nicholas.
Nick's go-to target Saturday was brother Brian Anderson, who hauled in two catches for 60 yards and one score. Brian's touchdown in the 2nd quarter came on a screen pass at the 47-yard line, which means 47 of those yards were earned after the catch.
"I just noticed that I could get past the defenders and I just ran as fast I could. I was only looking to get as many yards out of that play as I could," said Brian on the touchdown.
Artero's touchdowns came in the big-play variety by breaking loose for a 75-yard score in the 1st quarter, then a 55-yard run in the 3rd before his day would end. Anderson's first touchdown pass also came in the 1st quarter after hitting teammate Justin Leon Guerrero for a 15-yard score.
"There's still a lot more room to grow, but we're getting better and we'll get there," said Nicholas.
The Friar defense also had a busy day against the Sharks heavy run attack. Defensive leader Rylan Napoleon led the team with 10 tackles and linebacker Sage Shinohara added eight.
Sanchez was led in rushing by Jeremiah Sablan, who broke through the FD defense for a 45-yard score on just his second carry. Sablan would finish the day with 81 total yards with the lone touchdown.
Game recap
The Friars came out passing on their opening drive with Anderson converting his firs two attempts, which was a 26-yard pass to Joshua Calvo followed by the 15-yard score to Leon Guerrero. Sanchez punt on 4th down which set up Artero's first strike from 75 yards out to put FD up 14-0, who were also forced to dip into their third string kicker in Calvo after starter Sean Sablan went down and their backup down with an illness.
Just before the 1st could end, Sablan would gash the Friars for the Sharks lone touchdown from 45 yards out, with teammate Kamerin Toves punching in a 2-point conversion to get within 14-8.
FD struck quickly in the 2nd quarter as Nicholas hit brother Brian on a screen pass, and Brian would beat the defense on the edge to put FD up 21-8.
Artero's last touch would end in a 55-yard score, but a 50-yard kick return would put the young star over 200 all-purpose yards for the fourth time this season.
The Sharks only attempted three passes all game with their run-heavy offense chewing up game clock.
Despite playing their first day time game, the Friars were a little more comfortable than the heat would allow.
"We always practice during this time so we were already used to this. From here on out, we have to work harder and be more disciplined," added Anderson.
FD will take on the Okkodo Bulldogs next Saturday while the Sharks will play the Guam High Panthers.
PHOTO GALLERY BROUGHT TO YOU BY:

QUICK HITS
The Figo Islanders 40s women's softball team took gold in the Senior Softball World Championship in Las Vegas. Figo came out of the loser's bracket and beat the Arizona Belles 17-3 in the AA division championship game Sunday afternoon.
Other Guam teams that played in the 40s tournament were: Team SOTTA (women's) and Bud Light Guam, Friars 671 and Sindalun Guahan (men's).
Sindalu finished a respectable 4th out of 24 AAA division teams.