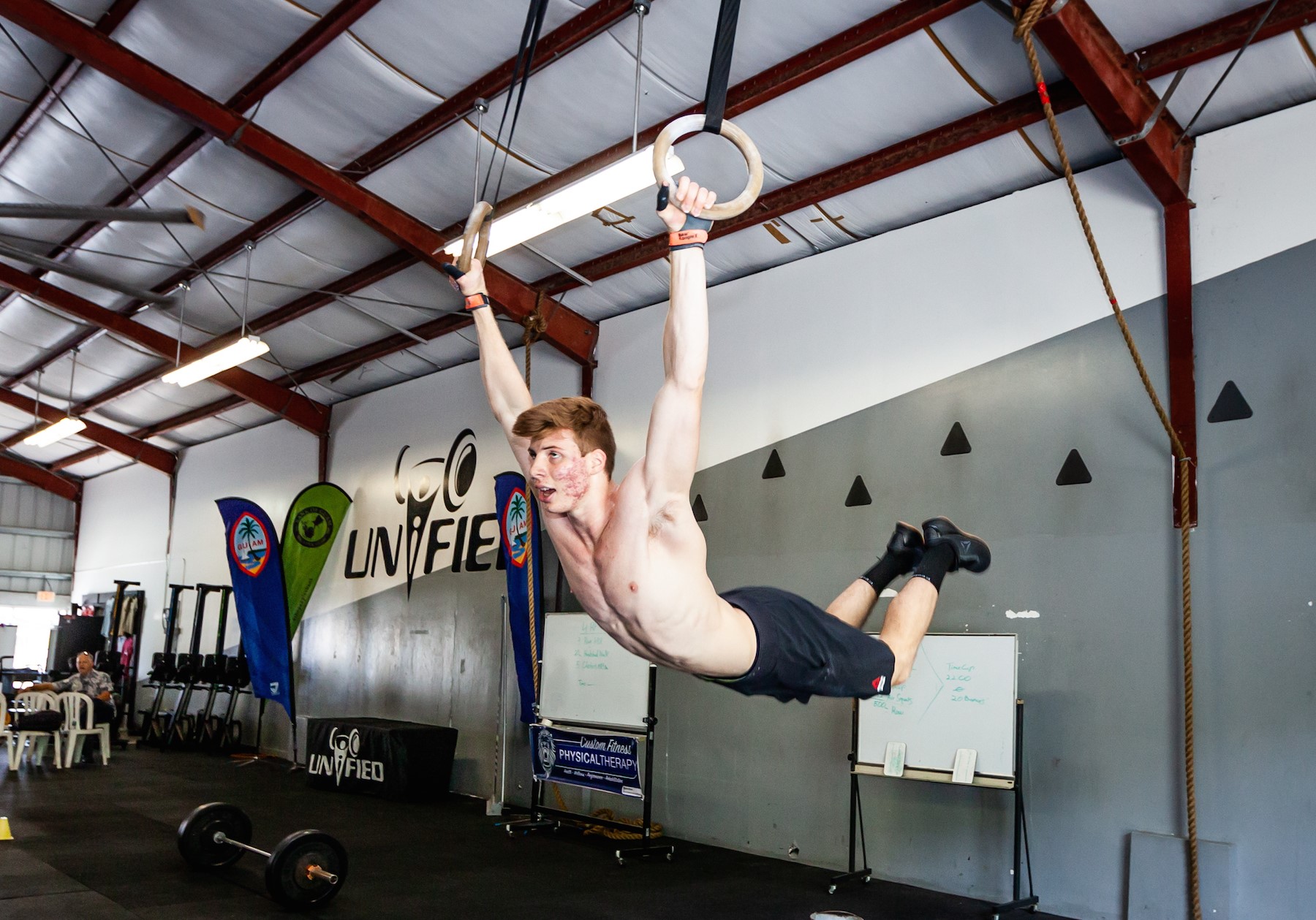 By Jay Leon Guerrero
CrossFit phenom Ethan Elwell will be heading to the 2018 Reebok CrossFit Games in Madison, Wisconsin, from August 1-5.
The 17-year-old Elwell will be accompanied by coach Caleb Baretto. Baretto is also the VP and Program director from Unified Fit. "We are actually leaving next week and we will stop by California first to acclimate before heading to Wisconsin," said Baretto.
Baretto said they will visit different coaches and athletes in California prior to the CrossFit Games. They will get last minute strategic advice and pointers in their final preparation stages.
Qualifying Rounds 
Elwell, who is 6'1″ and 185 lbs., is the only qualified representative in his age category from the Pacific Region and Asia. There was a series of qualifying for the Games, using official videos and times submitted to the committee. Thousand, yes thousands, submitted their times and videos but only the top 20 in the world were able to qualify for the Reebok CrossFit Games. Elwell came in seventh in the world in the 16-17 age division.
Baretto and Elwell received word that he made the cut in April. From that point, training and planning started to get Elwell to Wisconsin.
"Once we started training for CrossFit, we knew we could compete," said Elwell. Elwell took up CrossFit three years ago to get into shape for soccer. As a youth soccer player, Elwell traveled to several locations to represent Guam. But as he put in countless hours in the CrossFit gyms, coaches and athletes saw a huge potential for him to compete in high level competitions. Elwell traveled to the Philippines recently and ended up winning the competition against the best in the Philippines and the region.
Game time!
"The Games are five days long and there are usually two workouts a day," said Baretto. The coach said there is an element of surprise in the CrossFit Games with the participants not knowing what type of workout will be assigned on the day of the competition. "The events deal with all spectrums of physical exertion," said Baretto. The events will test all facets of fitness from physical strength to endurance.
"I feel excited for the Games; we've been training hard for this and my goal is to make the podium (top 3)," said Elwell. Despite not knowing what will be in store for the workouts, Elwell said he trained hard and is ready (and excited) for the challenge.
Also accompanying Elwell will be his parents, Kevin and Missy, to Wisconsin. His youngest sibling, Abby, will also be in the crowd to cheer on her brother. Not making the trip are siblings Josiah, Caleb and Micah.
"When we found he was going to the CrossFit Games we were so excited and proud of him. He has worked so hard and has been extremely dedicated to his training. We are so thankful that the Lord has blessed him with such amazing opportunity," said Missy Elwell. "We are also thankful for his coach for all the training, encouragement and being a great friend through this incredible journey," she added.
Sponsors for Ethan's journey to CrossFit Games 2018 include: Triple J Enterprises, Inc., Bank of Guam, Unified, Fit Aid Guam, Fit For You, Custom Fitness Physical Therapy and Movadria.
"I'm grateful for all these sponsors for their support," said Ethan Elwell. Ethan also wanted to thank his various training partners: Shane Concepcion, Harold Aranda, Zach Hammer and Mike James.
Ethan to visit college campuses
"Of course, I want to thank my family for their support as well. My mom, dad and Abby will be with me after the CrossFit Games to visit some college campuses," said Ethan.
"He has soccer tryouts at Biola University and Masters University, both in California," said Missy Elwell. "Then we will be traveling to Seattle, Washington, for tryouts at Northwest University."
"You can watch the Games live on various networks. ESPN will probably air the event but you can also watch or get updates on the Unified website or social media sites," said Barretto. Also available are the following websites to watch each heat live:
https://www.cbssports.com/crossfit/games/live/?ftag=SPM-06-10acd5a

QUICK HITS
The Figo Islanders 40s women's softball team took gold in the Senior Softball World Championship in Las Vegas. Figo came out of the loser's bracket and beat the Arizona Belles 17-3 in the AA division championship game Sunday afternoon.
Other Guam teams that played in the 40s tournament were: Team SOTTA (women's) and Bud Light Guam, Friars 671 and Sindalun Guahan (men's).
Sindalu finished a respectable 4th out of 24 AAA division teams.