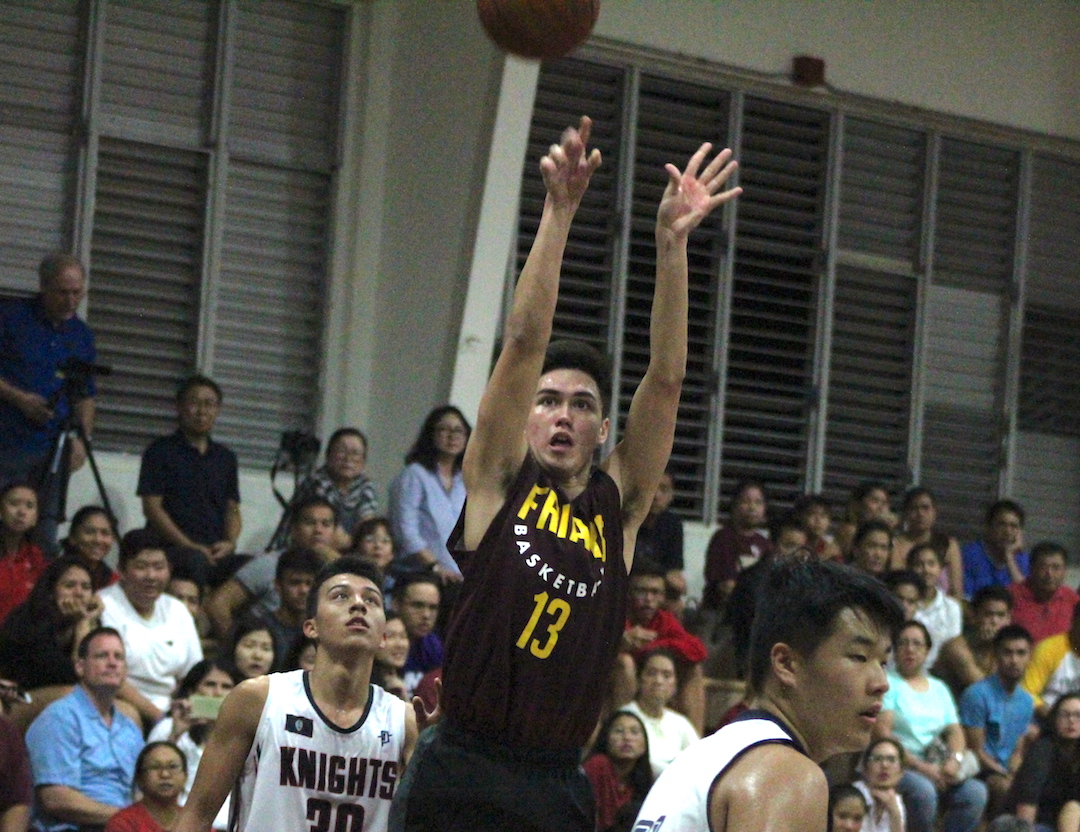 By Robert Balajadia
The winners bracket featured the last four unbeaten teams in the GSPN preseason tournament Wednesday evening with the Okkodo Bulldogs getting a clutch victory over the Sanchez Sharks while the FD Friars stymied St. John's Knights.
Friars 67, Knights 59
The riled up Friars went down 24-17 in the opening period after hot starts from Knights guard Michael Min and Takumi Simon, but the post game from FD proved too difficult to stop in the second half. Friar De'Aundre Cruz ate up the inside with 20 points and 14 boards.
Knights Takumi Simon went down in the 3rd quarter with cramping issues with his team nursing a 51-45 lead. Friar Mark Temerwoski made his tourney debut and his biggest bucket came four minutes into the final period as he gave his team their first lead since the first minute of the game 57-56. FD controlled the pace and closed out the Knights down the stretch where Cruz scored eight of his 20.
Bulldogs 46, Sharks 42
A rough 3rd quarter for the Sharks, where they only scored four points, allowed the Bulldogs take control of the game in the second half. Wendy's Player of the Game for the Bulldogs Jonas Oyardo put his stamp on the game in the 4th quarter by scoring the teams first seven points. Oyardo picked off the Sharks at mid-court twice that led to easy layups, only to follow up with a corner three-pointer to extend their lead 39-28 over the Sharks.
Day 4 – *Elimination Games
Islanders 76, Warriors 67
Titans 59, Panthers 52
Day 3 – *Elimination Games
St. Paul 65, Friars JV 29 – (Jahmar White – 18 points SP)
JFK 93, ND 30 – (Chris Morikami – 20 points JFK)
Day 2
FD 97, ND 28 (Kyle Gaitan – 31 points FD), (Holden Barcinas – 15 points ND)
JFK 80, Tiyan 60 (Alschae Grape – 27 points JFK), (Evangelista – 13 points THS)
St. Paul 62, Harvest 42 (Reo Aiken – 14 points SP), (Gaebeck Kim – 10 points HCA)
Guam High 61, FD JV 39 (Khalid Volious 18 points GH), (Ray Castro 16 poings FD JV)
*ELMINATION GAME* – Tiyan 75, Harvest 39 (Isaiah Guerrero – 21 points THS)
Guam High 73, ND 37 (Raven Taitague 22 points GH), (Holden Barcinas 13 points ND)
Day 1
Sanchez 43, Guam High 39 (Isiah Malig – 11 points SS), (Khalid Volious – 10 points GH)
St. John's 64, JFK 59 (Michael Min – 26 points SJ) (Cloyd Rosas 13 points JFK)
FD 67, St. Paul 51 (De'Aundre Cruz 16 points FD), (D'Angelo Gallardo – 13 points SP)
Okkodo 50, Tiyan 40 (Christian – 14 points OK), (Isaiah Guerrero – 10 points THS)
Sanchez 67, Harvest 28 (Isaiah Malig – 12 points SS), (Henderson – 9 points HCA)
St. John's 82, FD JV 38 (Takumi Simon – 33 points SJ), (Ray Castro – 11 points FD JV)

QUICK HITS
Guam MTB National Championship: Edward Oingerang and Jennifer Camacho are your 2023 MTB national champions. Oingerang finished the course in 1:13:24 while Camacho won her second straight title in 54:08.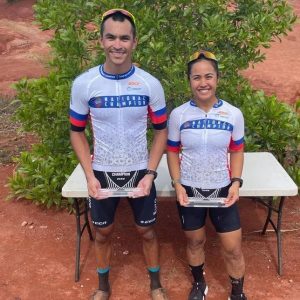 ——————————————
Kobe Miyashita, with St. John's coach Arvin Flores, was named the 2023 IIAAG Middle School Boys Volleyball MVP!