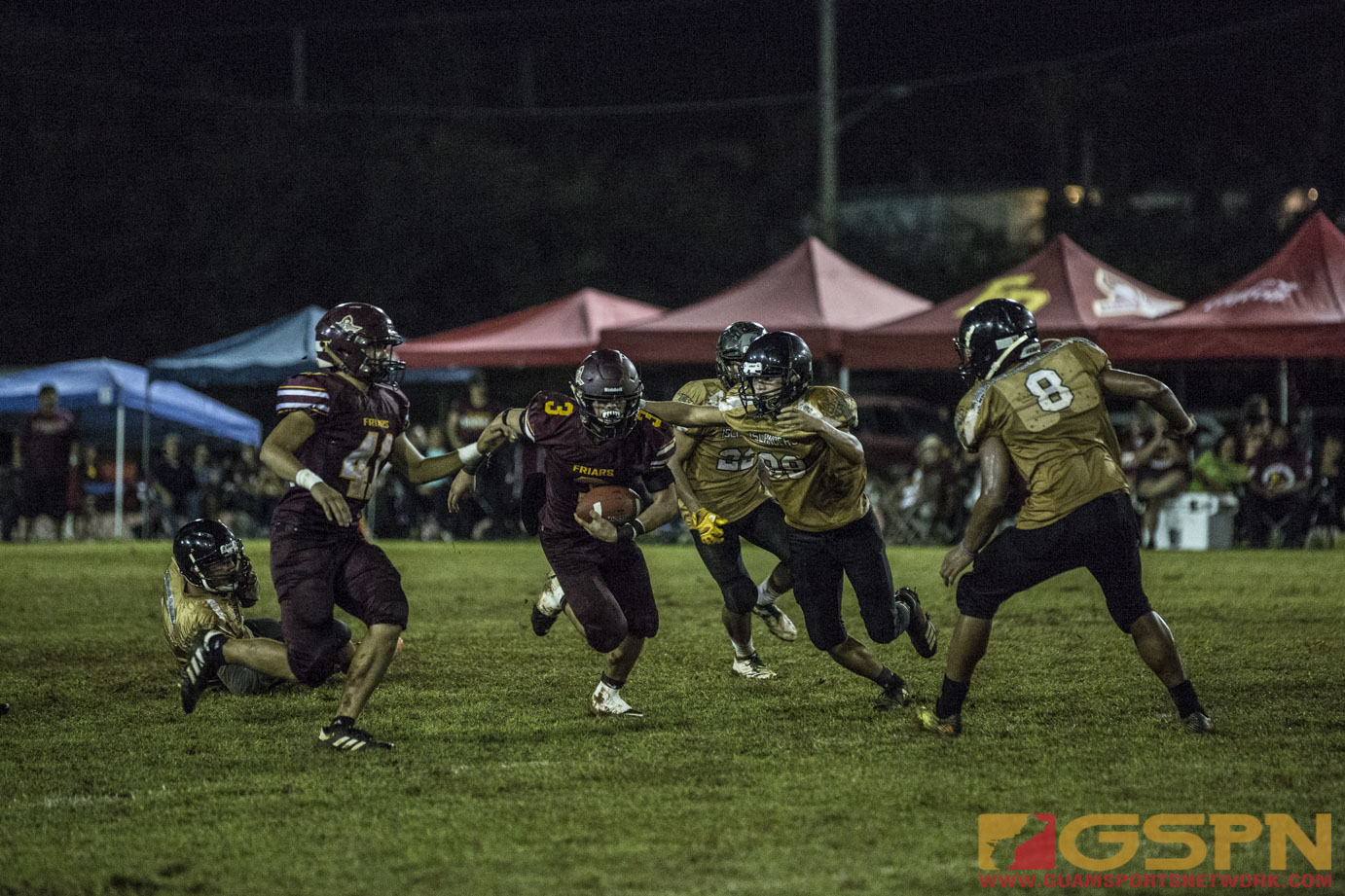 By Robert Balajadia
The FD Friars were in hot water at the start of their semifinals showdown against the JFK Islanders, but FD's offense responded by firing on all cylinders to crank out a 49-21 win at the GW Field Friday evening.
The Offensive MVP in running back Kein Artero ran for 293 total yards on 25 carries to go along with two touchdowns in his first game since being named the league MVP. Friars quarterback Nicholas Anderson had his most efficient game of the season completing 13-of-20 passes for 160 yards and four touchdowns.
Receiving Anderson's passes were Joshua Calvo (twice), brother Brian Anderson and Brandon Soriano. FD's other touchdown came on the defensive side as linebacker Shawn Sablan took a 4th quarter interception to the house.
Calvo had his most active night in the box scores all season, but even he knew his quarterback was going to have a break-out night.
"I definitely knew that [Anderson] was ready for the game today and he came ready. He wanted to win this as much as I did so I knew it was coming," said Calvo on his teammates big night.
Calvo's two touchdown grabs were part of a two-catch 46-yard performance.
"I just had to play my part, work hard and think about the team. We didn't work so hard just to stop here, we're in this to go all the way," added Calvo.
JFK's Juan Sarmiento had himself a night by scoring all three of the Islanders touchdowns, two receiving and one on a kick-off return in the 3rd quarter. JFK's Andrew Perez tossed two touchdowns on the night, but was also intercepted by the Friar defense twice.
Down 7-0, the Friars scored 20 unanswered points to retake control of the game still in the first half. Both teams traded scores in the 3rd with FD still ahead 36-21. The Friars added the finishing touches in the 4th quarter with the Islanders attack running out of steam.
Islanders jump out in front
JFK put the Friars on notice right from the first play of the game. Perez went deep for a streaking Sarmiento, as Juan got behind the Friar defense and hauled in 48-yard touchdown. Sarmiento also kicked the PAT to put JFK up 7-0 on the very first play of the game.
The Friars were forced to punt on their opening series and JFK managed to get inside Friar territory on their second drive to put more pressure on the unbeaten Friars. FD's defense responded with Kobe Onedera forcing a fumble on Islanders Justin Camacho with linebacker Eugene Arriola recovering the ball.
FD would work their way down the field, ending their drive with a 15-yard touchdown from Anderson to Calvo, but a failed PAT still had JFK ahead 7-6.
Anderson, Artero provide the spark
The MVP would make his presence felt early on, gashing the Islander defense for 57 yards in the 2nd quarter, getting stopped at the three-yard line with his team still trailing. Anderson would finish off the drive connecting with Calvo once more from three yards out to give FD their first lead 12-7 after their failed 2-point conversion.
FD's defense forced a turnover on downs late in the 2nd quarter near the red zone, which set up another scoring drive highlighted by 46-yard run a Artero, ending in a 28-yard touchdown pass from Anderson-to-Anderson to put FD up 20-7 before the half after Davin Rojas hauled in a 2-point conversion.
3rd quarter scoring spree
The Islanders opened up the second half with a strong drive that ended in a 15-yard touchdown pass from Perez to Sarmiento to pull JFK within 20-14 after an Alan Blend II kick.
Artero responded with his longest run of the evening, breaking loose on the right side of the defense for a 60-yard touchdown run, plus 2-point conversion from Brandon Soriano to give FD a 28-14 lead.
On the ensuing kick off, no one would catch Sarmiento as he brought back a 65-yard return for his third touchdown on the night to get as close as 28-21 with 7:25 still left to play in the 3rd.
Two pass interference penalties set up a six-yard touchdown run from Artero for a 36-21 Friar lead with FD's Shawn Sablan sacking Perez on 4th down late in the 3rd.
Friars put it away
FD scored twice more in the 4th with
Anderson hitting his tight end Soriano for a 25-yard score to go up 42-21 with Sablan picking off Perez for the defensive touchdown late in the 4th.
Sablan was a first-year linebacker last season who didn't get much playing time. His role has vastly expanded beyond kicking this season and he credited his current and former teammates for giving him the tools he needed to show out Friday night.
"It was a very close game last time we played JFK, but felt like we were off our game. Since then, we've been preparing for tonight," said Sablan on the teams defensive preparation. "We also do this for Thompson and Xavier so that's reason enough for me to push hard"
The Friars will play the winner of Guam High vs GW Saturday at 7 pm!
PHOTO GALLERY BROUGHT TO YOU BY:

COMING SOON …
High school girls volleyball playoffs
Brawl 3: Oct 13
Guam's Strongest Man and Woman Competition October 29
QUICK HITS
The Figo Islanders 40s women's softball team took gold in the Senior Softball World Championship in Las Vegas. Figo came out of the loser's bracket and beat the Arizona Belles 17-3 in the AA division championship game Sunday afternoon.
Other Guam teams that played in the 40s tournament were: Team SOTTA (women's) and Bud Light Guam, Friars 671 and Sindalun Guahan (men's).
Sindalu finished a respectable 4th out of 24 AAA division teams.