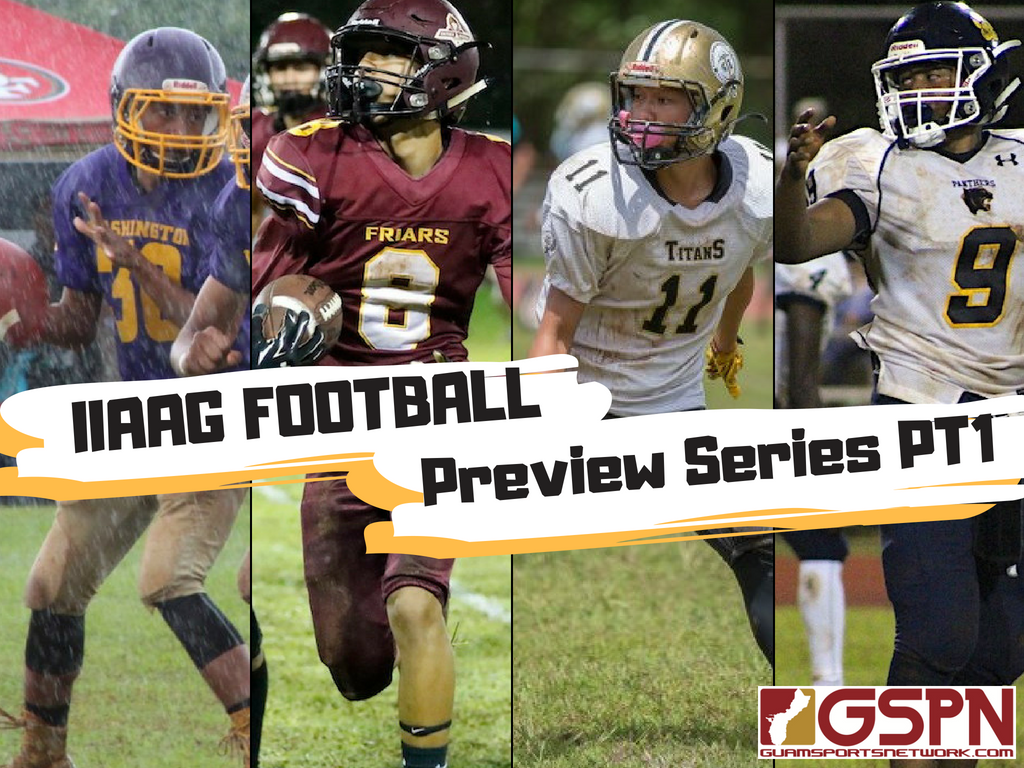 By Jay Leon Guerrero
The 2018 IIAAG Football season is set to kick-off Friday evening on August 24th.
Before you head out to any of the action this weekend, GSPN will be launching a two-part series preview to highlight some important info on each of the eight teams competing for the IIAAG title.
The first half of our preview series takes a look into the FD Friars, GW Geckos, Guam High Panthers and Tiyan Titans.
FD Friars
Head coach: Bruce Meno
Coaches: Keone Badua, Tony Posadas, Glenn Noket, Jude Pinaula, Nathan San Nicolas, Mitsu Iwanaga, Fred Tupaz
Key returnees: Kein Artero, Eugene Arriola, Noah Diaz, Joaquin Rivera, Nicholas Akimoto, Brian Anderson
Key losses: Daniel Phillips, DeAundre Cruz, Xavier Naputi, Jimmy Green, Kyle McIntosh, Austin Peredo, Raven Santiago, Brandon Kinsella, Jalen Delgado, Isaiah Reyes, Kai Akimoto, Kyler Valencia
FD lost a bunch of talent to graduation and the coaching staff looks to the next generation to fill the shoes of players currently gearing up to play in college.
"This season is no different than any other," said Badua.
The Friars will be the largest team once again with 66 student athletes trying out for the team.The Friars go into every season with the same mentality and preparation is key.
"We work just as hard, if not harder, every summer in preparation for the season," said Badua.
There is a total reconstruction from last season but look for key returnees Kein Artero at running back and Brian Anderson at receiver to make big plays for Meno's offense. Badua, the defensive coordinator, will have Eugene Arriola at linebacker and Noah Diaz at defensive back to keep opposing offenses out of the end zone. One thing that is consistent every season for the Friars is the support of Friar Nation. FD fills the sidelines with supporters and look for the Friars to defend their championship in their opener against GW this Friday.
GW GECKOS
Head coach: Ryan Rios
Coaches: Mark Mesngon, Casey Cruz, Oscar Santos, Danny Manibusan and Bill Quichocho
Key returnees: Ricky Macias, Aaron Jamanila, Ethan Cali, CJ Cabrera, John Espinal, Jerome Quichocho, Noah Quichocho, Rico Mandalang
10 years. The amount of years the GW Geckos have been to the IIAAG championship game under the current coaching staff led by the 'Chairman of the Board' Ryan Rios. Leading the offense will be key returnees Ricky Macias, Aaron Jamanila, Ethaniel Cali and CJ Cabrera bringing experience from last year. The Geckos made it to the championship game last year against their rival Friars.
The Geckos will be missing big play makers Calvin Aguon and Jude Tenorio but chalk up another year of experience for returnees Macias (QB) and Jamanila (WR) to help put points on the board for GW. The Geckos open up their season this Friday (tentatively) against the Friars in a rematch of last season's championship game. GW's defense is led by key returnees John Espinal, Jerome Quichocho, Noah Quichocho and Rico Mandalang.
GUAM HIGH PANTHERS
Head coach: Jacob Dowdell
Coaches: Greg Jacobs, LJ Aguon, Teagan Brown, Linda Salas
Key returnees: Jeylyn Dowdell, RaSean Jacobs, Travon Jacobs, Drew Mestas, Cincear Powell, Maxwell Linpore
Key losses: Makoa Bamba, Will Sanders
"This is the first year we have enough linemen to play on both sides of the ball so it frees up some of our players from playing two-ways the whole time," said Dowdell on the biggest change to his team in 2018.
The team also is welcoming in some new talents from youth and transfers from Japan like AJ Johnson and a senior who goes by 'Rhino'. The Panthers 'Big Three' will be in now seniors Jeylyn Dowdell and RaSean Jacobs and quarterback Travon Jacobs, who has fully healed from his injury suffered in the first game of his freshman season.
Some of the biggest additions aside from Panther players are those that make up his coaching staff. Dowdell is welcoming back his former All-Island players in LJ Aguon (2014 MVP) and Teagan Brown (2014 All-Island) to aide in 2018.
"It's the biggest treat ever to have former players comeback and feel the need to give back. They both have had the opportunity to go out and play some college ball and now they're coming back to give back to the kids from Guam, not just at Guam High. We do the 'Guam Grind' every Saturday so they share their knowledge across the board," said Dowdell.
TIYAN TITANS
Head coach: Danny Cepeda
Coaches: Jess Lujan, Brian McGill, CJ Toves, Mike Brown
Key returnees: John Angoco, Trifon Valencia, Kiomasa Kaminga, Crispin Santos, Jewenn DeLeon
Key new players: Vincent Gamallo, Davin Mojica, Davieon Siguenza, Kolby Corpuz, Ryan Johnson, Travis Benavente
Head coach Danny Cepeda leads the hungry Titans in his second year as head coach for the high school. The Titans made history last season and went into the playoffs ranked second behind the FD Friars. The Titans looked promising with all-star quarterback Kobe Quimbao and wide receiver Tyler Pangelinan last season and defeated the GW Geckos.
"This year it's back to square one for me and my coaching staff. Last season we had the luxury of having 22 seniors," said Cepeda.
John Angoco will be the starting quarterback for the Titans and he will have options with speedy wide receivers Davin Mojica, Trifon Valencia and Ryan Johnson. The backfield consists of Kiomasa Kaminga and Travis Benavente.
On defense, the secondary unit of Jude Cruz, Vincent Gamallo, and Sandy Malalis will look to keep opposing receivers at bay. The D-Line will consist of Davieon Siguenza and Kolby Corpuz who will also see double duty at linebacker.
"Our goal like everyone is to make it to the playoffs and try and make it to the championship game this upcoming high school football season," said Cepeda.

GPS Sports Calendar
SU

MO

TU

WE

TH

FR

SA
28

29

30

1

2

3

4
Events for July
1st
No Events
Events for July
2nd
No Events
Events for July
3rd
No Events
Events for July
4th
No Events
5

6

7

8

9

10

11
Events for July
5th
No Events
Events for July
6th
No Events
Events for July
7th
No Events
Events for July
8th
No Events
Events for July
9th
No Events
Events for July
10th
No Events
Events for July
11th
No Events
12

13

14

15

16

17

18
Events for July
12th
No Events
Events for July
13th
No Events
Events for July
14th
No Events
Events for July
15th
No Events
Events for July
16th
No Events
Events for July
17th
No Events
Events for July
18th
No Events
19

20

21

22

23

24

25
Events for July
19th
No Events
Events for July
20th
No Events
Events for July
21st
No Events
Events for July
22nd
No Events
Events for July
23rd
No Events
Events for July
24th
No Events
Events for July
25th
No Events
26

27

28

29

30

31

1
Events for July
26th
No Events
Events for July
27th
No Events
Events for July
28th
No Events
Events for July
29th
No Events
Events for July
30th
No Events
Events for July
31st
No Events
Foody's 5 Fun Facts
St. John's Knight Aarman Sachdev
DID U KNOW?
Since forming the GNYFF in 2009, the league has never gone without a season until 2020. The league announced their plans to cancel the 2020 season amidst the COVID-19 pandemic.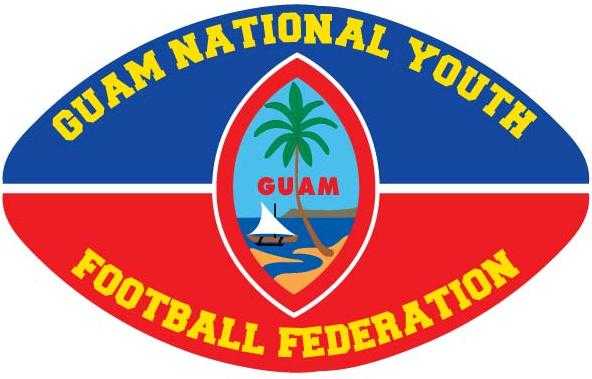 COMING SOON …
ALL SPORTING EVENTS HALTED DUE TO THE CORONAVIRUS ISSUE
QUICK HITS
RIP: Former Guam football player Phil Mendiola, shown here with son Tano, passed away in Las Vegas due to a heart attack. Mendiola played for numerous Guam teams from youth to varsity. He was 39.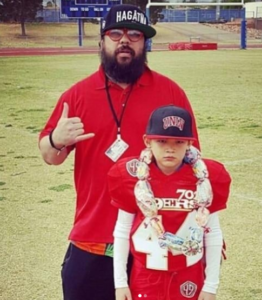 —————————————————-
Morgan McKenna (left with black face mask) poses for a photo with Guam Football Association Technical Director Sang Hoon Kim (seated, with blue face mask) and Guam Football Association Assistant Technical Director Ross Awa (standing) after signing his letter of commitment to play intercollegiate men's soccer for Muskingum University in Ohio. The Fighting Muskies compete in NCAA Division III's Ohio Athletic Conference.