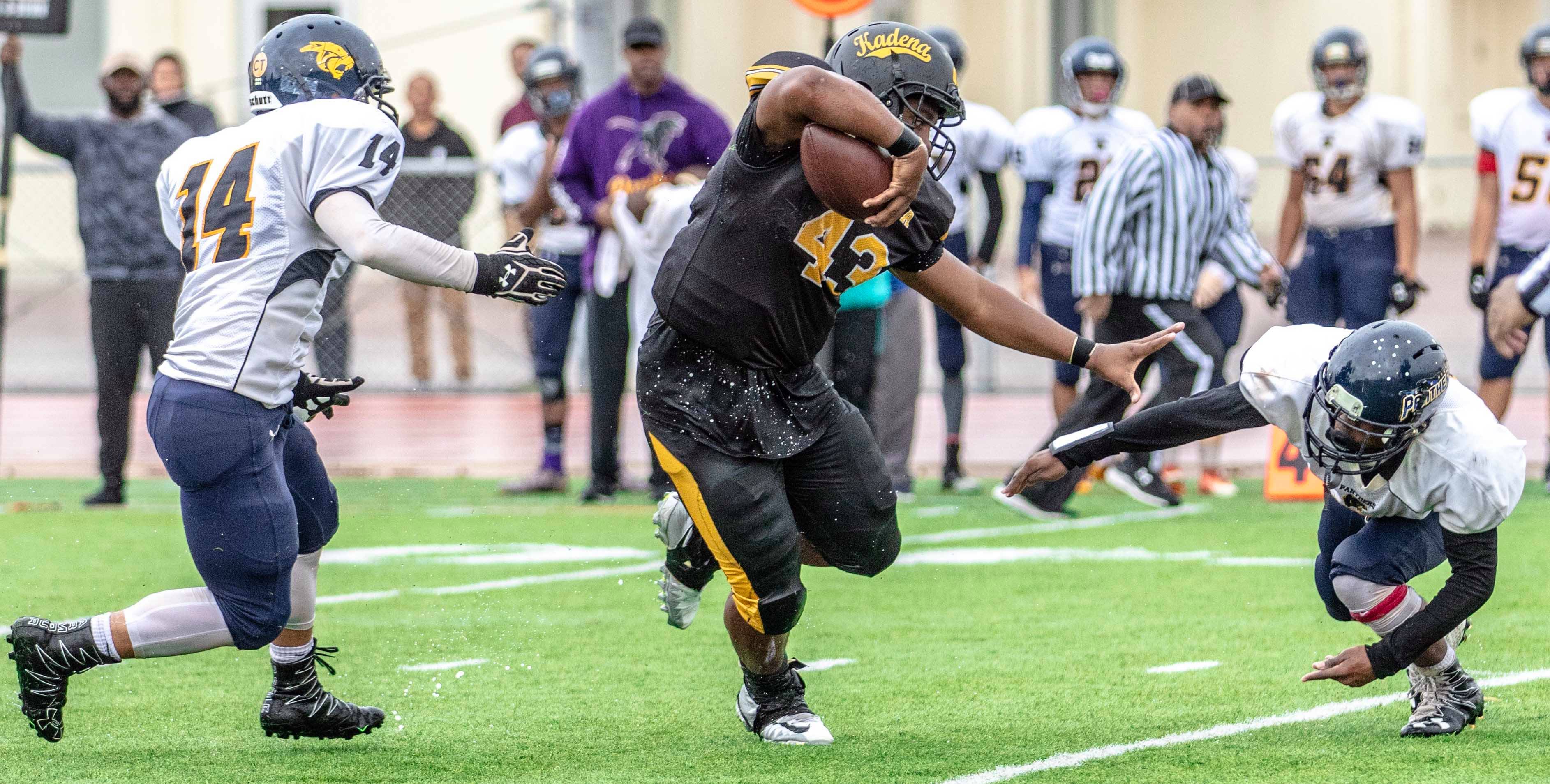 By Dave Ornauer
for Stars and Stripes
KADENA AIR BASE, Okinawa – Wyatt Knopp finished the regular season the way he began it, under center for Kadena and helping lead the Panthers to their sixth win in seven regular season games, 14-0 over Guam High on Saturday at Ryukyu Middle School's Habu Field.
The junior filled in at quarterback when starter Eric McCarter was removed in the first quarter after a hard hit following an interception. Knopp returned to the lineup three weeks ago after missing four games with a chest injury suffered in Kadena's lone loss, 34-33 to Nile C. Kinnick on Sept. 8.
"Wyatt stepped up and did a fantastic job," coach Sergio Mendoza said.
Knopp entered the contest on Kadena's second possession and immediately directed the Panthers to a score, on Uriah Morris' 14-yard run, capping a 12-play, 84-yard drive early in the second quarter.
Morris scored again on a 6-yard run on Kadena's first second-half possession, which capped another 12-play drive, this time of 65 yards.
McCarter was among several starters removed as a precautionary measure, to keep them healthy for next week's title game, Mendoza said. "We have to be careful; we have a big game next week," he said, adding that McCarter wanted to go back in in the second half.
With the win, the Panthers closed the regular season 6-1 with only next week's Far East Division I title game remaining at Kinnick on Saturday. Guam High closed its season with three straight defeats, finishing 6-5.
Morris led all players with 198 yards on 26 carries in a game played in a first-half downpour. The sides combined for nine turnovers. Guam High's Travon Jacobs was 8-for-19 for 70 yards and was intercepted three times.
Jeylyn Dowdell, the coach's son, led Guam High with 86 yards on eight carries. RaSean Jacobs, the quarterback's brother, had five catches for 83 yards.
This was the first meeting between Guam High and any DODEA-Pacific team in Japan or Korea since Oct. 30, 2010, when Kadena outlasted the Panthers 34-20 in a game also played at Habu Field.
The two schools requested and got permission to play each other in what Guam High coach Jacob Dowdell and Kadena athletics director Tom Bell hope will be the start of a home-and-home annual series. They have dubbed the series the "Typhoon Bowl."
"That's what I'm hoping," Bell said.
Despite being held scoreless, Dowdell said he was proud of his charges. "Everyone saw that if you play Guam High, you're going to be in a fight," he said. "We can compete with anybody, the best of the best."