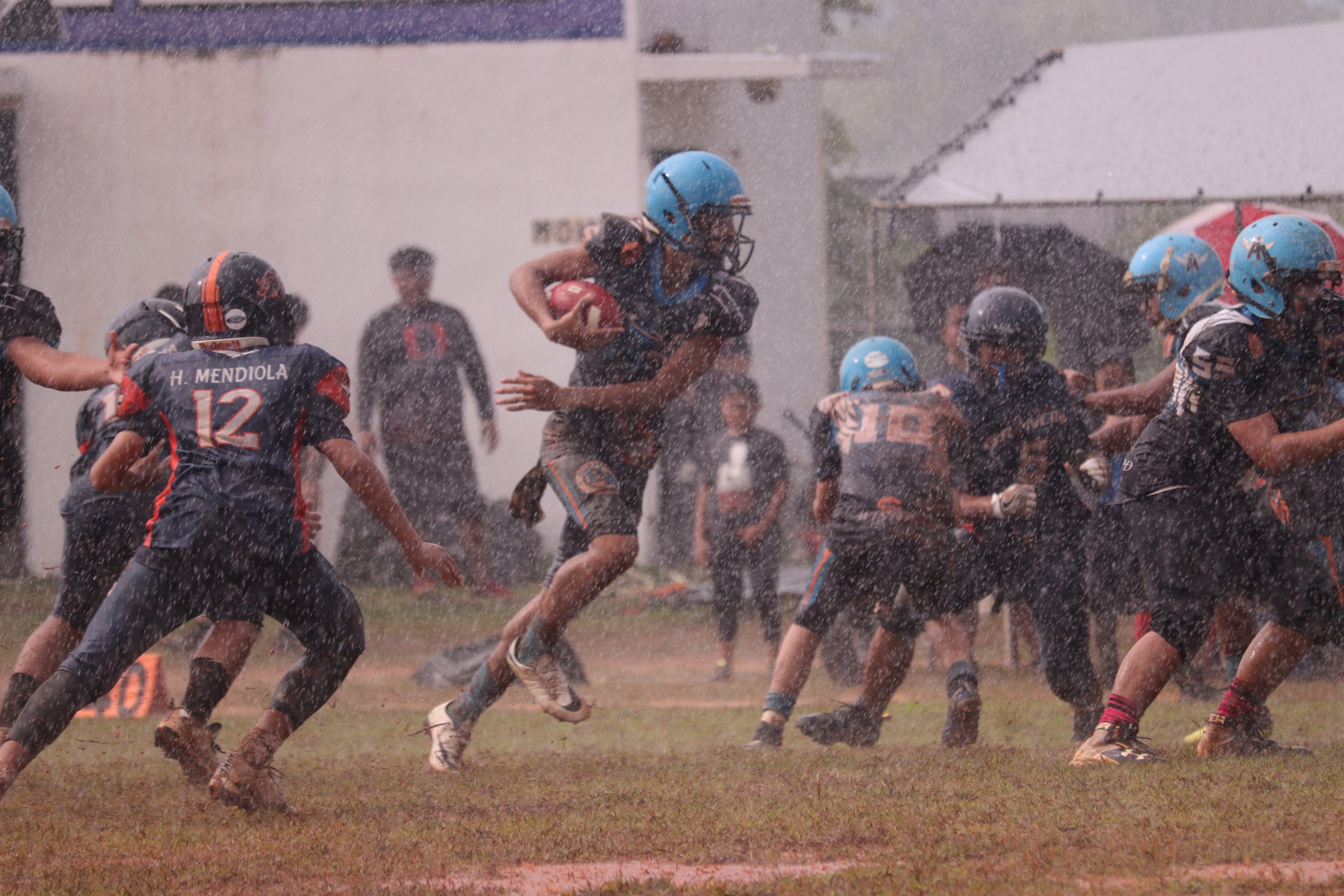 By Nicholas Akimoto
The Angels managed to survive a 12-0 Matua win over a tough Broncos defense to secure their chance at a title. Angels running back Jonathan Sablan managed to score the lone two touchdowns of the game through the wet conditions of Angels Field.
The rain had a very prominent effect on the game, as both teams' offenses struggled to find their footing in the muddy field. They also struggled to find a grip on the ball, as both teams combined for six turnovers by fumbles.
Both the Bronco's and the Angel's defense shone as they both held each other scoreless after the first touchdown run, until Sablan's second touchdown which all but secured the victory for the Angels.
"The ball was wet and that made it hard to carry and made it hard for our center to snap well, but more than that, the Broncos played very well." commented Sablan on the Angels offensive struggles.
Game Recap
The Angels came out starting hot, as they took advantage of a Broncos fumble by marching down the field and giving their team the first score of the game off of a dive from Jonathan Sablan. They looked to do it again on their next drive, as quarterback Darren Cepeda threw to his receiver, Jayven Mendiola, for a thirty yard pass completion.
Cepeda dropped back once more, looking downfield to find Mendiola again, when safety, Nathan Gumataotao picked off a throw from Cepeda to give the Broncos the ball and stall the Angel's momentum. For the rest of the half, both teams would try to get their run game going, but there would be no more scoring in the first half.
Coming out in the second half, the Angels were still faced with the threat that the Broncos were in striking distance to take the lead. Knowing this, Cepeda repeatedly tried to get his offense going in the air, and while the receiver was open, the wet ball made it difficult for his receivers to hold onto it.
On the Broncos end, they would fail to find the end zone as repeated fumbles prevented them from getting anything going. Both offensive struggles, however, were more a result of great defensive effort from both teams, as sacks and tackles for loss were awarded to both defenses.
The contest came down to who's offense could score, and the Angels were able to do just that. After an Angels defensive fumble recovery by James David Paraiso gave them the ball at the 30 yard line, the Angels looked to finish off the game and put the Broncos away. Noah Medler ran the ball up within the ten yard line, and Jonathan Sablan finished the drive off to seal the victory for his team.
PHOTO GALLERY BROUGHT TO YOU BY: