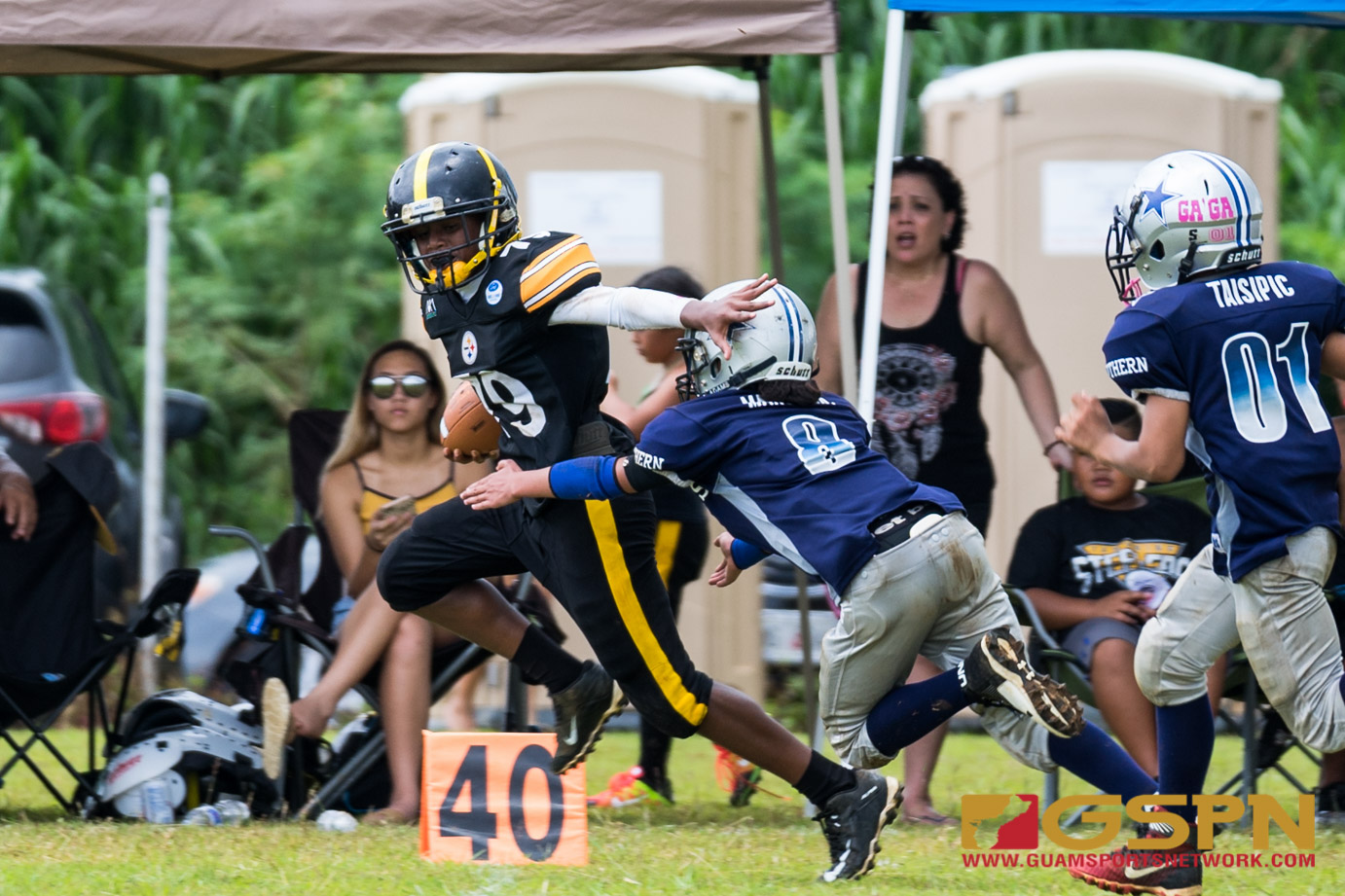 By Nick Akimoto
Continuing the opening week of GNYFF, the Steelers and Cowboys met at the Tamuning Field on a humid Sunday afternoon to officially kickoff their season. Both teams were eager to gain momentum for the season, but it would be the Steelers who would walk away with a definitive victory of 32-0 in the Metgot matchup.
Dominating the first half
The Steelers stumbled out of the gate after an early turnover, but came back in a big way as Steelers punt returner, Josiah Nauta, would take it to the house to put up the Steelers first points of the season.
The Steelers would just be getting started quarterback Isaiah Iriarte would string together three consecutive touchdown drives, all of which were capped off with a touchdown pass to wide-receiver, Isaiah Ngirarois Hesus in the first half.
The Cowboys would attempt to get on the board before the end of the half after strong efforts from their running backs, but the Steelers would keep their opponent scoreless as cornerback Daran Treltas stripped the ball for a short return for 10-yards before being called back for a penalty.
Sealing the game
Coming back from half time, the Cowboys continued to struggle with their run game as the Steelers stuffed them at the line. The Steeler's "Iron Curtain" would prevent their opponent from obtaining a first down throughout the entire game.
Iriarte would seal off the game completely with another touchdown, this time to Treltas, who turned a short gain into a 70-yard foot race with the Cowboy's secondary. Iriarte finished the game off with a total of four touchdowns and over 100 passing yards.
PHOTO GALLERY BROUGHT TO YOU BY:

2022 GSPN I MÅS METGOT COMPETITION
2022 GSPN I Mås Metgot Competition Recap
2022 GSPN I MÅS METGOT COMPETITION
2022 GSPN I Mås Metgot Competition Recap
2022 GSPN I MÅS METGOT COMPETITION
2022 GSPN I Mås Metgot Competition Recap
COMING SOON …