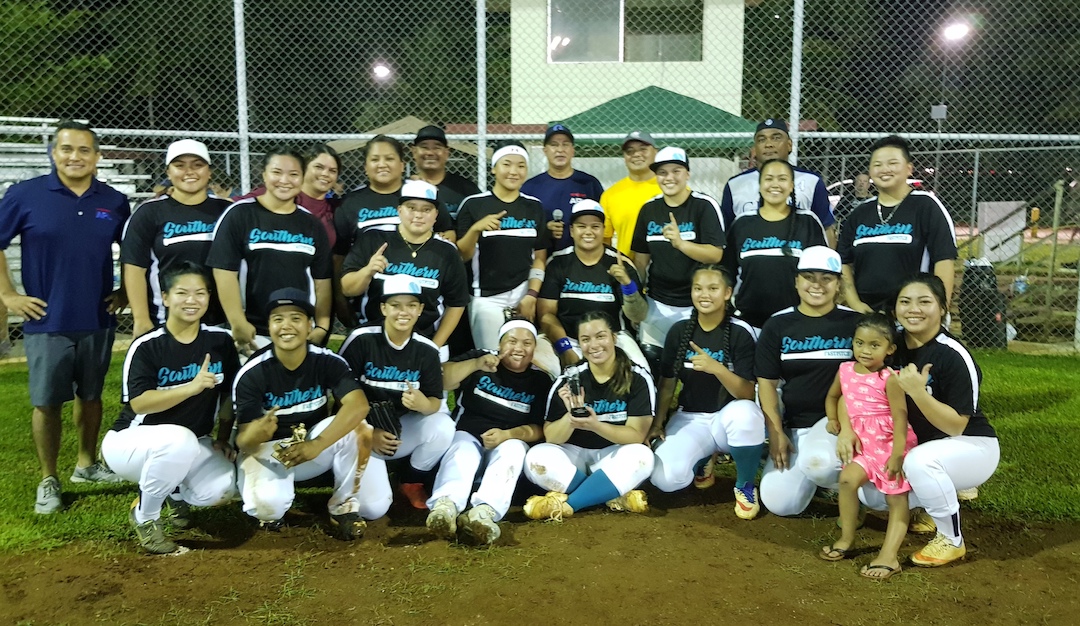 By Robert Balajadia
With just one swing of a bat, Brielle Meno changed Southern's softball fate as they were crowned queens of softball once more with an 11-9 win over the Nationals for the first ever APL Women's Softball Title at the Guerrero Field Sunday evening.
Meno unloaded a grand slam in the 5th inning to turn a 9-7 deficit into an 11-9 lead, her second home run of the night.
"There was a lot of pressure, don't get me wrong, I was nervous," said Meno. "This is a championship game and I wanted to follow through. We made it this far, we really wanted to take it home."
Not even a change of pitching could throw off Meno's stride as the Nationals swapped starting pitcher Ashley Mendiola for closer Meagan Maratita in the 5th after giving up three runs. Maratita stepped in to a troubling situation with just one out away and the bases loaded. Meno was hit with two strikes before smacking her second home run for the game turning play.
"I'm always going to give it my all and the team counted on me so I had to do what I had to do," said Meno.
Nationals jump out in front
The Nationals were swinging with hot sticks in the early innings as they jumped out to an 8-2 lead after three innings. Meno hit a solo homer in the 1st, but Southern's offense didn't start to pick up until the later innings.
Southern starting pitcher Kassandra Sanchez retired in the 3rd with the Nationals holding a 3-2 lead. Relief pitcher Alex Aguero had a shaky inning with the Nationals bats catching fire.
An RBI single from Brianna Sablan followed by another RBI from Jestyne Sablan put the Nationals up 5-2. Coco Quinata furthered their lead with a two-run double to get up 6-2. Errors would bring in two more runs for the Nationals before the inning ended, pitting Southern in an 8-2 hole.
Southern takes over in the 5th
Facing a 9-4 deficit, Southern wasted no time getting back into the game. A lead double from Tamisha Fejeran started to get the wheels rolling on the Southern offensive train. An error and a fielders choice allowed two runs to score for Southern to chip away at the lead 9-6.
Concepcion brought a run in on a single before Maratita came in for relief. A walk loaded the bases for Meno who let loose for a deep shot towards the left side of the field, a near identical spot of her 1st inning home run, for the 11-9 lead.
Defenses tightened up in the later innings with neither team able to get going.
The Nationals stepped into the 7th inning with a strong lineup with Sirena Cepeda leading. Cepeda got on base with a single, but two fly outs from Maratita and catcher Loulana Diaz put Southern within an out from the title. Nationals Doriaune Calvo's last at bat was hit directly towards Aguero, who caught the ball for the final out.
A strong majority of the Southern team were part of the Southern Dolphin IIAAG softball dynasty from the later 2009-2014. When asked how the girls still manage to hold their spot on top, Meno stated: "We're sisters. That's really all there is to it."
PHOTO GALLERY BROUGHT TO YOU BY: