PRESS RELEASE – The Organizing Committee of the 2018 Micronesian Games is honored to announce Matson's sponsorship at the Gold Level for the quadrennial event that is being held in Yap July 15 – 27, 2018.
"In partnership with Triple B Forwarders and Palau Shipping, Matson is providing shipping support for all of the materials and supplies needed to host the Games," said Liyon Sulog, CEO and co-chair of the 2018 Micro Games Organizing Committee.
The Gold Sponsorship is the highest level of support for the 2018 Micro Games that provides the event with a minimum of $75,000 in both cash and in-kind services.  Among the many benefits that Matson will receive as the Gold sponsor includes the renaming of the Yap Sports Complex as the Matson Yap Sports Complex.
"Our entire Matson team, along with our partners, Triple B Forwarders and Palau Shipping, are excited to be the Gold sponsors of the most important sporting event in our region," said Bernie Valencia, Matson Vice President and General Manager, Guam and Micronesia. "This sponsorship allows us to directly support the athletes from the communities we've served for more than 20 years. We also stand behind the Micronesian Games' goal of promoting positive physical and mental well-being to the youth of Micronesia. Congratulations to the teams and coaches for their hard work. We look forward to cheering them on come July!"
Islands throughout the Pacific Ocean have relied on leading U.S. carrier Matson for the past 22 years to provide a vital lifeline and the movement of goods to people and companies throughout the Pacific. Matson contributes to the development and operation of nonprofit, community and environmental organizations in the geographic locations in which it operates.
"We literally could not do it without them," added Francis Itimai, co-chair of the Organizing Committee.
#  # #
About the 2018 Micronesian Games
The 2018 Micronesian Games (Micro Games) will be held in Yap from July 15 – 27, 2018 at the Matson Yap Sports Complex. The Micro Games is a quadrennial international multi-sport event within the Micronesian region and includes participation from Palau, Northern Mariana Islands, Guam, Marshall Islands, Nauru, Kiribati, Yap, Chuuk, Pohnpei, and Kosrae. The games were first held in 1969 in Saipan. This year will be the first time that Yap will have the honor of hosting the Micro Games. Approximately 1,200 athletes and coaches are expected to compete in baseball, basketball, beach volleyball, va'a canoe, soccer, spearfishing, table tennis, track and field, volleyball, weightlifting, wrestling, open water swimming and the Micro All-Around. For more information about the 2018 Micro Games, visit microgames2018.com.

QUICK HITS
Guam MTB National Championship: Edward Oingerang and Jennifer Camacho are your 2023 MTB national champions. Oingerang finished the course in 1:13:24 while Camacho won her second straight title in 54:08.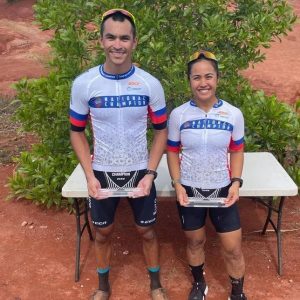 ——————————————
Kobe Miyashita, with St. John's coach Arvin Flores, was named the 2023 IIAAG Middle School Boys Volleyball MVP!