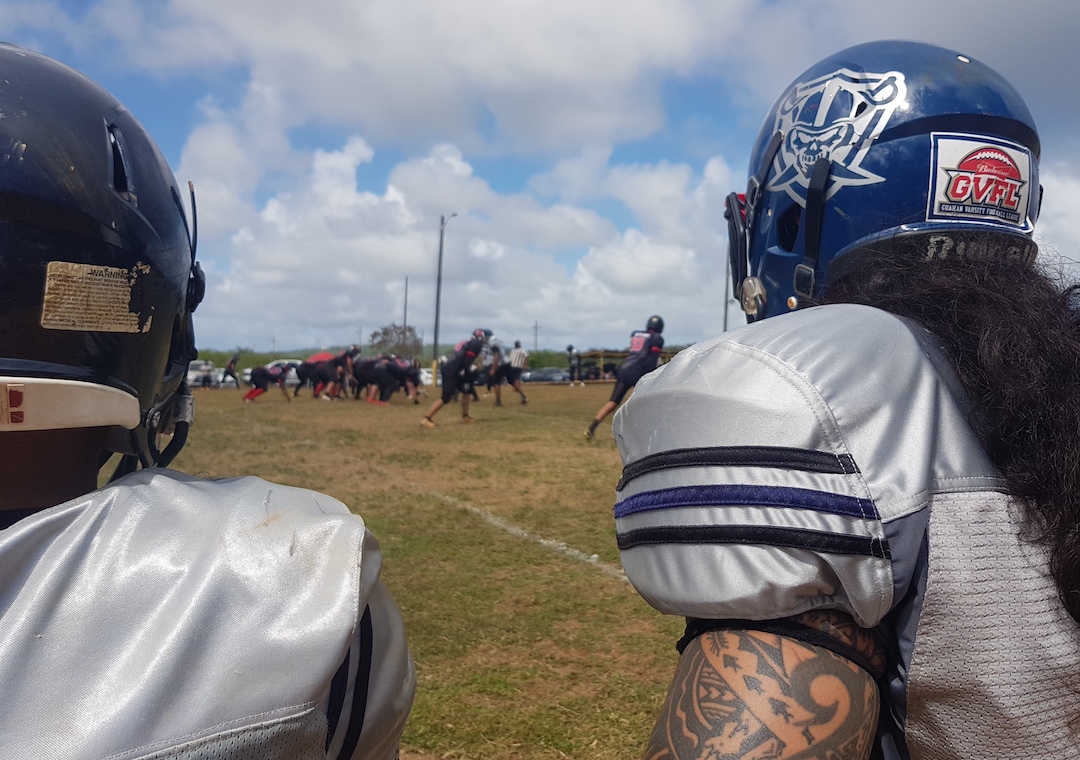 By Robert Balajadia
The undefeated Raiders were met with heavy resistance Saturday afternoon in the GVFL as they squeezed out a 7-0 victory over the upstart Outlaws. The lone score was the lowest point total an opposing defense has been able to hold the Raiders to all season.
Catching the game's only touchdown in the 3rd quarter was Raiders receiver Sandy Fejeran, who was wide-open on a curl route for a 10-yard score from quarterback Danny Manibusan.
"Danny gave us all our routes and he did a great job at finding the open receiver. It just so happened I was the one that was open and I just have to catch the ball. I can't drop the ball like I did on that damn interception. I should've had that," said Fejeran.
The Raiders offense was in a rut, but a big defensive forced fumble late in the 3rd quarter from line backer Allen Blend, his second of the game, gave the team momentum at the right time. Running back Jesse 'Pumpy' Manglona broke loose for a 22-yard run to get inside the 10, only to be finished a play later by Fejeran and Manibusan with the touchdown.
Fejeran changed the scoreboard on offense, but the bulk of his work came on the defensive end. Playing blanket coverage all game on the Outlaws best receivers, Fejeran came up big on the Outlaws final offensive series.
Outlaws quarterback Daniel Phillips attempted to go deep on two occassions, but Fejeran was there on first and second down to swat away the pass attempts, one of which slipped out of his gloves on a near interception.
"These boys depend on me to hold my own against these receivers. As simple as it gets, I just have to do it. If I get burned, I get burned and that's on me. Everyone is encouraging so it makes my job easier," said Fejeran
The Raider defense came away with the third shutout of the season while getting to Outlaws Phillips for four total sacks. Despite being unable to find much rhythm, Phillips gained a lot of respect from the opposing Raiders defense for competing while still in high school.
"Everyone came to play and that young kid playing quarterback came out and did his thing. I have a lot of respect for people that come out and play like that and he's not even 18. This team came out in full strength and proved how tough they can be. They did a good job at holding us down," added Sandy.
The Raiders advance to 4-0 this season and the Outlaws fall to 2-2.
In the first game, the Eagles squashed the Cowboys 35-0.

QUICK HITS
3rd place: Big ups to the Para Todu Rugby Club for finishing 3rd out of 16 teams in the Manila 10's Rugby Tournament today. Biba Guam Rugby!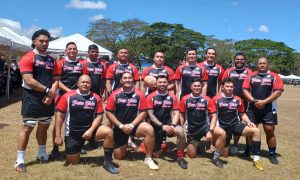 ——————————————
Guam MTB National Championship: Edward Oingerang and Jennifer Camacho are your 2023 MTB national champions. Oingerang finished the course in 1:13:24 while Camacho won her second straight title in 54:08.