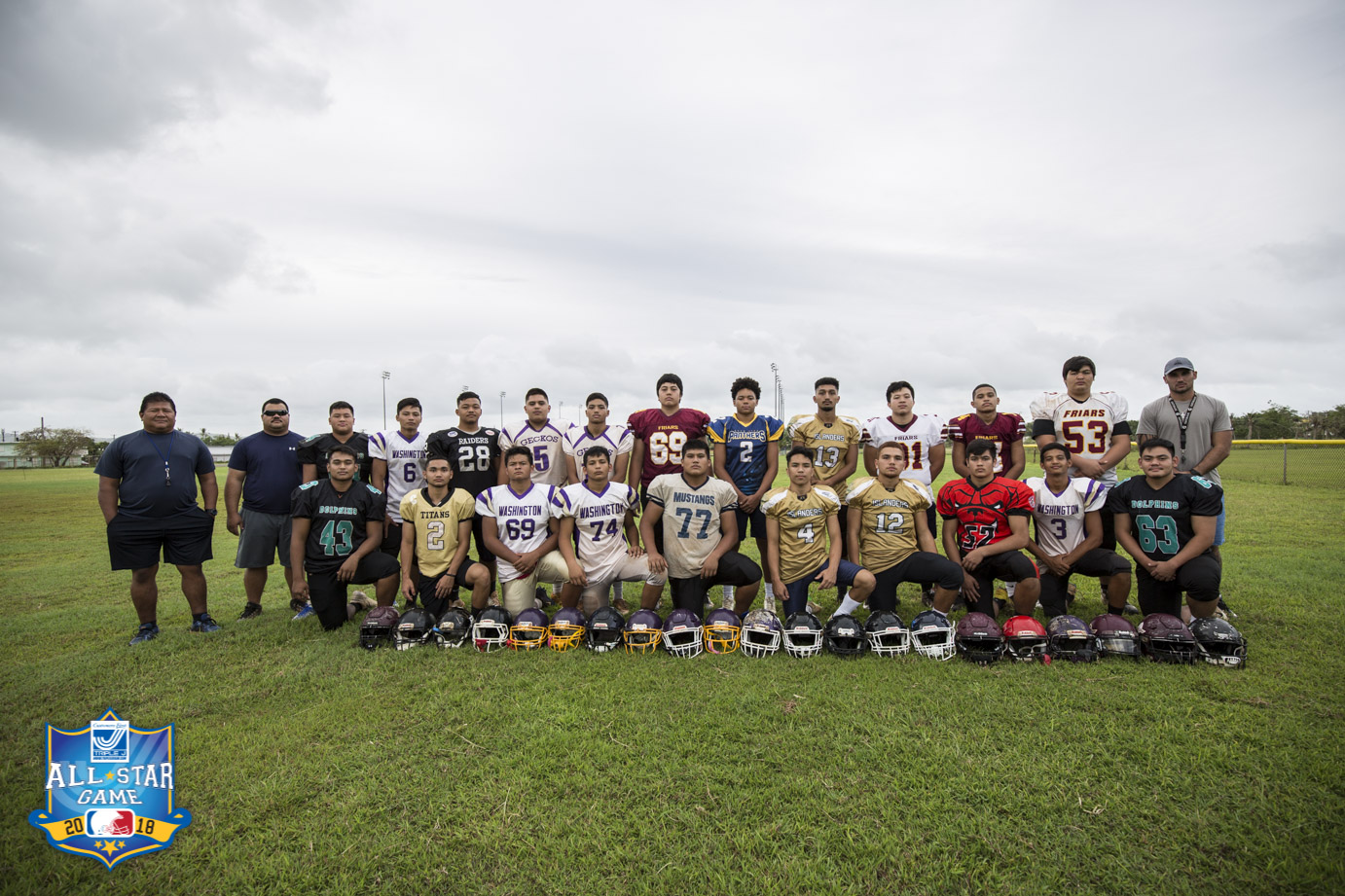 By Robert Balajadia
The 4th Annual Triple J All-Star High School Football Game is READY to go down this Saturday, November 10th at the Angel's Field. Kicking off the day will be the Matua All-Star Game at 4 pm followed by the High School All-Star Game at 6:30!
Raptors ready to roll
The Raptors had a game plan heading into the draft last week and it started with grabbing the most versatile big man in Jose San Miguel with their first pick and the young gun slinger from Guam High quarterback in Travon Jacobs the pick after. The sophomore was honored to be picked so high, but he's keeping himself grounded.
"It felt good, but my skill is just as good as the other teams quarterback so I have to stay humble. But it did feel good though," said Jacobs on being selected within the first few picks in the draft. "It really shows the younger guys what it takes to make it here and it's rewarding."
The Raptors loaded up their offense and defensive line with size while adding specialists on offense. The bulk will provide Jacobs plenty of time to see the field and make the throws he needs. Receiving threats like Nico Velez from the JFK Islanders and the Okkodo Bulldogs leading touchdown grabber in Ethan Sanchez will be Travon's main targets.
Jacobs has been learning a lot from Geckos quarterback coach Danny Manibusan, who's of the best current quarterbacks on Guam today. Learning under Manibusan in short time has added a fresh perspective at quarterback for Travon and he's thankful for the opportunity.
"All coaches have their own style, but the way he makes me imagine things on the field even though we're not playing in the game has helped me a lot," said Jacobs on Manibusan's coaching.
Defense is the Raptors strong suit starting up front with San Miguel and the rest of the GW defensive core. The two-time MVP in tackle-hungry linebacker Chase Spotanski from JFK as well as linebackers Jeylyn Dowdell from Guam High and Noah Rosalin gives the Raptors dynamic playmakers on defense.
Ethan Sanchez from the Friars with Jonah Garcia from the Geckos have been two of the best in pass coverage with the lone Tiyan Titan Davin Mojica getting his shot at safety. Mojica was the lead defensive back for the Titans, but can also line up as a receiver if needed. The Titans are in a midst of a rebuild which didn't translate to many wins for the junior Mojica and the team. Despite their down season, Mojica's call to join the All-Star Game for the first time was quite the honor.
"It's a good feeling and I'm proud to play football, the sport that I love, for another week," said Mojica on his first All-Star Game. "I'm looking forward to having fun and just sharing the field with a lot of different players."
Running back Deaunte Delgado from JFK will be the feature back, but the Raptors are fully prepared to pound the ball with San Miguel and Rosalin for those short must-convert downs. A bulky line with Ethaniel Cali of the Geckos and the Friar staples in Joaquin Rivera and Elijah Dudkiewicz will allow the Raptor playmakers plenty of opportunities.
The Raptors are an upperclassmen dominated group which means a featured list of returning All Stars. As much as the newcomers are looking forward to the big game, the ASG veterans like Gecko linebacker Jerome Quichocho are just as excited.
"I never thought I'd make an All-Star team, but I was able to get in last year so this year has been more about getting better. I feel like I fixed a lot of the problems I had and I feel accomplished. It's still a great feeling being able to play in an All-Star game again," said Quichocho.
And meshing with a new group hasn't been difficult at all for the Raptors with most of the players stating the practices and chemistry has been 'chill'.
"It was easy adjusting to each other. From the first day of practice we were dabbing each other up, but the biggest reason is that we played with or against each other in youth football so we're all sort of familiar with each other," said Jacobs.
"We have a lot of good players at their positions. It's big for me just being a part of this team," added Quichocho.
"We're all learning a lot of new things here. The pace is very quick and everything we do is at a much faster pace and it's a great experience," said Mojica.
ASG INFO
Gates open at 3 pm at Angel's Field and admission is only $3 for adults and $1 for students! (Children under 5 years old get in free)
It's First come first serve on setting up tents/canopies on the sideline BEHIND/AROUND Team Canopies!
(Not shown: John Topasna, James Crisostomo, Harold Gaerlan)

QUICK HITS
Bishop Obispos beat Mt. Carmel for the IIAAG Middle School Girls Basketball championship 37-25.
—————————————-
The Benavente Roadrunners crushed the Agueda Pirates 17-1 to win the 76 PONY Middle School Baseball League. Rodney San Nicolas was a beat, striking out 13 batters in a complete game while going 4-for-4 at the plate, including a homer and 4 RBI.