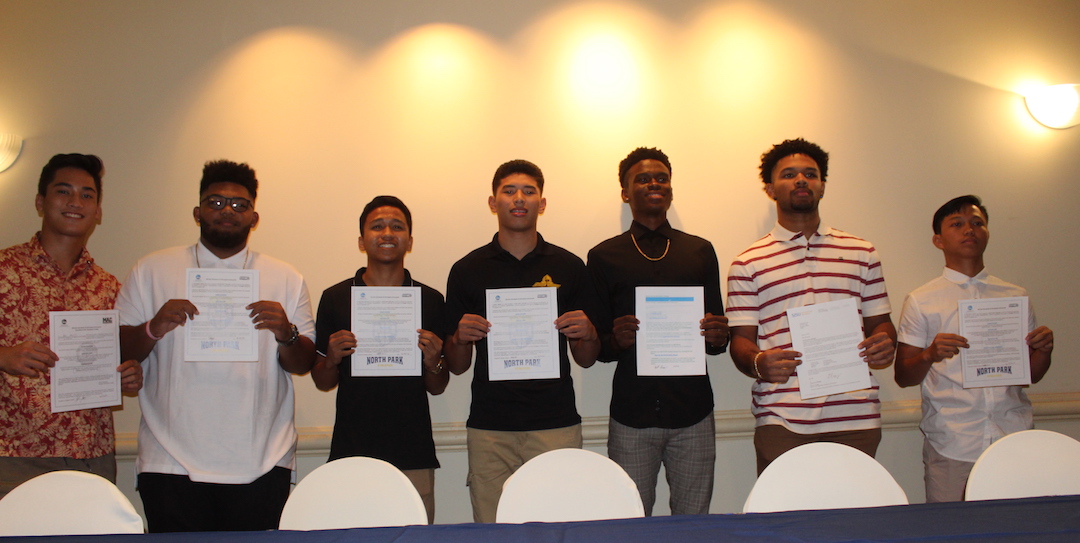 By Robert Balajadia
Seven of Guam's senior football standouts from the 2017 IIAAG season huddled together Saturday afternoon at the Hilton Resort to announce where they plan to attend college football.
A message from professional sports trainer in Hawaii's Chad Ikei, whom all seven athletes got to work with, an emotional message from JFK Islander coach Alan Blend and a warm greeting from families and friends turned the largest number of college football signings into an unforgettable one all put together by Panther head coach Jacob Dowdell.
College Signees:
FD Friars – Kai Akimoto, De'Aundre Cruz, Xavier Naputi
JFK Islanders – Christopher Parker, Evan Bejerana
Guam High Panthers – Will Sanders
Tiyan Titans – Andrew Blas
Akimoto signs with Macalister 
Friar Kai Akimoto wasn't always lighting up on the football box scores, but his work ethic and intangibles are the kind that coaches love to fill their roster with. Akimoto was recruited to play football for Macalister though his decision was based more on academics rather than athletics.
"Academics at Macalister is quote rigorous and that's what drew my attention there in the first place, ultimately making my decision to attend college there," said Akimoto.
Kai stated he will be playing running back for the Macalister Scots in Minnesota.
Cruz will walk on to San Jose
The outstanding high school career of De'Aundre Cruz officially came to an end. GSPN reported Cruz's college choice earlier this March after deciding to sign with San Jose State University. Cruz will be attending as a preferred walk on (POW) after the school had already handed out the max level of athletic scholarships they are allotted annually.
"San Jose was one of the schools I wanted to attend. Right after seeing my highlight video, coach Brent Brennan contacted me and told me he wanted me to play for them. Based on our conversations, it really made me want to go to school there," said Cruz.
Cruz will be playing running back for the Spartans.
Four athletes choose North Park, Sanders chooses Moorepark
Friar Xavier Naputi, Islander Chris Parker, Islander Evan Bejerana, and Titan Andrew Blas all signed letters of intent to play college football for North Park University in Chicago. Panther Will Sanders stated he will be headed off to Moorpark.
Naputi, the 2017 offensive MVP of football, and many of the others were heavily influenced by North Park's coach Mike Conway approach and welcoming attitude.
"He treats us like his own and that's big in my heart because where we're from it's all about family and culture," said Naputi.
"It was easy to pick North Park because of what they were offering, and they were offering way more than the other colleges I was looking into," said Parker.
"Ever since I received that first email from [Conway], he didn't stop communicating with me and that really showed that he was  caring person… There's a lot of Hawaiians and Samoans out there so I know I wont get home sick," said Bejerana.
"I went with the college I felt most comfortable with. I was in constant contact with the coaches and they've made everything easy for me as far as applying for the school and what courses to take," said Sanders.
"Coach Conway and his wife were very welcoming and told me that if I ever needed anything I could call them. I was able to see the facility online and it looks great," said Blas.
Naputi will be playing receiver and special teams, Parker will be playing on both the offensive and defensive line (Guam's first lineman recruit), Bejerana will be playing defensive back and Blas will be playing receiver.

QUICK HITS
Guam MTB National Championship: Edward Oingerang and Jennifer Camacho are your 2023 MTB national champions. Oingerang finished the course in 1:13:24 while Camacho won her second straight title in 54:08.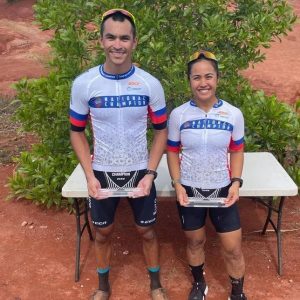 ——————————————
Kobe Miyashita, with St. John's coach Arvin Flores, was named the 2023 IIAAG Middle School Boys Volleyball MVP!