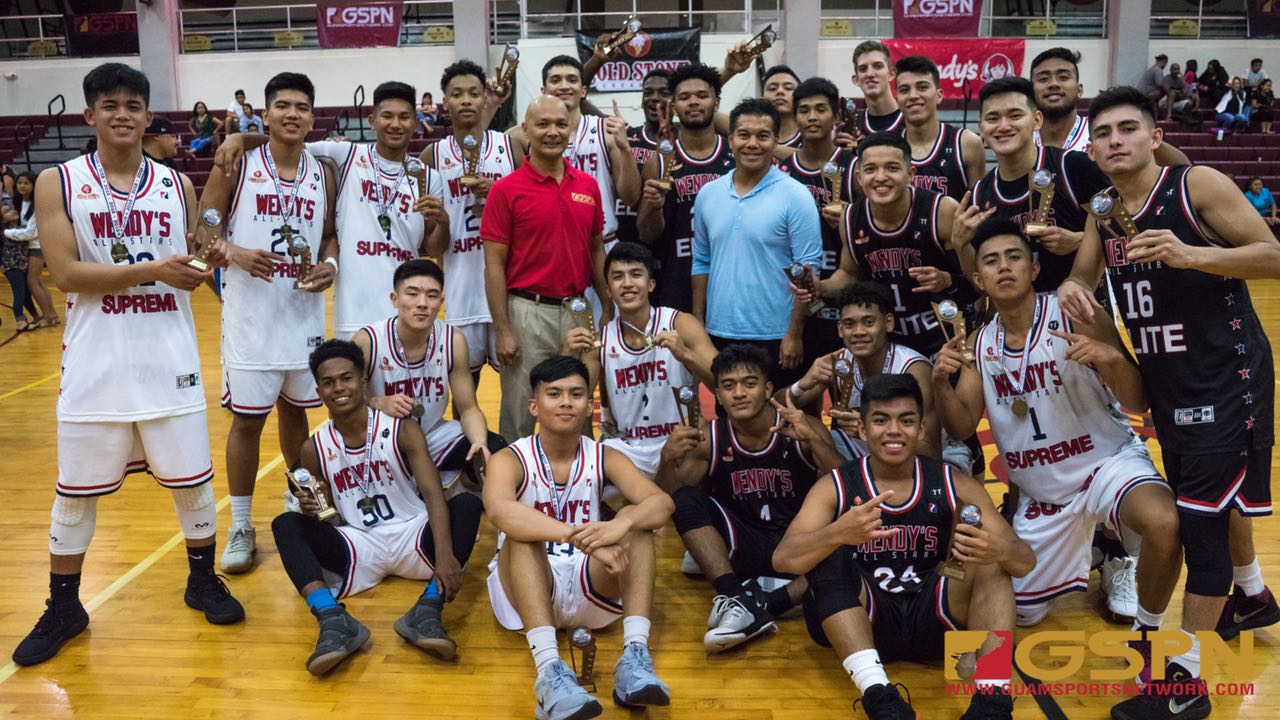 By Jay Leon Guerrero
Team Supreme pulled away in the final period to hold off Team Elite in the 2018 Wendy's High School All-Star Basketball Game with a 95-89 victory in a packed FD Phoenix Center.
JFK Islander center Jonah Hahn earned the Coldstone Player of the Game honors with a double-double scoring 22 points and grabbing 11 rebounds for Team Supreme. It was guard-driven game but Hahn did work in the paint in the decisive final period scoring eight big points to give Supreme the win.
"It was a good experience and also a good feeling to win a game; my last game as a senior," said Hahn. "I couldn't have done it without my teammates and my coach and Godfather Fred Peters," said Hahn.
Peters, the championship coach from St John's, guided Team Supreme to a fun but yet competitive contest against Team Elite coached by JFK head coach Rey Serafico.
Hsieh hot hand early
Team Elite burned the nets to open the contest with Tony Hsieh (St. John's) draining three triples to take a 20-16 lead. Team Supreme takes the lead in the second quarter with Josh Gatchalian (St. Paul) scoring seven points during a 14-4 run.
Gatchalian's offensive spurt was erased after DeAundre Cruz (FD), Alschea Grape (JFK) and Takumi Simon (St John's) each scored before halftime to give Elite a slim 44-41 by the break.
League MVP and Supreme point guard Michael Min (St. John's) played quarterback in the third period to regain momentum and the lead. Min distributed to Jahmar White (St Paul) and Kyle Gaitan (FD) to go ahead 54-52. Min also scored six points in the third period to put Supreme ahead 67-64 after three quarters.
Supreme continued to push the pace and go up by eight points in the final period with 2017 MVP Jason Diaz (St. Paul) making a fast break lay-in courtesy of a pass from Gaitan. Gaitan later scored off an offensive rebound to surge ahead 75-67.
Simon leads comeback
Elite's Simon tried to mount a comeback with three minutes remaining, swishing a 3-pointer and a lay-in to get within six points. Hahn answers with a beautiful post move to put Supreme back up by eight. Simon got open on the other side of the court and drained a long jumper to get back with six points.
With less than 90 seconds remaining, Team Supreme's White made a baseline runner that puts the game out of reach.
"I thought we could go on one last run towards the end to win but it was too little too late," said 4-time all star Simon. "Throughout the four years, I know Iv'e gotten better every single year. Although we lost, we all did our best," said Simon. Simon had 15 points for Team Elite.
"We had a strategy of continued movement coming into the game. If we move around, we make their defense get lost and everything," said Hahn.
White scored 16 points, Gaitan scored 15, Gatchalian scored 14 and Diaz had 11 points for Supreme.
"It may have been an All-Star game and there were many people watching, but we still had to give them a show and give our A-game. Coach Peters did a good job of making sure we had fun and got the W," said Gaitan. "It was yet again another fun experience. It was nice to play with other players that I usually compete against during the season."
Hsieh led the offense for Elite with a game high 24 points. Grape and Revis Henderson (Harvest) scored 14 and 10 points, respectively, for Team Elite.
"I just want to say thank you to all the sponsors for another successful all star game. As players, this is what we look forward to this game after the season because it's always good to compete against the best players on the island. Also, shoutout to GSPN and Wendy's for making all of this happen," said Gaitan.
Public School dominates 4th quarter
The GDOE Public Middle School All-stars defeated the IIAAG Middle School All-star team 60-47.
GDOE set the tone early with Justin Arjona (Astumbo) and Darren Cepeda (Untalan) leading the offense to take an early double digit lead. The IIAAG private school team gets back into the contest with 7th grader Blaise Ada (Bishop) and EJ Cruz (Mt Carmel) making long distance buckets to cut the deficit to 29-21 by halftime.
The IIAAG team continued to trim down the deficit and trailed just 38-34 after Ada and Adam Cruz (St John's) each hit clutch 3-pointers.
GDOE pulled away in the crucial fourth quarter with Arjona making another 3-pointer and Kyle DeLeon (Astumbo) scoring 10 points to secure the victory.
Jacob Miranda (St Paul) scored seven points in the final period but the IIAAG team went cold to end game for a 60-47 victory.
DeLeon had a game high 20 points, Arjona contributed 19 points to lead GDOE. Ada led the IIAAG all stars with 15 points, EJ Cruz contributed 12 points for the IIAAG squad.
Pacific Tyre halftime
Alschea Grape won a new set of tires after blazing through the Pacific Tyre skills challenge course in 23 seconds. Grape and Jahmar White made the final round with the two fastest times. White struggled to convert the chess pass through the large tire and ended up losing by a mere four seconds to Grape in the final round.
Also competing in the contest was National Team members Billy Belger and Earvin Jose along with all-star players Michael Min and Tomas Calvo.
Island Wolves win Wendy's Club award
The Island Wolves earned $500 after winning the basketball club participation award with 45 members attending the all-star game. The basketball club with the most attendees to watch the game win the contest. The Wolves, led by coach Leonard Aguon, will use the contest winnings to join youth future youth basketball tournaments.
PHOTO GALLERY BROUGHT TO YOU BY:

QUICK HITS
3rd place: Big ups to the Para Todu Rugby Club for finishing 3rd out of 16 teams in the Manila 10's Rugby Tournament today. Biba Guam Rugby!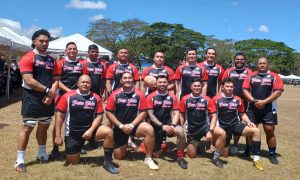 ——————————————
Guam MTB National Championship: Edward Oingerang and Jennifer Camacho are your 2023 MTB national champions. Oingerang finished the course in 1:13:24 while Camacho won her second straight title in 54:08.