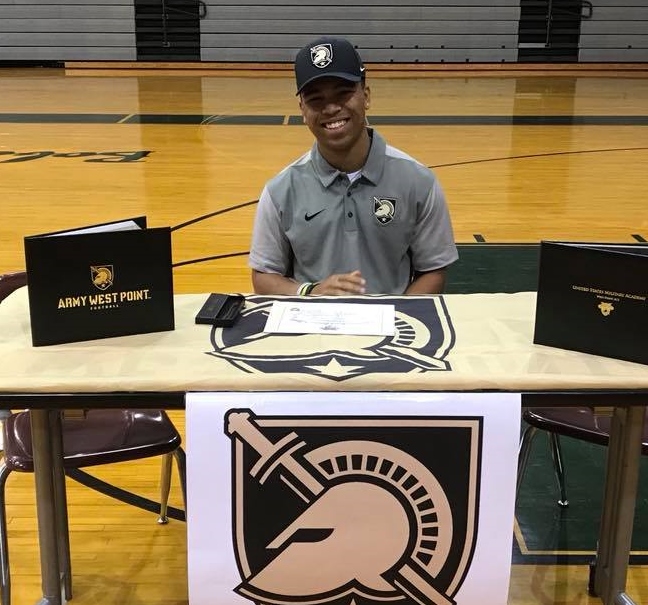 By Patrick Lujan
Being a military brat, Jon Christopher (JC) Watson has attended at least nine different schools from kindergarten to 12th grade. Make it 10 after being accepted to play football at the United States Military Academy (aka West Point).
His mom Karin was born in the Philippines but was raised on Guam by her grandfather in Dededo before eventually earning a commission through the University of Guam's ROTC program. JC's father Rufus is a 1998 alumni of West Point. Both are still on active duty status.
Back in 2009 and 2010, the Watson's were able to have JC experience the island life. He attended Dominican Catholic School in Yigo and was the quarterback for the Yigo Jets Manha Green team. The head coach was Paul Davis and assistant coaches were Brian Duenas, Jesse Opena and Chuck Cruz. He also played soccer for the Dededo Soccer Club in the Spring of 2010.
After leaving Guam, the Watson's moved a couple more times with JC earning some athletic accolades along the way (football, soccer, and track)
Ending his high school career in Kansas, JC was the starting quarterback and kick returner on his team and a 200m track star, but more importantly, he was a member in the National Honor Society, Kansas Boys State Leadership Seminar and the BLHS Diversity Interest Group.
"Although he received acceptances to other schools, he made the decision to accept his appointment from the US Military Academy," his mom Karin tells GSPN. "He was vying for a Congressional nomination through the Honorable Bordallo's office, but he received a Presidential nomination. It was a challenging road, which began at the start of his freshman year. His ability to maintain a high GPA while playing sports, and while balancing community service opportunities were helpful to his packet. His leadership experiences also were critical to his appointment. Applying early and getting as many of the requirements in, especially the medical eligibility, was something his liaison officer stressed."
Now that JC has signed with West Point, his focus now will be to compete on the Black Knights football team this fall for some playing time at the slot receiver position.
Congratulations and good luck to JC!

QUICK HITS
The Figo Islanders 40s women's softball team took gold in the Senior Softball World Championship in Las Vegas. Figo came out of the loser's bracket and beat the Arizona Belles 17-3 in the AA division championship game Sunday afternoon.
Other Guam teams that played in the 40s tournament were: Team SOTTA (women's) and Bud Light Guam, Friars 671 and Sindalun Guahan (men's).
Sindalu finished a respectable 4th out of 24 AAA division teams.