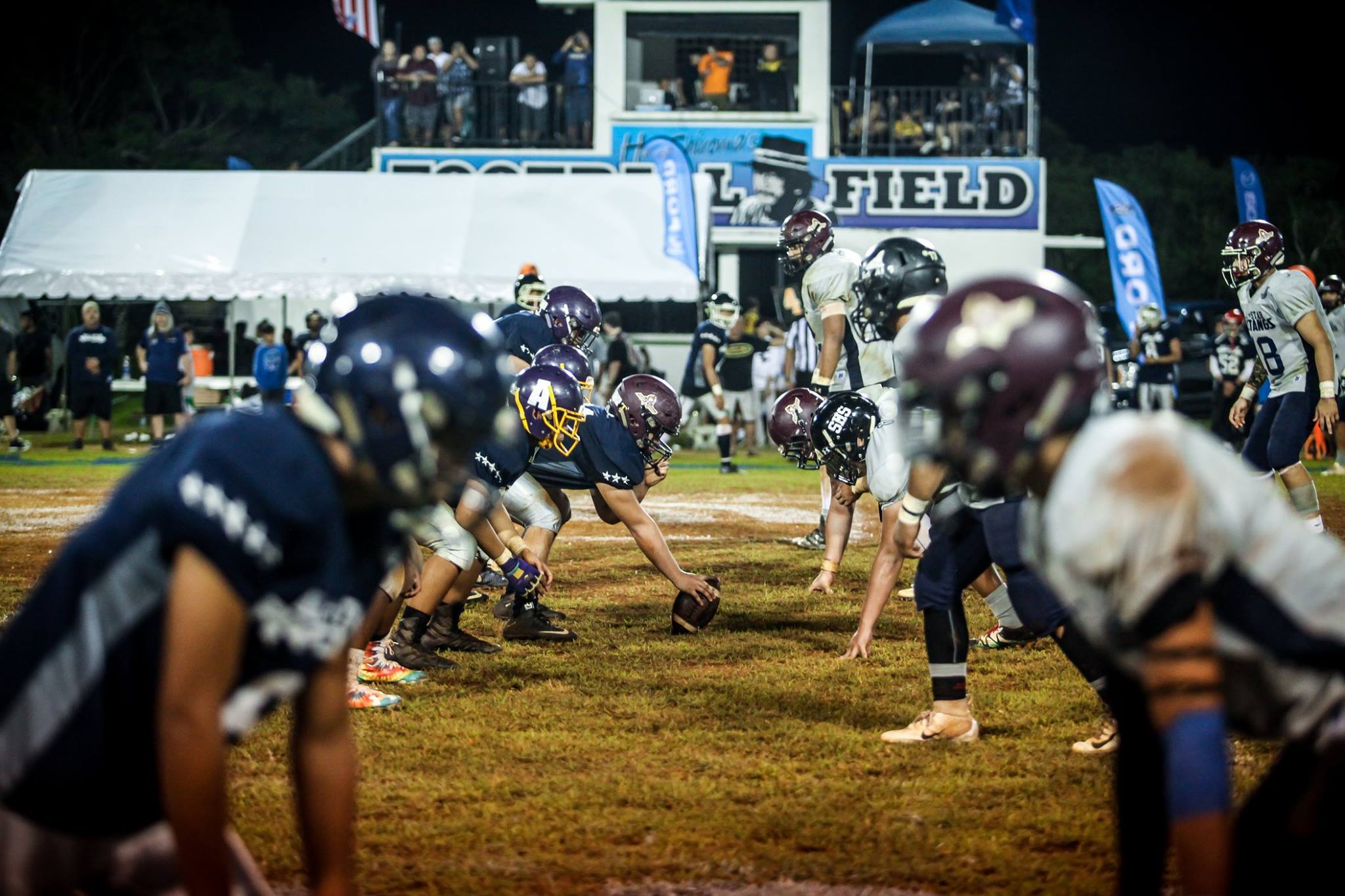 PRESS RELEASE – Get ready for the 5th Annual Triple J High School Football All-Star Game! The best players from Guam's high school gridiron will strap it up one more time to end the 2019 season. Talents flood each roster as the selections from the All-Island list will go head-to-head after being hand-pick via draft by the All-Star coaches!

DATE: Saturday, Nov. 9th
LOCATION: JFK Field (Tamuning)
GATES OPEN AT 3PM
MATUA ALL STAR KICK OFF: 4:00pm
HIGH SCHOOL ALL STAR KICK OFF: 6:30pm

The Matua All Star Game has been the perfect place to see who's got next, where they provided football fans glimpses of future high school talents. The current teams in 2019 are split with each of the seven teams of the GNYFF equally divided.

Each and every All-Star Game has gone down to the wire! The name of this years game is defense dominated. Head coach of the Raptors in Ryan Rios and Mustangs coach Jacob Dowdell scooped up some of the leagues best defensive stars in their first few draft picks so expect to see some hard-hitting action on both sides.
The Raptors secured quarterback Travon Jacobs with their first overall pick, taking two of the leagues best linebackers in MVP Noah Quichocho from GW and Eugene Arriola from FD. Versatility was big for the Raptors as they have plenty of players who can suite up in different positions making them unpredictable, exciting to watch and hard to game plan for!
The Mustangs took Kein Artero with their first pick, the dynamic running back and return man from FD who captured his second straight offensive MVP award. They also added a beefy line on both offense and defense which will means they're willing to grind out the tough yardage to keep the ball moving!
Raptors – Coach Ryan Rios
Pick #1 – Travon Jacobs QB – Guam High (11)
Pick #4 – Noah Quichocho LB – GW (12)
Pick #5 – Jeremiah Sablan FB – Sanchez (11)
Pick #8 – Eugene Arriola LB – FD (11)
Pick #9 – Nico Velez CB – JFK (11)
Pick #12 – Cylar Joe Gumabon OT – GW (11)
Pick #13 – Elijah Dudkiewicz OT – FD (12)
Pick #16 – Jonah Garcia CB – GW (12)
Pick #17 – Joaquin Lujan C – GW (11)
Pick #20 – Josh Dela Cruz DE – GW (12)
Pick #21 – Josh Sablan OG – Sanchez (12)
Pick #24 – Davin Mojica S – Tiyan (12)
Pick #25 – Ipo Indalecio S – GW (10)
Pick #28 – Elijah Calvo DT – FD (11)
Pick #29 – Eian Naputi RB – GW (11)
Pick #32 – Jayton Penaflor S – Sanchez (12)
Pick #33 – Devin Benavente NG – GW (12)
Pick #36 – Mykai Blas LB – GW (10)
Pick #37 – Gavin Bejerana OG – Sanchez (12)
Pick #40 – Tanner Calvo OG – Southern (10)
Pick #41 – Jonah Gumabon LB – GW (10)
Pick #44 – Mana Indalecio CB – GW (10)
Pick #45 – Kyle Ada OT – FD (12)
Pick #48 – Keanu Gray FB – GW (11)
Pick #49 – Brendyn Cruz WR – GW (12)
Pick #52 – Keanu Salas U – GW (12)
Pick #53 – Kekoa Gamboa DB – FD (11)
Pick #56 – Adin Lumba RB – Sanchez (10)
ALTERNATE #1: Gabriel Gilbert TE – GW (12)
ALTERNATE #4: Joel Guzman DT – GW (12)
*Alternate players will be selected if original roster player cannot attend game

Mustangs – Coach Jacob Dowdell
Pick #2 – Kein Artero RB – FD (12)
Pick #3 – Jalen Thach WR – Guam High (11)
Pick #6 – Evan Brown DE – FD (10)
Pick #7 – Roy Chargualaf LB – FD (10)
Pick #10 – Sage Shinohara DT – FD (12)
Pick #11 – Will O'Brien Rios DE – GW (12)
Pick #14 – Christian Jordan Cali OT – GW (11)
Pick #15 – Matua Whalen OG – Guam High (10)
Pick #18 – Lorenzo Valencia C – FD (12)
Pick #19 – Michael Castro FB – FD (12)
Pick #22 – Zayshaun Adams S – Guam High (9)
Pick #23 – Cason Jackon S – GW (12)
Pick #26 – Nathan Mendiola CB – FD (11)
Pick #27 – Nick Anderson QB – FD (12)
Pick #30 – Rodion Balbin OG – FD (12)
Pick #31 – Avery Gamboa OG – Guam High (11)
Pick #34 – Javian Cruz WR – FD (11)
Pick #35 – Isaac Cruz CB – Southern (11)
Pick #38 – Lawrence Aflague LB – Southern (11)
Pick #39 – Kamerin Toves LB – Sanchez (12)
Pick #42 – Ethan Dimla DT – Southern (12)
Pick #43 – Conan Baza LB – Southern (12)
Pick #46 – Kaekoa Leon Guerrero QB – Tiyan (12)
Pick #47 – Izzic Cabrera FB – FD (11)
Pick #50 – Tomas Benavente LB – Southern (11)
Pick #51 – Julius Gaduang RB – Guam High (12)
Pick #54 – Peter Benito DT – Sanchez (12)
Pick #55 – Enrique Macias QB/K – GW (12)
ALTERNATE #2: Jayson Jackon RB – Guam High (12)
ALTERNATE #3: Nicholas Keefe LB – Guam High (12)

2019 MATUA ALL STARS

RAPTORS
Eagles
Robert San Nicolas
Kaleb Salas
Jake Cruz
Ethan Guerrero
Dylan Quitugua
Donovan Reyes
Brian Hayes
Outlaws
Josiah Quintanilla
Zavier Camacho
Anthony Bonorigo
Hans Aguon
Rodney Camacho
Landon Castro
Rai Peredo
Cody Salas
Broncos:
Ayden Bamba
Sage Calvo
Jonavin Cruz
Kaleb Lucero
Henry Mendiola
Jase Murakami
Ameah Salas
Raiders:
Ryan Blas
Henry Cruz 
Mathias Gumabon 
Jrake Guzman 
Gavin Perez
Kin John San Nicolas 
Jay San Nicolas
MUSTANGS:
Steelers:
Dason Ignacio
Derek Treltas
Pierce Pangelinan
Lance Muna Aguon
Julian Bamba
Josiah Nauta
Isaiah Jesus
Cowboys:
Collin Cruz
Raymond Blas
Mason Taijeron
Brianne Taisipic
Micheal Jesus
Joseph Aguon
Collin Naputi
Packers:
Austin Apatang
Josijah Binondo
Justice Brub
Ethan Cruz
Eric John Sablan
Aiden Ulloa
Joseph Aguon
Angels:
Noah Medler
Alex Sojo
Jayven Mendiola
Vance Meno
Aaron Johnson
Jermain Molo
Sage Castro