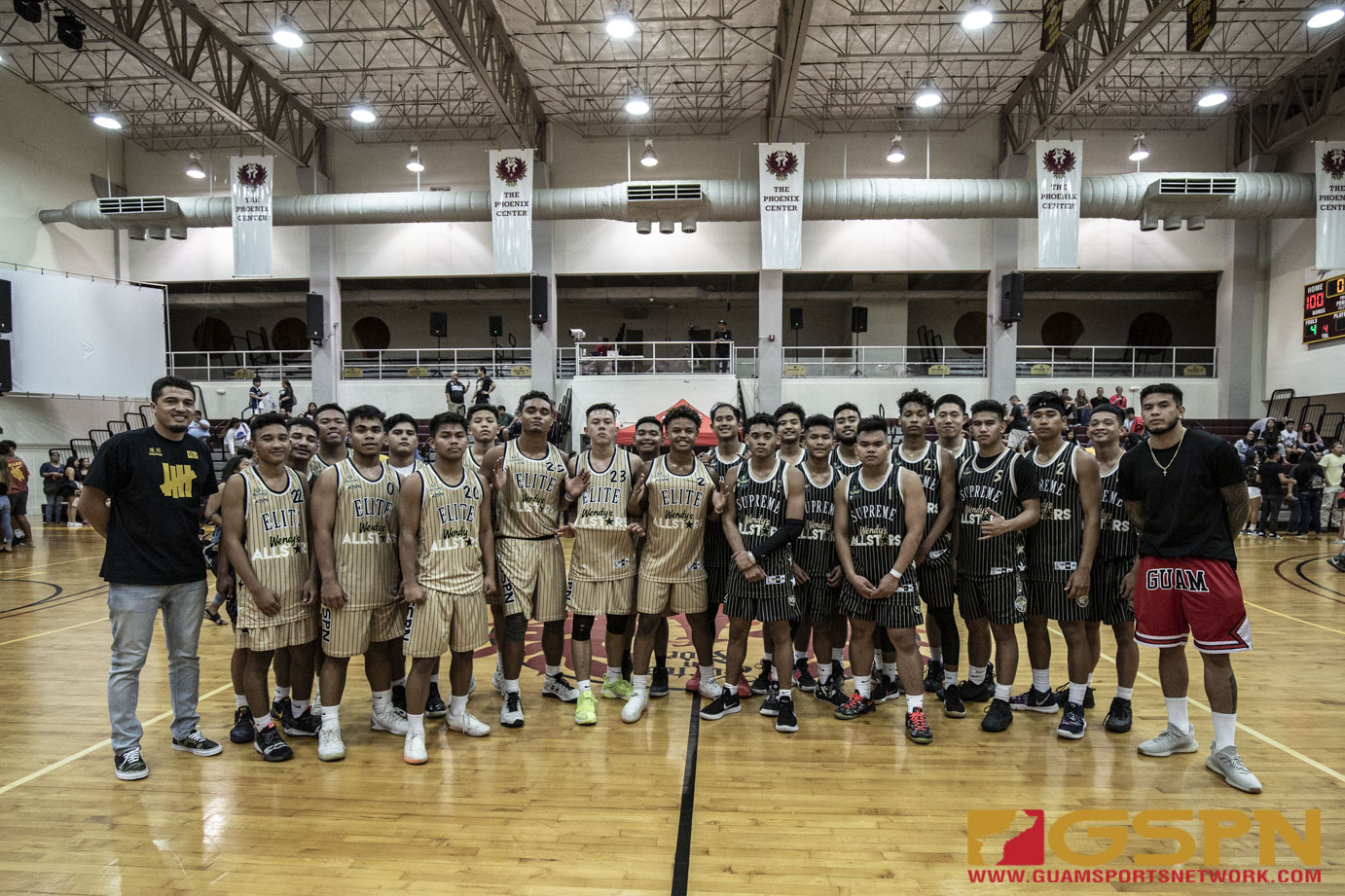 By Jay Leon Guerrero
The 5th annual Wendy's/Coldstone High School Boys Basketball All-Star game packed the FD Phoenix Center for fans to witness Team Elite run away in the third quarter to rout Team Supreme 100-75.
Tony Quinene (FD) from Team Elite led all scorers with 22 points and was pivotal in a 16-5 run in the third quarter. "We had a little four point lead at halftime. We talked in the huddle and decided to keep going and blow this thing open. They weren't ready for it," said Quinene.
Elite point guard Thelo Orichiro (St Paul) orchestrated the run after halftime, dishing out three assists during the run that Team Supreme was unable to recover from. "I told everyone that if we play good D (defense), the offense would come," said Orichiro.
Orichiro played against fellow Warrior teammates Jahmar White and Reo Aiken from Team Supreme and his victory was icing on the cake after an IIAAG championship. Orichiro had 16 points, seven assists and two steals in the contest for the Elite squad.
Supreme strikes first
Team Supreme set the tone early behind White and Aiken to go ahead 40-33 in the second quarter. Aiken was hot from behind the arc, draining three 3-pointers as Supreme looked to pull away.
Team Elite got a huge boast off the bench from Westbrook Concepcion (Tiyan) in the second quarter to take their first lead of the game. Concepcion scored five points in a matter of seconds after making a 3-pointer and then a steal for an easy lay-in to go up 43-42.
Elite never looked back with big man Lawrence Tisalona (JFK) protecting the rim on defense and also draining a 3-pointer which got the Elite bench and coach Willie Stinnett on their feet.
Christian Leon Guerrero (FD) and EJ Cruz (Southern) also made 3-pointers in the second half to prevent any come back from Team Supreme.
White, the IIAAG league MVP, led Supreme coached by national team player Darren Hechanova with 14 points, Dylan Trusso (GW) and Aiken each scored nine.
After suffering a loss in the IIAAG championship game to White and the Warriors, Quinene (from FD) said he had a little friendly trash talking against his rival.
"I was talking trash to Jahmar saying that the next time we play that I was going to get back at him," joked Quinene. "We'll see what happens the next time we face again".
"I was talking trash to Reo," said Orichiro. "We were teammates but not on the court tonight," joked Orichiro. "It was a great game and I had fun.. thank you to Wendy's, GSPN and all the other sponsors that make games like this happen."
Supreme guard Dale Bautista (Okkodo) said despite the loss, it will be an experience he will never forget.
"We all worked hard to get here and to share the court with all this talent is an honor," said Bautista. "My advice to the next generation is to continue working hard all year long and you will be part of a special game like this," said Bautista.
Harold Gaerlan (Sanchez) and Bautista each scored eight points for Team Supreme. Jacob Oshiro (Harvest) had seven points, Brandon Soriano (FD), King Karl De Mesa (JFK) and Kevin Cabral (Okkodo) each scored six points for Team Supreme.
For Team Elite, Tisalona and Chris Morikami (both from JFK) scored 12 points apiece. Concepcion also had 12 points, Cruz chipped in 11 points in a balanced Elite offense.
Middle School All-Star Game
Hendrix De Fiesta hit the go-ahead 3-pointer to give the Public School GDOE team a thrilling 55-54 victory over the private school IIAAG team. Hendrix's shot was from NBA three-point distance that got the crowd going crazy.
The IIAAG led for the entire contest until the last seconds of the game with St Paul's Xander Sanchez and St John's guard Xander Kamai leading the offense.
The private school kids led by as much as 14 points with head coach Eddie Pelkey controlling momentum. The public school team, guided by head coach Brent Tipton, stayed within striking distance and slowly chipped away at the lead in third quarter. Justin Lizama (Jose Rios) and Kayjay Martin (FBLG) made plays on both sides of the court to keep the public schools in the contest.
Aaron Johnson (Anderson) helped the private schools maintain a slim lead but good free throw shooting by the public schools within a possession from taking the lead. A bucket by Jaden Santos (St Paul) was countered by Ashle Arbolida (FBLG) with less than a minute remaining and the private schools were clinging to a one point lead. Kamai hit 1-of-2 free throws with less than 20 seconds left before the clutch shot by De Fiesta to put the public school up 55-54.
The private schools had an opportunity to win but a three-pointer by Santos missed the front end of the iron and the public school squad celebrated another victory over the private school. Last year, the public schools won the game as well and now have a two game winning streak.
Santos led all scorers with 14 points; Sanchez and Kamai each contributed six points. Johnson and Shawn Lamparero (Mt Carmel) each scored five points for the private school team.
De Fiesta led the public school squad with 11 points, Arbolida had nine points. Mark Cariazo (Astumbo), Lizama, Ashley Manipon (BMS), and Martin each scored eight points for the public school team.
PHOTO GALLERY BROUGHT TO YOU BY:

COMING SOON …
High School Football starts Sept. 29
Brawl 3: Oct 13
Guam's Strongest Man and Woman Competition October 29
QUICK HITS
The Figo Islanders 40s women's softball team took gold in the Senior Softball World Championship in Las Vegas. Figo came out of the loser's bracket and beat the Arizona Belles 17-3 in the AA division championship game Sunday afternoon.
Other Guam teams that played in the 40s tournament were: Team SOTTA (women's) and Bud Light Guam, Friars 671 and Sindalun Guahan (men's).
Sindalu finished a respectable 4th out of 24 AAA division teams.