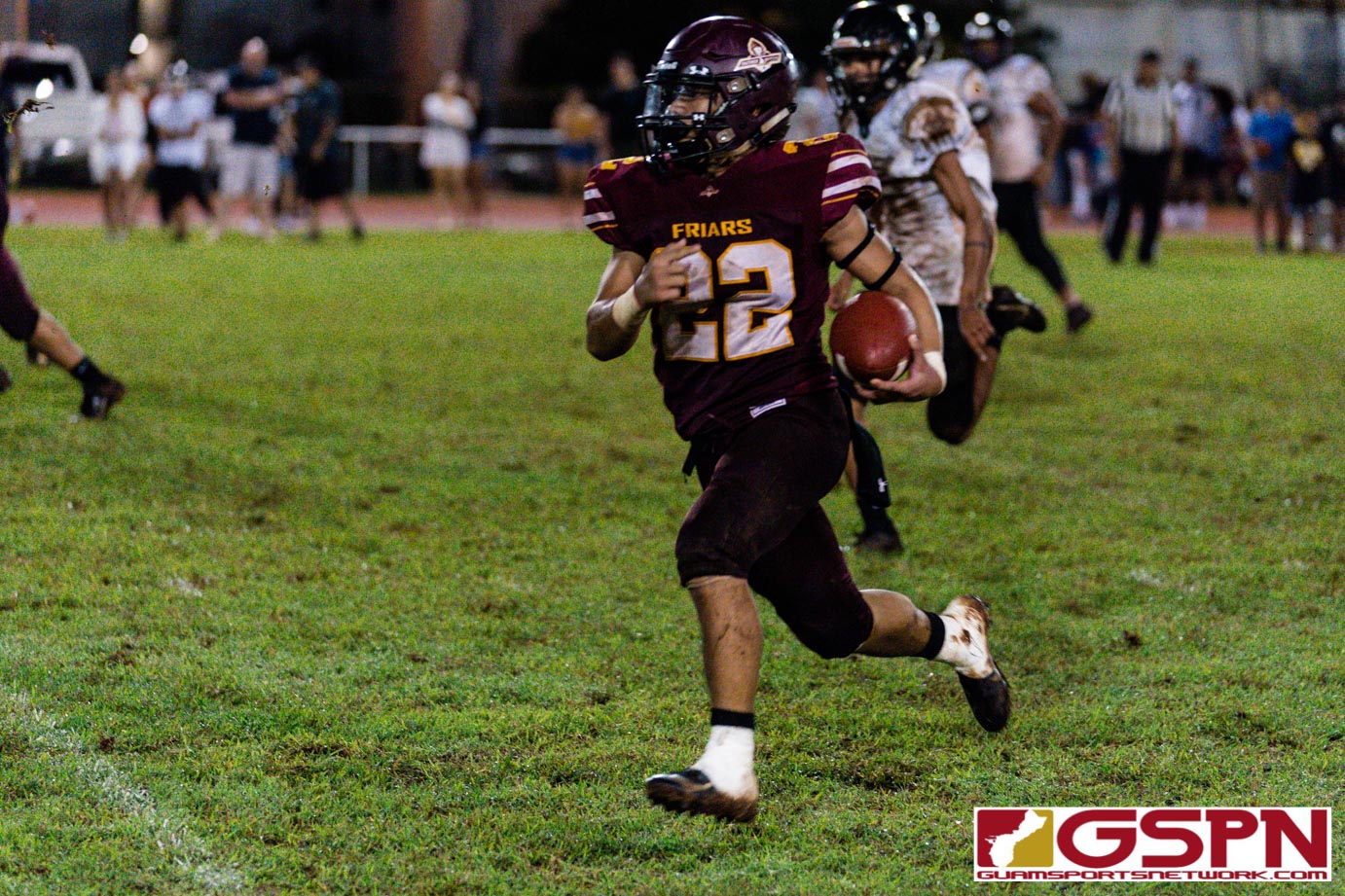 by Robert Balajadia
Saturday evening's IIAAG football games were a one-sided scoring affair with the FD Friars and Sanchez Sharks getting big home wins to improve to an early unbeaten record at (3-0) while the Sharks improve to (2-0) after their win over Okkodo was ultimately considered a forfeit and will not count. The Friars defeated the JFK Islanders 48-0 while the Sharks handled the Tiyan Titans 50-6 up North at the Okkodo field.
That sets the stage for next Friday where the Friars and Sharks will face off for sole possession of 1st place in the league at the GW Field.
The Sharks hit the half century mark, netting the highest point total of the season with their big win over the Titans. Tiyan was coming off their first win of the season just last weekend against the Islanders.
Sophomore running back Aiden Lumba helped the Sharks get up to a 14-0 1st quarter lead with a pair of scores and Sanchez never looked back.
Artero racks up 275 all-purpose yards
On just nine carries, Friar Kein 'Ghost' Artero amassed 210 rushing yards and three touchdowns to go along with a 65-yard punt return touchdown. And he only played in the first half.
Artero has now accumulated 13 total touchdowns in just the first three games of the season.
FD elected to receive the ball on the opening kick-off and got off to a quick start with a 70-yard punt return from Nate Mendiola. Two runs from Artero were all the Friars needed to put up the first score.
Mendiola would get an interception off a defected pass on the Islanders next drive to eventually set up a one-yard touchdown pass from Nick Anderson to receiver Matt Santos to put FD up 14-0.
FD opened up the 2nd quarter with a 28-yard touchdown run from Artero to go up 21-0.
JFK managed to get into the red zone after a roughing the passer penalty, but linebacker Eugene Arriola picked off quarterback Al Blend at the five-yard line and brought it back to the FD 28. Arriola had nine total tackles and a sack to go along with his interception.
On the very next play, Artero needed just one hand-off to gut the Islanders up the middle for a 72-yard score to rock a 28-0 lead. Artero added a 65-yard punt return touchdown right before the half where to go up 34-0 ending his night.
Friar running back/receiver Javian Cruz punched in a 3rd quarter touchdown from two yards out and Caiyle Gogue capped off a 38-yard punt return with a three-yard touchdown in the 4th quarter to final the 48-0 score.
Islander Jacobe Quinata was the leading rusher for JFK with 62 yards off 11 carries.
Friday night game
PHOTO GALLERY BROUGHT TO YOU BY:

QUICK HITS
The Okkodo Bulldogs secured third place at the Far East Division I Girls' Basketball Tournament in Camp Humphreys, South Korea. Jasmine Samson and Haley Cabrera were named All-Tournament selections in recognition of their hard work on the court. Vaysia Blas won the 3-point shooting contest. The Bulldogs played nine games in three days with a squad of eight:
Erin Moldez
Jasmine Samson
Haley Cabrera
Sharm Tauiwei
Hanna Meinik
Jordyn Zacarias
Jordin Hernandez
Vaysia Blas