PRESS RELEASE – More than 1,500 runners helped kick off the Guam National Guard's 38th Anniversary and participated in its Annual Taotaomona Run/Walk/Stroll at the Guam Premiere Outlets early Saturday morning. This year's theme is 38 years of Serving our Family, Our Island and Our Nation to recognize what our members do for their families, our island and our nation to enjoy our freedoms.Justin Gardner beat more than 1,500 runners to finishing first overall in a time of 17 minutes, 29 seconds.  He was also first overall in the Male Submaster division.  Carlo Leon Guerrero was second overall with a time of 17 minutes, 43 seconds, also taking first place in the Male Junior Division.  Yumika Sugahara was the first overall female finisher with a time of 20 minutes, 50 seconds, which was also first in the Female Open Division.  She was followed by Shakeera Esma, who finished in 21 minutes, 29 seconds, also taking first place in the Female Junior Division.
In the Stroller Division, Deinnesa Perez took first place honors, followed by Neiliza Trina-Santos and Reginald Diaz.
In the 2K division, Okamoto Haruki was first overall with a time of 9 minutes, 44 seconds, also winning the boys division.  Donna Entera was second overall, winning the girls division with a time of 9 minutes, 45 seconds.  John Guerrero and Ah-Me Kawaguchi rounded out the boys division with times of 11 minutes, 26 seconds and 11 minutes, 40 seconds respectively.  In the girls division, Kylie Guzman and Kieko Guzman finished second and third with a time of 10 minutes, 23 seconds.
Dri-fit shirts were available for the first 1,500 registered finishers.  All proceeds from this 2K/5K will benefit the Guard's Family Readiness Groups (FRGs).  This organization, within each unit, takes care of the families on Guam when the Soldiers or Airmen are in training or deployed.  The FRGs do so much to assist the families, keep them informed and even provide training on resiliency, stress management and an opportunity to network with other families.
5K Division winners were:
Female Youth (13 & under) Division:  Rhylaieh Taitano (28:42), Jaychelle Nededog (28:47) and Kaeden Canovas (29:50);
Male Youth Division:  Evan Tydingco (22:42), Ryan Concepcion (26:19) and Ivan Aguilar (26:56);
Female Junior (14-19 years old) Division:  Shakeera Esma (21:29), Aliza Haun (23:56) and Chasity Minor (25:24);
Male Junior Division:  Carlo Leon Guerrero (17:43), Luke Bukikosa (19:19) and Jacob Miranda (19:33);
Female Open (20-29 years old) Division:   Yumika Sugahara (20:50), Genevieve Arce (25:47) and Erika Camacho (27:22);
Male Open Division:   Timothy Camacho (20:18), Dylan Martin (21:26) and Gerard Quichocho (21:45);
Female Submaster (30-39 years old) Division:  Felice Valencia (24:05), Janice Pabaton (25:03) and Shell Franquez (26:04);
Male Submaster Division:  Justin Gardner (17:29), Napu Castro (17:58) and Joshua Ramos (20:43);
Female Masters (40-49 years old) Division:  Kiyoma Ueda (24:00), Deborah Hurchanik (25:59) and Tess Esma (26:16);
Male Masters Division:  Derrick Hamry (18:59), Bryce Kawaguchi (23:17) and Rene Pedernal (23:27);
Female Senior (50-59 years old) Division: Imelda Waldron (22:56), Agnes White (26:47) and Tamiko Yamano (27:00);
Male Senior Division: Peter Blas (21:17), Kirk Winger (21:23) and Arnold Gimoto (22:20);
Female Grandmaster (60-69 years old) Division:  Rose Bolton (34:04), Odi Bautista (34:53) and Elizabeth Mantanona (35:46);
Male Grandmaster Division:  Jimmy An (27:18), Mike Evaristo (28:15) and Alex Soto (29:41);
Female Manamko (70 years and over) Division:  Anna Pangelinan (32:52) and Ellen Yu (48:19); and
Male Manamko Division:  Johnny Yu (30:17), Jung Suk Kim (31:49) and Alejo Sablan (33:09).
All other times and photos will be posted on the Guam National Guard Facebook Page later this week.

QUICK HITS
Guam MTB National Championship: Edward Oingerang and Jennifer Camacho are your 2023 MTB national champions. Oingerang finished the course in 1:13:24 while Camacho won her second straight title in 54:08.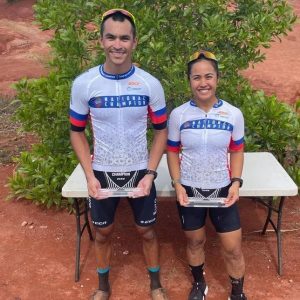 ——————————————
Kobe Miyashita, with St. John's coach Arvin Flores, was named the 2023 IIAAG Middle School Boys Volleyball MVP!