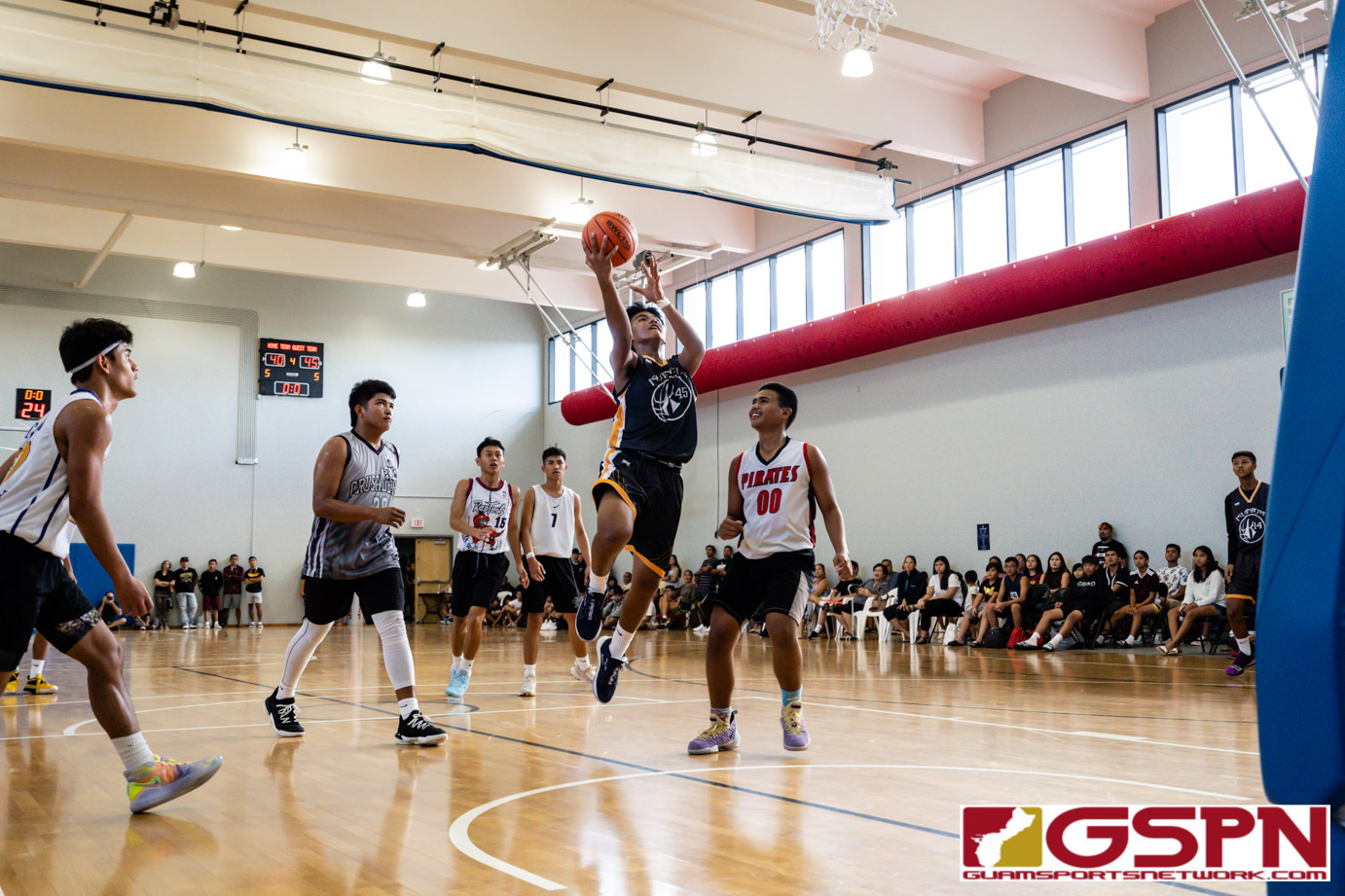 By Jay Leon Guerrero
High school basketball has finally arrived. The Guam Basketball Confederation hosted their annual junior varsity pre-season basketball tournament at the Guam National Training Facility in Tiyan. Guam's top basketball underclassmen prospects got to showcase their skills and coaches jotted down their strengths and weakness prior to the start of their season next year.
The classic rivalry featuring the JFK Islanders and GW Geckos opened up the tournament with JFK holding off the feisty Geckos with a 47-40 victory. The Islanders used their size to garner second chance points to open up the tournament with a victory.
Sophomores Kirston Guzman, Karl Vinca and Jerriel Zapanta catapulted a second quarter run that put the Islanders up for good. The Islanders trailed 7-4 after a shaky first quarter offensively for both teams.
Zapanta opened up the second quarter with a pair of baskets that quickly put the Islanders up 8-4. JFK continued to score in the second quarter with Guzman and Vinca using their size to score in the paint which eventually gave the Islanders a 27-12 lead by halftime.
The Geckos finally found some offensive rhythm after halftime with Franklin Ninete Jr. leading the charge. Guards Guaifon Terlaje and Nathan Castro continued to drive aggressively to the rim, trimming the Islander lead to 31-26.
The Islanders called a timeout to regroup and buckets from Mark Morales and Vinca ended the run. The Islanders closed the quarter leading 41-28 and help on for the 47-40 victory. The double elimination tournament continues Sunday with JFK advancing to play Okkodo at 420pm. The Geckos will play the ND Royals in the loser's bracket. Ninete Jr. led the Geckos with 11 points and four rebounds, Castro had seven points, five rebounds and three steals.
"Our goal for this tournament is to make them (the freshman) progress from middle school to high school basketball," said Guzman. "For me personally, I want to contribute to this team by grabbing boards". Guzman had 12 points, nine rebounds, three steals and two blocks for JFK. "Our goal is to try and finish undefeated after the regular season is over," said Guzman.
Vinca recorded a game high 18 points and also grabbed seven rebounds. Vinca was glad this pre-season tournament will enable his team to play against all the schools. "I was kind of disappointed we are not going to be able to play teams like FD and St. Paul when our season starts," said Vinca. "We just need to continue to play hard and work on improving our defense before the season starts".
Game scores:
Okkodo 59, Notre Dame 42
KJ Martin (Okkodo) – 12 points, Jose Juares (Okkodo) – 12 points
Father Duenas – 54, Sanchez 46 (Overtime)
Zander Kamai (FD) – 12 points, Xander Baleto (FD) – 10 points
St Paul 55, Tiyan 32
Jacob Miranda (SP) – 13 points, Xander Sanchez (SP) – 10 points
PHOTO GALLERY BROUGHT TO YOU BY:

COMING SOON …
High School Football starts Sept. 29
Brawl 3: Oct 13
Guam's Strongest Man and Woman Competition October 29
QUICK HITS
The Figo Islanders 40s women's softball team took gold in the Senior Softball World Championship in Las Vegas. Figo came out of the loser's bracket and beat the Arizona Belles 17-3 in the AA division championship game Sunday afternoon.
Other Guam teams that played in the 40s tournament were: Team SOTTA (women's) and Bud Light Guam, Friars 671 and Sindalun Guahan (men's).
Sindalu finished a respectable 4th out of 24 AAA division teams.