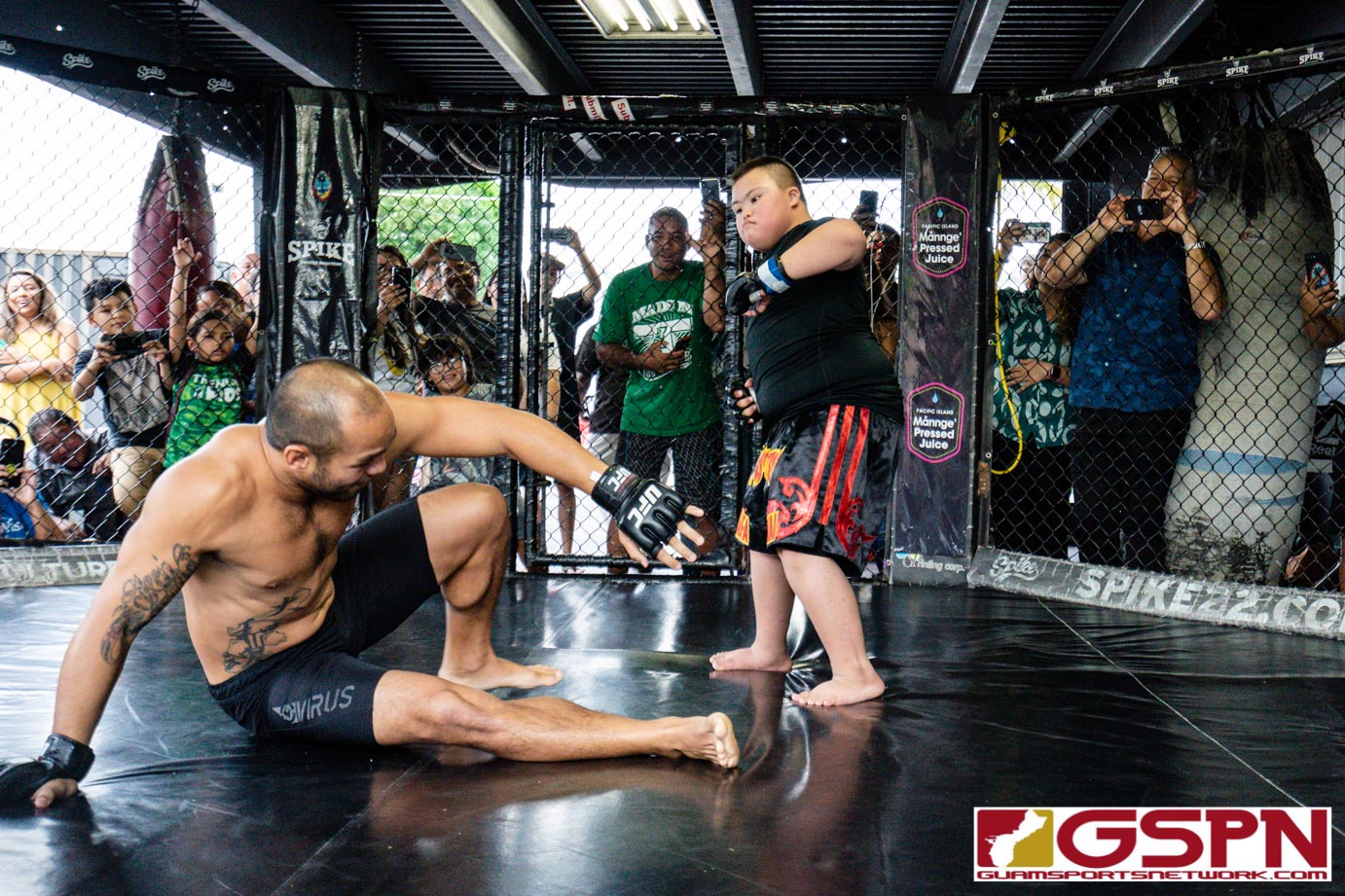 By Robert Balajadia
11-year-old middle school student Kaleb Lujan Cruz is a hardcore fan of the UFC. Cruz loves to watch the sport of MMA, talk about the UFC and has even had dreams of one day stepping into the ring.
Friday evening, Cruz's dreams were brought to life through the Make A Wish Foundation with help from the Mariana's own UFC star Frank 'The Crank' Camacho.
Kaleb 'The Yigo Mangler' Cruz had the entire crowd of over 100 people behind him right from the start of his entrance song "Eye of the Tiger" by Survivor while Camacho was forced to settle with "Baby Shark" for his walkout song. Cruz even had his own cut men in Peter Alvarez and Mike Ulloa wrapping him up before the fight, announcer in Mark Mendiola and local MMA stars like Roque Martinez and Kyle Aguon in attendance for a full-on UFC event experience.
Cruz and Camacho went head-to-heart for three 90 second rounds of MMA action at the Spike 22 gym in Tamuning. Cruz, the heavy favorite, put on display all his MMA talents, defeating Camacho in the 3rd round after peppering the UFC star with body shots in the early rounds. Cruz would score knock downs in each round before forcing referee Wayne Mantanane to stop the fight late in the 3rd.
Kaleb admitted that Camacho was actually his favorite UFC fighter and Cruz couldn't hold back how excited he was just to get in the ring with Camacho, after getting his hand raised in victory of course.
"It's an overwhelming experience. When [Camacho] messaged my husband Tuesday about the event I was getting goosebumps and started to cry and everything," said Kaleb's mother Marie Cruz as she fought to hold back tears. "I can't thank the Make A Wish Foundation, Frank Camacho and everyone involved enough. Kaleb has been more than excited all week. He's been really happy and he keeps sharing the news with everybody."
"One thing I'm definitely learning from [Kaleb] is how to hype up a fight. All week Kaleb has been sticking to the narrative that he's going to take me out! It's so awesome and I'm so blessed to meet people like Kaleb in this line of work," said Camacho.
A chance meeting
Earlier this year, a typical day running errands with mom turned into a day Camacho and Kaleb would never forget. Kaleb spotted Camacho in public and, with the help of his older sister, got to speak to his favorite UFC fighter. Right away, Camacho was blown away with just how much Kaleb knew about MMA.
"I knew he was very special right away. [Kaleb] was giving me info on the UFC and this kid really knew his stuff. He knew who I was which was even more special," said Camacho.
A little time passed before Camacho and Kaleb would be reunited. Camacho was contacted by the Make A Wish Foundation about linking with Kaleb while Camacho was out in California during his Fight Camp for UFC Sweden. Camacho sent Kaleb a video of him training which prompted a one-of-a-kind response from Cruz.
"He told me if I win my fight in Stockholm that he would get me my favorite candy," laughed Camacho.
Pulling it all off
Camacho then got to work on making one of Kaleb's dreams come true.
"I found out that [Kaleb] always wanted to be an MMA champ and I'm very blessed to be surrounded by a lot of good people. The first thing I did was contact Melchor about using Spike, then Mark Mendiola on announcing, Wayne as a referee and everyone came together to put on a full on event," said Camacho.
In just a week's span, Cruz vs. Camacho was the headline for Friday August 30th and Kaleb couldn't keep any of it a secret once he got the news himself.
"I'm going to fight Frank 'The Crank'," is what Kaleb told his friends, teachers and just about anybody he came in contact with.
Not many believed the young dreamer until Camacho made the official announcement on his social media outlets confirming his next fight would indeed be against the 'Yigo Mangler' for the world title.
Camacho invited Kaleb to train with him during the week and the experience moved the humble UFC star in a way he's never experienced.
"Kaleb's parents didn't know how he was going to react walking into a full-on gym with people training and they say he's a very shy kid and thought he would shy away from it. He embraced all of it. He was shadow boxing and really getting into it! It was so cool to see that he finds the sport of MMA as his outlet… Whatever challenges he has in his life, martial arts is an outlet for him to really show who he is and you can clearly see it. I'm blessed to just share the cage with him. I just hope he doesn't mess me up too much!," said Camacho.
The joy expressed on Kaleb's face after officially being announced the winner of the bout perfectly encapsulated why most people are sports fans in the first place: seeing someone overcoming obstacles and adversity, believing no dream is too big and sharing those moments, no matter in victory or defeat, with people who are most important to you.
Even if just for a moment, Kaleb Cruz will never forget the day that he was an MMA champion.
PHOTO GALLERY BROUGHT TO YOU BY:

2022 GSPN I MÅS METGOT COMPETITION
2022 GSPN I Mås Metgot Competition Recap
2022 GSPN I MÅS METGOT COMPETITION
2022 GSPN I Mås Metgot Competition Recap
2022 GSPN I MÅS METGOT COMPETITION
2022 GSPN I Mås Metgot Competition Recap