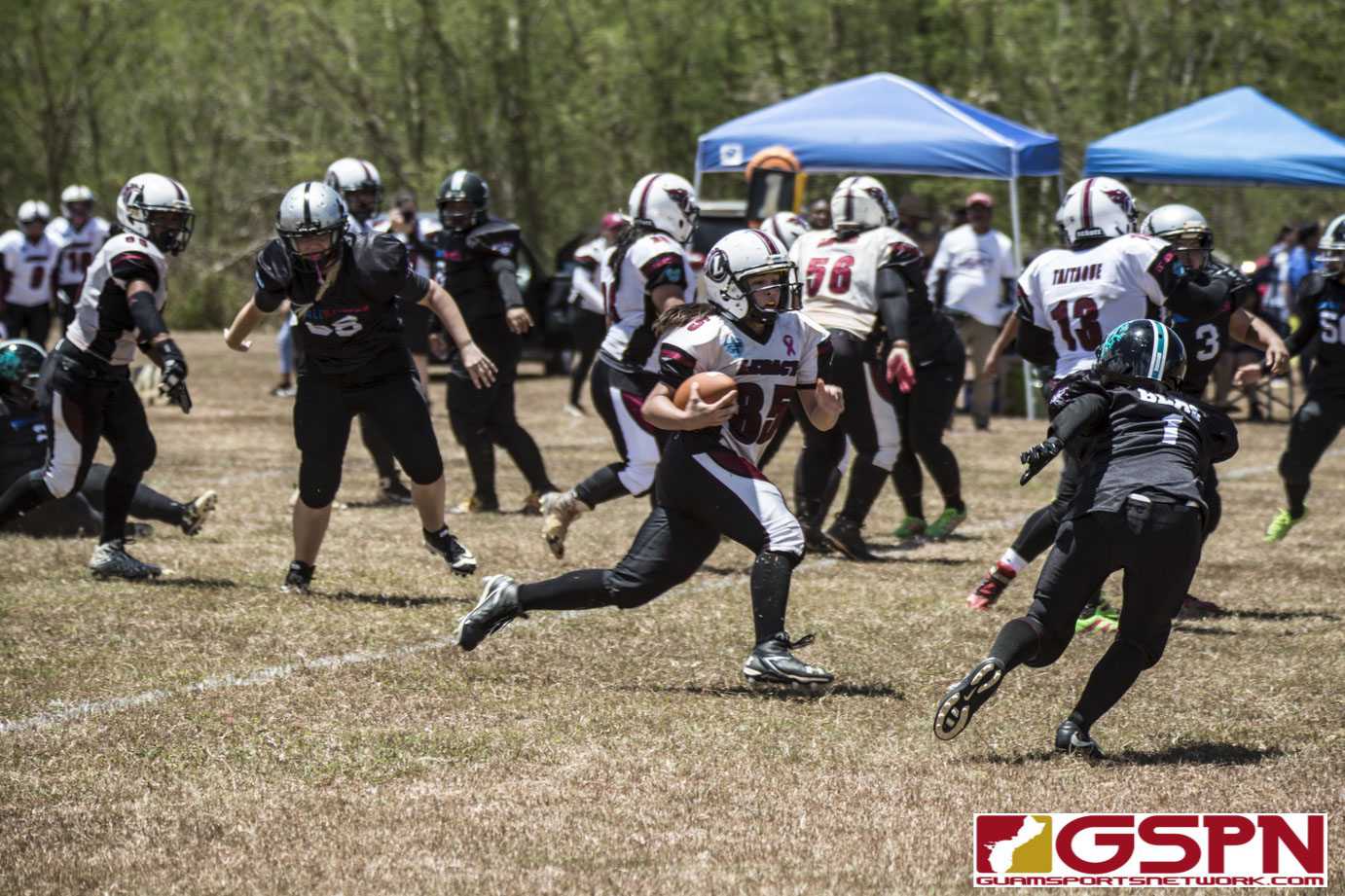 By Nicholas Akimoto
The defending Champs Team Legacy continued their streak of dominance in the Guam Women's Tackle Football League in a 18-0 shutout over the Raiders at the UOG Football field. Team Legacy used the talents of their lightning quick running duo, Olivia Elliot and Jalana Garcia, to accumulate three rushing touchdowns and over 200 yards combined.
Garcia and Elliot also contributed to the defensive efforts of the team on the secondary. Team Legacy's defense led by the presence of Angelina Rivera on the line.
"We prepared for this game just like any other. We don't take any team lightly," said Garcia.
Garcia was responsible for two of the team's touchdowns. The young runningback found most success utilizing counters and catching the Raider's defense off balance.
Despite an impressive showing on both sides. Garcia still thinks that more can be done on the team to get better.
"We need to gel together as a team. There's always room for improvement, especially in myself, and we're still trying to find our footing."
Game Recap
The game began as a defensive battle, as both teams struggled to capitalize on scoring opportunities. Legacy was able to draw first blood after Garcia was able to find her way to the end zone at the end of a 10-yard run. Legacy was unable to complete the point-after-attempt, however, and Legacy went into the half only up 6-0 over the Raiders.
After halftime, Legacy began to find their offensive rhythm as they began to march down the field. The team built off this momentum as Olivia Elliot ran outside for a 45-yard touchdown. They were unable to convert, however, as the Raiders were able to stop a 2-point conversion in the backfield leaving the score 12-0.
The Raiders, determined to make their way back into the game, let their running backs, Leticia Blas and Tiana Perez, find some momentum, but the strong Legacy defensive line, stopped many of their runs in the backfield.
On their next drive, Legacy began to run into offensive struggles after a few fumbles, but they were able to maintain possession to avoid any big-play potential. They would fail to score however, after a strong defensive effort by Miara Leon Guerrero, denying Legacy from scoring another touchdown.
The Raiders found themselves in good field position, and the Raiders started to turn to their passing game in an attempt to gain some offensive momentum, but the Legacy secondary denied Raiders quarterback, Chloey Pinaula, from connecting with her receivers.
Legacy would get the ball once again and Garcia would turn on the jets to turn a reverse run in for a 45-yard touchdown. Olivia Elliot ran the ball in for the two point conversion for the dagger, ending the game 18-0.
PHOTO GALLERY BROUGHT TO YOU BY:

Foody's 5 Fun Facts
Harvest Eagle Trinity Terlaje
DID U KNOW?
FD senior Matt Fegurgur first dunked a basketball in his freshman year when he was 6'4″. The now 6'9″ center looks to dominate high school hoops.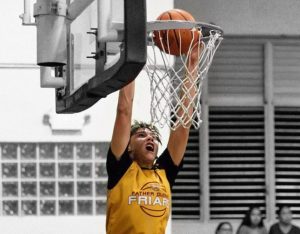 COMING SOON …
– Rizin 21: Aguon and Martinez
– FIBA Asia Cup: Guam vs. New Zealand, Feb 23
– Zach and Larry Return to Guam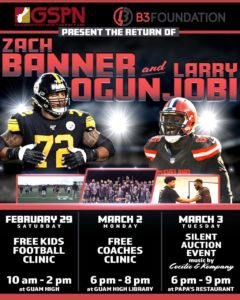 Brawl MMA March 13
QUICK HITS
190 runners took part in the 48th Hafa Marathon (half marathon).
Here are the top 5 finishers:
Ryan Matienzzo 1:13:17
Kris Lawrence 1:24:12
Taiga Sato 1:25:05
Chris Rasmussen 1:26:48
Carlos Leon Guerrero 1:28:46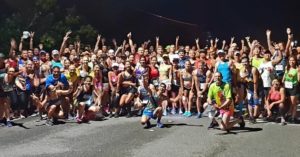 —————————————————-
Guam flags were waving in Clearwater, Florida in support of Bubba Nickles and Team USA in their Pre Olympics Softball Tour.