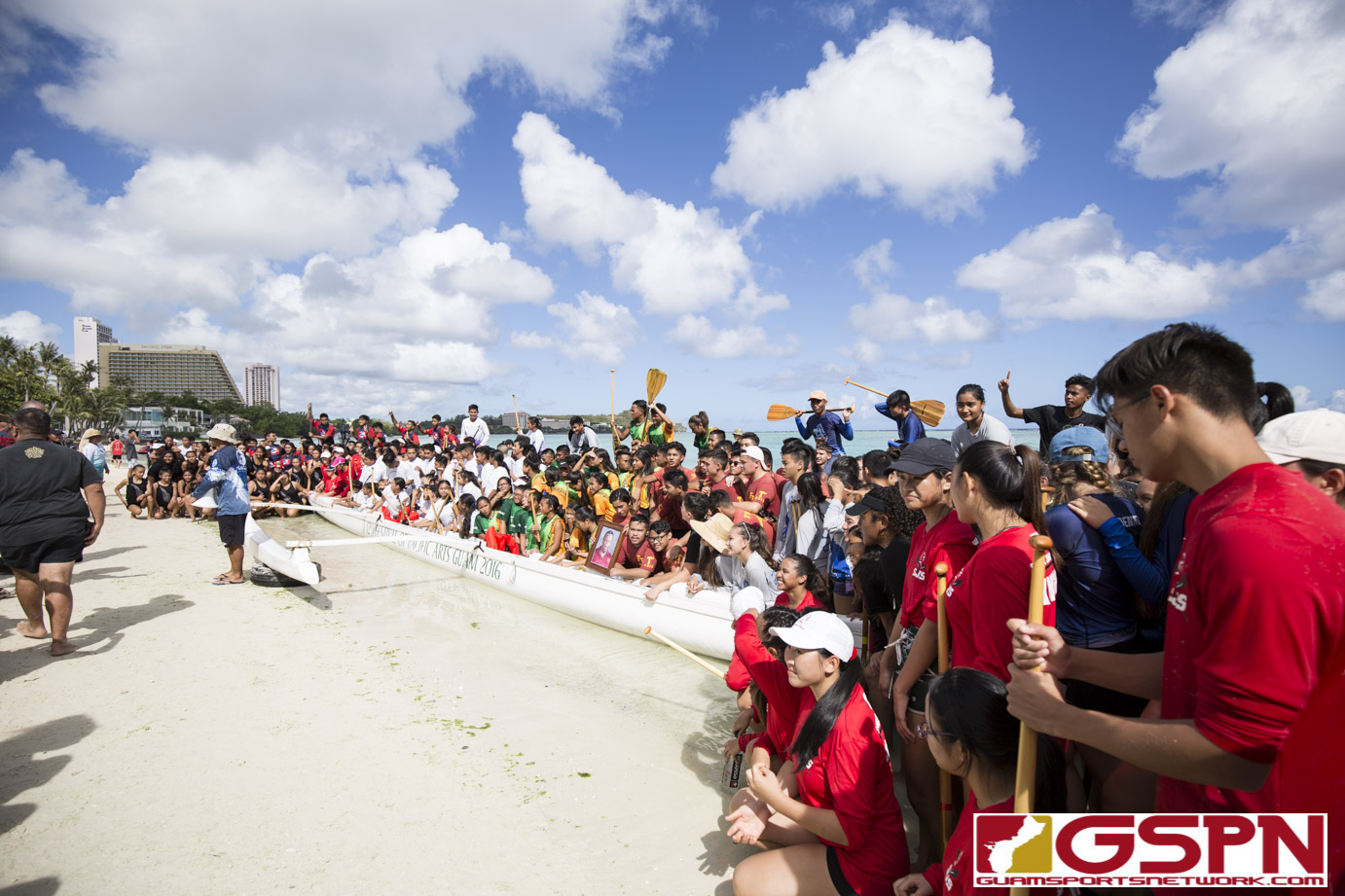 By Robert Balajadia
The 2019 IIAAG Paddling season hit their final races of year Saturday with teams starting off the morning doing preliminary events in the 1000m and 500m sprints to set up the final heats of the day in the Sottera, Sotteru and Mixed Divisions.
In the final sprints, the Sanchez Sharks swept 1st place in the Sotteru 1000m and 500m for a dominant morning of paddling. The Okkodo Bulldogs took the top spot in the Sottera 1000m and 500m Mixed. The Academy Cougars took first place in the 500m after finishing atop the standings through regular season races. The JFK Islanders added another paddling trophy to their collection finishing first in the 1000m Mixed.
Each race (1000m, 500m/mixed) had their own winners with the format following the previous years with no overall winner.
The prelims were to decided the final five teams to compete against each other in one final heat.
1000m Sottera/Sotteru
The Okkodo Lady Bulldogs finished first in the preliminary 1000m race which set the tone for their Final Race performance. Okkodo managed to overcome a strong first heat from the Academy Cougars in the prelims, beating the Cougars by four seconds to win the 1000m title.
"We're all so proud that we ended strong as a team and that's all that matters," said Bulldog Tomica Tyquiengco. "We had to hold our turns longer than usually and that's what helped us in the 1000."
The Sharks boys didn't even finish first in the prelims, but they brought it in the final heat of the 1000m. They needed every ounce of the final push, beating the JFK Islanders by just one second. Sanchez turned to some divine intervention when the going got tough.
"We just continued to go into prayer and ask the Lord to give us the strength and energy to push through," said Sharks Danny Morta.
"I owe it all to my team," said steersman Josh Sablan. "Instead of doing three-ten-ten we did four-forty for our starts and it really made our boat take off. I know our boys are all tired but they kept pushing to the end."
SOTTERA
Okkodo – 6:15:7
Academy – 6:20:1
Sanchez – 6:41:0
SOTTERU
Sanchez – 5:46:8
JFK – 5:47:8
Okkodo – 5:59:3
Cougars win 500m, Sharks sweep
The Cougars barley beat the Bulldogs in the 500m prelims and losing to Okkodo in the 1000m only ignited their desire to bounce back. That hunger to win, along with earning respect on the waters, was all coach Kiara Quichocho, who paddled for Academy for three years [2015-17], wanted from her squad and they showed their coach all that and more with a strong 500m finish.
"I told them if they wanted it that I would give them everything I can to help them get there. They showed me that they wanted it bad enough and I'm so proud to be their coach because I was in their place wanting to win too. So I brought that crave to win with me when I became coach. I wanted them to show people that they shouldn't judge Academy based off the past years and show that we have a lot to offer. We can push, we can work and we're not the stereotype that some people put on us," said Quichocho.
The Sotteru Sharks relied on their veterans to get through the 500m races with their eyes focused only on what was in front of them, which proved to be another first place finish.
"It comes down to being able to encourage one another. We trusted or game plan and our drills, but we were just having fun out there in the sport that we love," said Morta.
SOTTERA
Academy – 2:55:5
Okkodo – 2:58:7
St. John's – 3:04:9
SOTTERU
Sanchez – 2:37:2
Guam High – 2:45:2
JFK – 2:45:7
PHOTO GALLERY BROUGHT TO YOU BY:
FINAL RESULTS
Sotteru Mixed 1000m
JFK – 6:13:6
Tiyan – 6:15:8
ND – 6:20:3
Sotteru Mixed 500
Okkodo – 2:47:8
FD/Academy – 2:56:8
JFK – 2:58:1
Manhoben Famalaoan 1000m
JFK – 6:26:3
Sanchez – 6:39:5
GW – 6:49:2
Manhoben Lalahi 1000m
FD – 5:42:1
Guam High – 5:49:1
Okkodo – 6:02:4
Manhoben Mixed 1000m
Sanchez – 6:09:1
Southern – 6:26:3
JFK – 6:34:3
Manhoben Famalaoan 500m
JFK – 3:05:8
Sanchez – 3:12:3
Tiyan – 3:20:5
Manhoben Lalahi 500m
FD – 2:45:2
Guam High – 2:45:5
Sanchez – 2:47:4
Manhoben Mixed 500m
ND – 2:53:6
Sanchez – 2:59:7
JFK – 3:07:2

COMING SOON …
GUAM SPORTS ON HOLD DUE TO SUPER TYPHOON MAWAR
QUICK HITS
Bishop Obispos beat Mt. Carmel for the IIAAG Middle School Girls Basketball championship 37-25.
—————————————-
The Benavente Roadrunners crushed the Agueda Pirates 17-1 to win the 76 PONY Middle School Baseball League. Rodney San Nicolas was a beat, striking out 13 batters in a complete game while going 4-for-4 at the plate, including a homer and 4 RBI.