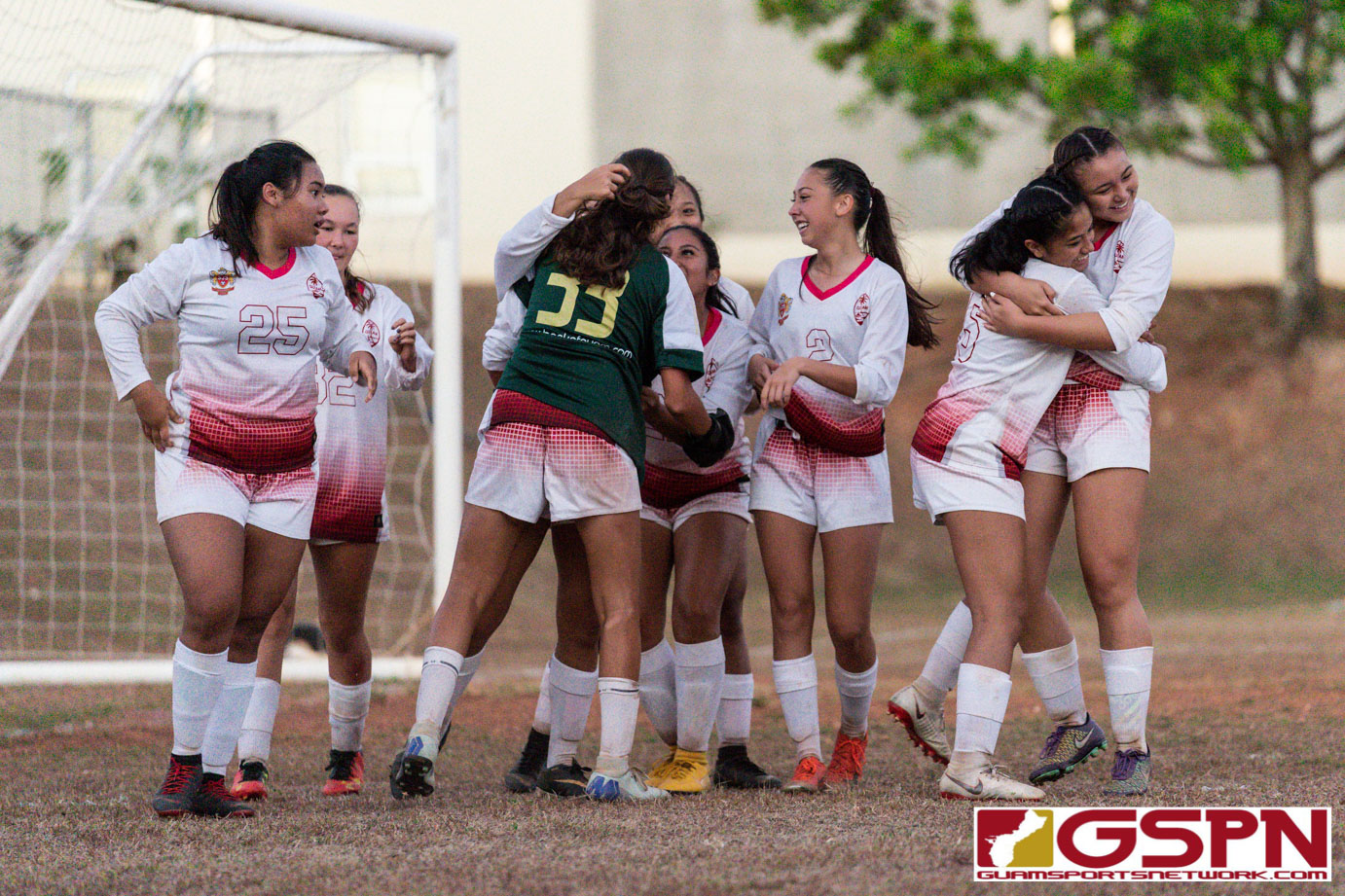 By Robert Balajadia
The St. John's Knights got their biggest contributions from unlikely sources at unlikely positions in a drama filled game to open up the IIAAG Girls Soccer post season Friday evening. The Knights played host to the St. Paul Warriors, winning 2-1 in a wild shootout with the game coming down to a trio of big plays from a pair of freshmen in Kaia Malakooti and Danni Jo Santos.
Both teams expended all they had through 80 minutes of action but neither offense managed to crack through the strong play of Warriors keeper Katrina Santos or Knights keeper Hana Fernandez in the first half.
Malakooti took over for Fernandez, who left at halftime due to commitments to a school play. Kaia isn't even the back-up keeper, but she would become the center of attention as neither team would find footing in the second half or overtime.
Then the shootout commenced with some players from both teams needing aide to even get off the field.
The Knights deployed their go-to scorers but neither Hallie WIgsten, Lopez nor Erin Wang could get through big saves from Warriors keeper Santos on the first three shooters. Malakooti denied Warriors Lily Franklin, but St. Paul appeared to have scored on their second shooter Jaymeilyn Zahnen. The official called Zahnen's goal back due to a movement infraction leaving an empty scoreboard.
St. Paul got a big goal from Jan Quintanilla on their third shooter and Santos denied Jenna Han on the third shot to put the pressure on the home team. Warrior Jazmin Samonte's shot proved too strong sailing over the net, leaving the fate of the Knights season on Malakooti.
Kaia shot wide right, forcing a late dive from Santos to keep St. John's alive tied 1-1. With nerves of steel, Malakooti then had to come up with a save to truly keep the game going. Her only problem was the Warriors were sending in their ace, Tiffany Lopez.
"My dad was telling me to look big and I love watching soccer so I did my best to look big," said Malakooti on stepping up against Lopez. "I was very nervous, but my teammates kept telling me not to worry and I trust them with everything I have."
Tiffany's shot was dead center and Malakooti swatted it away to force extra shooters.
The Knights sent up Eli Errett, but Santos made good on a dive to the left. Malakooti needed to make another stop, and she slide to her left to get a foot in to deny Keiani Pangelinan's shot.
Then fellow freshman Danni Jo Santos stepped up, but she knew exactly where she wanted to place her ball with all six of her teammates aiming center and right.
"I tried to make it so [Santos] thought I was going to the right and then I changed direction last second. My teammates told me to try and shoot wide so I did," said Santos.
Santos's goal put the Knights up 2-1.
Pressure was on for Warrior Alana Aguon who attempted a shot to the left, but Malakooti was all over it by swatting it away with her forearms to preserve a hard-fought victory.
Even without their star keeper in Fernandez, Malakooti didn't stop getting support from her teammates and fans from the moment she stepped on the field as the keeper.
"It felt good knowing everyone had my back. I'm like the back-up to the back-up. But to step in a take responsibility for the team was something I needed to do. I had to do everything I could and make my team feel like they could trust me, and they did," said Malakooti on stepping into the role.
Semifinals are set
The playoff picture comes down to four more teams after all the top seeds got wins Friday. The ND Royals defeated the Okkodo Bulldogs 4-1, the Academy Cougars got past the Tiyans Titans 4-0 and the Guam High Panthers blanked the Harvest Eagles 6-0.
Wednesday 5/15 @ GFA
ND vs. St. John's @ 5 pm
Academy vs. Guam High @ 7 pm
PHOTO GALLERY BROUGHT TO YOU BY:

QUICK HITS
The Figo Islanders 40s women's softball team took gold in the Senior Softball World Championship in Las Vegas. Figo came out of the loser's bracket and beat the Arizona Belles 17-3 in the AA division championship game Sunday afternoon.
Other Guam teams that played in the 40s tournament were: Team SOTTA (women's) and Bud Light Guam, Friars 671 and Sindalun Guahan (men's).
Sindalu finished a respectable 4th out of 24 AAA division teams.