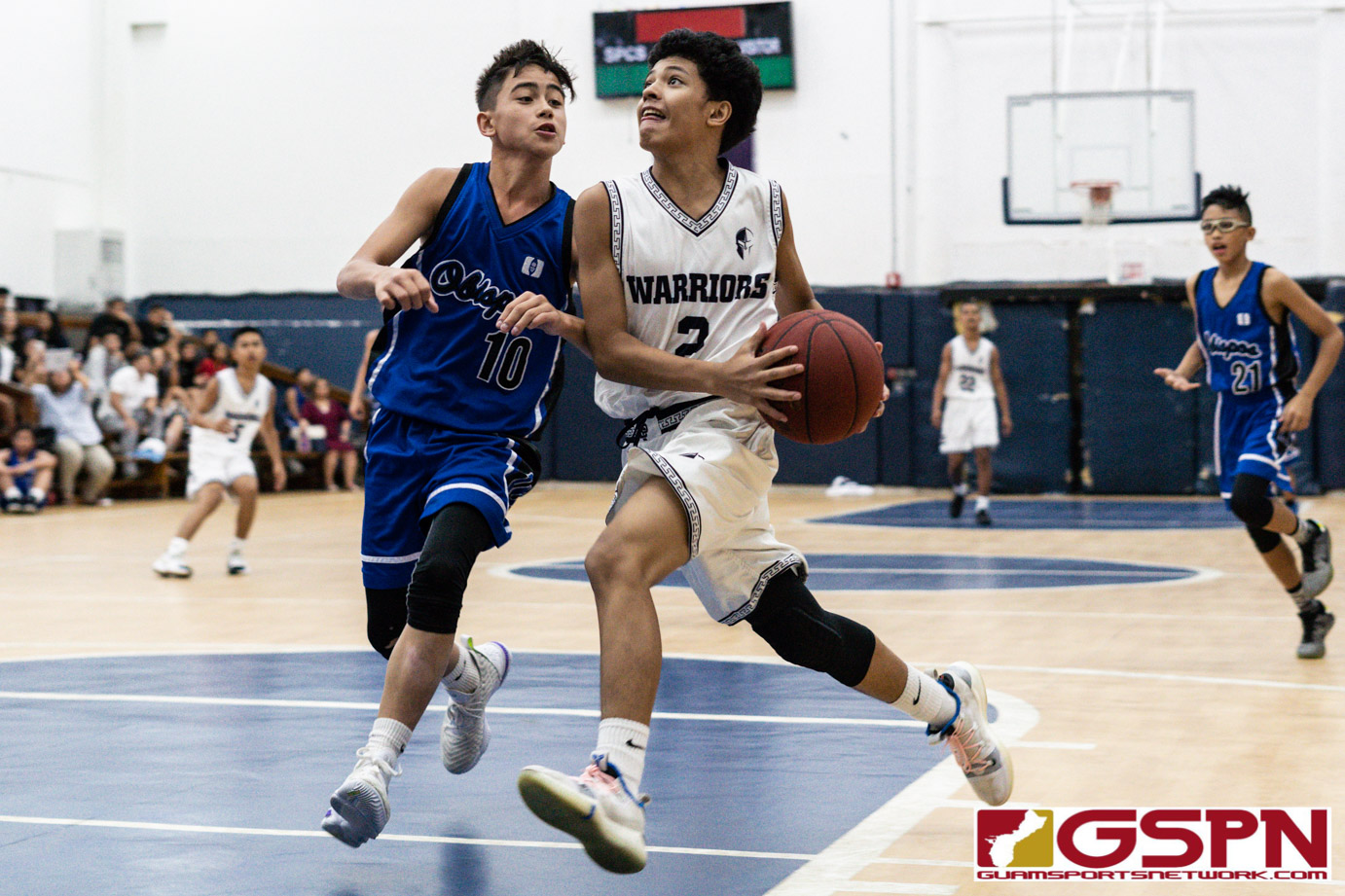 By Jay Leon Guerrero
50 wins in a row. The St. Paul Warriors continued their dynasty with a 62-26 victory over the Bishop Baumgartner Obispos in the IIAAG Boys Middle School Basketball League on their home court.
Xander Sanchez and Brandon Soulik helped the Warriors continue a four year run with the victory. Prior to the start of the season, GSPN marked their calender to attend this particular game which was supposed to feature two superpower teams but injuries to Bishop's top two players may have contributed to the blowout.
Top guards out
Bishops top two players, Blaise Ada and Joseph Rivera were sidelined due to injuries.
"Its unfortunate that Blaise was injured for this game. I looked forward to playing against him today and I'm looking forward to facing him when we both get to high school next year," said Sanchez.
Sanchez scored 11 points but his leadership and defense helped put the game out of reach early.
Warriors set the tone early
Jaden Santos was the recipient long passes from defensive rebounds that turned into transition lay-ups to set the tone early. The Warriors were aggressive early and built a double digit lead in the first quarter thanks to the plays of Soulik, Gavin Stinnett, and Santos.
The Warriors keyed in on Obispo point guard Phillip Guerrero on a box-and-one defense to start the contest. The Obispos adjusted to the defense and were able to score in the paint with Colin Ada scoring high percentage buckets.
The Warriors, however, had too much firepower and enjoyed a comfortable 36-12 lead by halftime. Santos and Soulik provided much of the offense in the third quarter to maintain a double digit lead as the Warriors cleared out their benches.
Despite being down by double digits, the Obispos continued to play hard. Colin Ada showed heart, scoring despite being double-teamed. Guerrero also drained a step back 3-pointer in the third quarter but the Warriors closed out the quarter with Santos scoring thanks dishes from Soulik.
The Warriors are now 7-0 in the season and have three more games to go to clinch the championship for a fifth straight year under head coach Julian Canovas. IIAAG middle school basketball champions are determined by best record, there are no playoffs for middle school basketball.
Warriors win overtime thriller
The Warriors survived an upset against a feisty Andersen team in a game that had championship implications earlier this week. Both teams came into the contest with unblemished records but the Warriors found a way to win overtime on Andersen's home court. The Warriors ended up escaping with a 41-37 victory.
"They played very tight defense and we couldn't get out of it," said Santos about their game against Andersen. "In overtime, we just played smart basketball and tried to limit our turnovers."
St. Paul will play three more games and should they remain undefeated, they will not only clinch the championship but also extend their four year winning streak to five years.
"We have three more games remaining and a big test will be against St Anthony which will be the last game of the season," said Sanchez. That game will be played at St Paul on May 23rd.
"There is some pressure on us to keep the streak going but we just keep it together and remained focused every game," said Sanchez.
Santos led all scorers with 15 points, Soulik had nine points and five assists. Stinnett contibuted six points for St. Paul who will have a week to recuperate with a bye.
Colin Ada led Bishop with 13 points, Guerrero had seven. Bishop suffers just their second loss of the season and drop to 5-2. Bishop will host San Vicente next Tuesday at Bishop.
PHOTO GALLERY BROUGHT TO YOU BY:

QUICK HITS
The Figo Islanders 40s women's softball team took gold in the Senior Softball World Championship in Las Vegas. Figo came out of the loser's bracket and beat the Arizona Belles 17-3 in the AA division championship game Sunday afternoon.
Other Guam teams that played in the 40s tournament were: Team SOTTA (women's) and Bud Light Guam, Friars 671 and Sindalun Guahan (men's).
Sindalu finished a respectable 4th out of 24 AAA division teams.