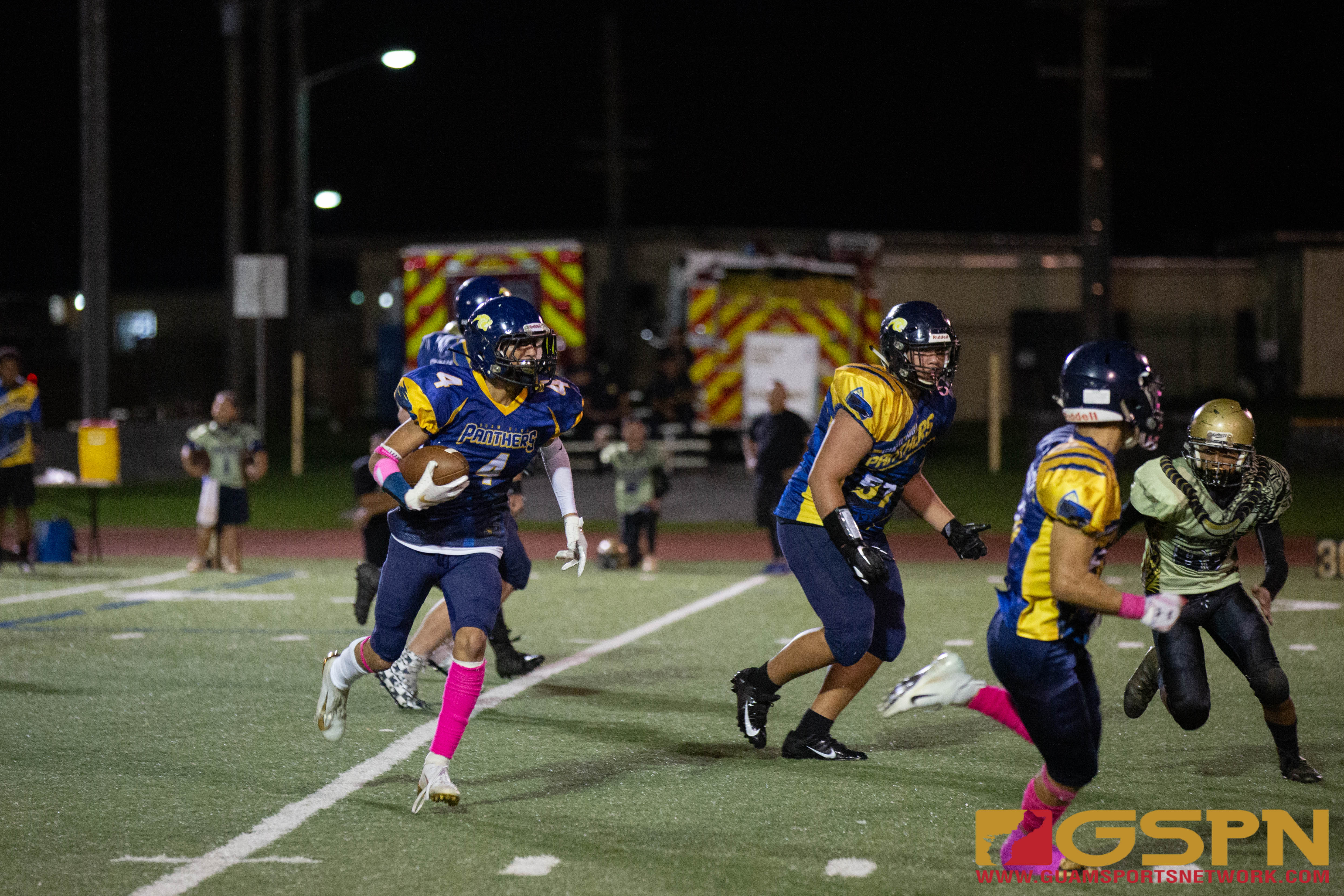 By Brandon Kinsella
In a battle for a trip to the Semifinals, the Guam High Panthers defeated the Tiyan Titans in an intense matchup at Guam High field 41-12. The battle consisted of a lot of action in the air between both teams.
Guam High Quarterback Travon Jacobs felt the need to prove himself following All-Island selections. In the Quarterfinal matchup game, Jacobs was able to put up the numbers to do so. He finished the night with 217 yards in the air and three touchdowns on 11-of-16 from the field.
"I did feel like I had to prove myself tonight. People were doubting me saying that I shouldn't have made first team All-Island or whatever. Tonight, was a good opportunity for me to prove the skill I got with the teammates that I have," said Jacobs.
Jacobs threw two touchdown passes in the first half and both were on third and long plays. After Julius Gaduang powered in the first score on Guam High's first drive and kicker Alexandra Shimasaki converted on her field goal attempt, the Panthers led 7-0. Following the score on the ground, Tiyan tightened up their run-defense.
This gave Jacobs the opportunity to air it out, and on back-to-back drives, he threw a pair of touchdowns. The first was a 32-yard touchdown to AJ Johnson and then a 48-yard bomb to Jalen Thach. Shimasaki converted on both PAT's which put Guam High up 21-0.
Following a fumble by Guam High, a recovery by Tiyan cornerback Jaython Pangelinan would result in a 53-yard run. This put Tiyan in great position to score at the 17-yard line.
The closest that Tiyan would get to trimming the deficit came from huge efforts from their quarterback Kaekoa Leon Guerrero. He would throw both of Tiyan's touchdown passes and was constantly scrambling outside the pocket to evade the pressure of Guam High.
Following the fumble, Tiyan was in the red zone with an opportunity to score. Then, Leon Guerrero found receiver Davin Mojica on an out-route to the left side where Mojica found the end zone. Tiyan attempted for two but failed on the conversion and trailed 21-6 going into half time.
Tiyan received the kickoff coming into the half, and on their first drive they would find the end zone. After a sequence of balanced offense moved the chains to the 22-yard line, Leon Guerrero found Jaythan Cruz for a 22-yard touchdown pass. Tiyan would go for two once more but failed on the conversion and were down 21-12.
Tiyan got one more opportunity to get the game within reach in the fourth quarter and were just five yards shy of a touchdown score. Leon Guerrero looked to find the open man in the end zone but was picked off by Thach.
Leon Guerrero finished the night with 120 yards, two touchdowns, and two interceptions.
"This game meant a lot to us; we showed a lot of heart. A lot of people have quit throughout the season. But the players that came out today, we went 20 some strong. We talked in the locker room before the game and we said we would play like it was our last. It turned out to be our last but we're happy we gave it our all," said Leon Guerrero.
Thach's interception set the tone for a barrage of scoring by Guam High to close the game. He elaborated on the moment,
"I felt like I needed to step-up. I knew that something was coming my way, my head was on a swivel and I was prepared. I saw it and I took a chance. I wanted to score but I'm happy I was able to stop that momentum," said Thach.
Following the interception, #3 powered in for an 18-yard score to increase the lead to 28-12.
Then Jacobs would find the end zone one more time on a 38-yard touchdown pass to Thach which gave Guam High a 35-12 lead.
The final score was powered through by Jayson Jackson after a 3-yard score ran out the clock.
Kicker Shimasaki did not miss any field goals, totaling a perfect 5-for-5. She did not kick the final PAT, as the final whistle blew after the game's final score.
Jacobs roars back at backlash
While there's no denying the talent that Jacobs showed out in this victory, there was some ugly banter being exchanged between Jacobs and the opposing fans. During an injury timeout, a heated conversations between Jacobs and Tiyan fans in attendance could be heard by the audience in attendance.
After Tiyan fans vocally questioned the sportsmanship of Guam High, one of the quotes that Jacobs replied with was: "I'm first team All-Island, and your quarterback is trash."
When asked about the exchange with fans, Jacobs responded: "They were just talking about take out #2 (Jacob's jersey number) [of the game]. I don't know what else to say, the stats don't lie."
Also, a recent social media post by Jacobs involved trash talking of another quarterback who was in the running for first team All-Island. Jacobs elaborated on the social media post before finding out he was actually voted as the leagues top QB.
"Basically, all of that stuff was just emotion. It just got to me, hearing that somebody may beat you in a position that I felt I deserved. Just because the work I put in that contributed to being on one of the top quarterbacks in the league. I felt that if he would've got first team, I would've got cheated. Like stats don't lie, film don't lie." 
Jacobs reflected on what he said and wanted to add:
"Nick Anderson is a good QB and he's definitely one of the top quarterbacks in the league that we have to watch for during our games."
The Panthers will travel to GW to face Geckos this weekend with for a spot in the finals. FD will face the Sanchez Sharks with the games scheduling to be determined.
PHOTO GALLERY BROUGHT TO YOU BY: