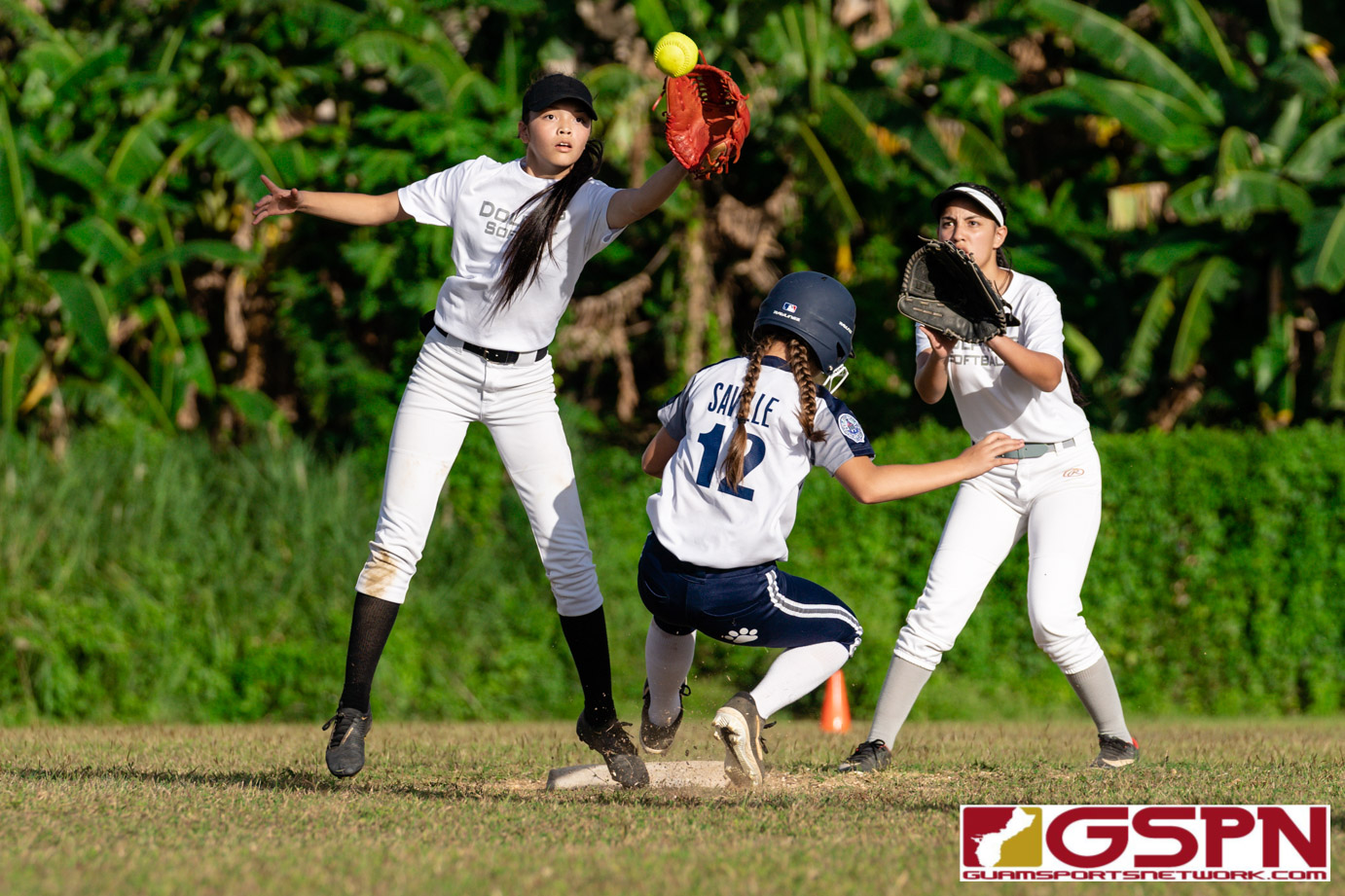 By Robert Balajadia
The battle for the top spot in ISA's Softball League came down to a regular season finale between the last two unbeaten teams in the Southern Dolphins vs Academy Cougars, both sporting a (6-0) record. The Dolphins played aggressive on offense and sound defensively while the Cougars piled on errors with the game ending in favor of the home team Southern 11-1 after five innings.
Thursday was a bad outing for the Cougars with seven of the Dolphins runs coming off errors alone. Southern didn't blink as they took full advantage on the offensive end with catcher Vanesha Naputi sparking the teams strong day from the first bat. Naputi cranked a single on the very first hit with an errant throw to 3rd allowed her to score the teams first run.
"It was super important to get off to that good start and I know it meant a lot to my team. This was a big game," said Naputi on the Southern's strong start.
The Cougars got an RBI from power hitter Olivia Salas in the 1st inning as well with Naputi tying the game with her scored run. Southern would keep the offense rolling with Kaleah Duenas and Chloe Sanchez bringing in runs to take a 3-1 lead after one.
Naputi would nix the Cougars in the 2nd inning with a heads-up play to catch a runner at second base to end the inning, keeping the Southern crowd roaring. Third baseman Jonese Taimanglo would eat up two straight grounders to beat the throw to first to deny the Cougars any bases in the 3rd.
In the same inning, Taimanglo would eventually turn her single into a trip home after two errors by the Cougars allowed her to extend the teams lead 6-1.
"I was kind of nervous at first, but they kept hitting it to me so I had to keep my head in the game. I was prepared for those plays that were coming at me. Our coach always tells us to prepare for what's coming" said Taimanglo on her and the teams strong defensive play.
Three errors in the infield would give the Dolphins three runs in the 4th as they took a commanding 10-1 lead. The Cougars would go three-up three down in the 5th with an error ending the game on a Xarla Hechanova score to final the game 11-1 via 10-run rule.
The Dolphins locked up the top spot in the playoffs going (7-0) in the regular season. Academy suffers their first loss and falls to (6-1).
It's right back to work for both teams with the Playoffs starting on February 22nd. The Cougars will play the Titans at GW while the Dolphins host the Bulldogs.
PHOTO GALLERY BROUGHT TO YOU BY: