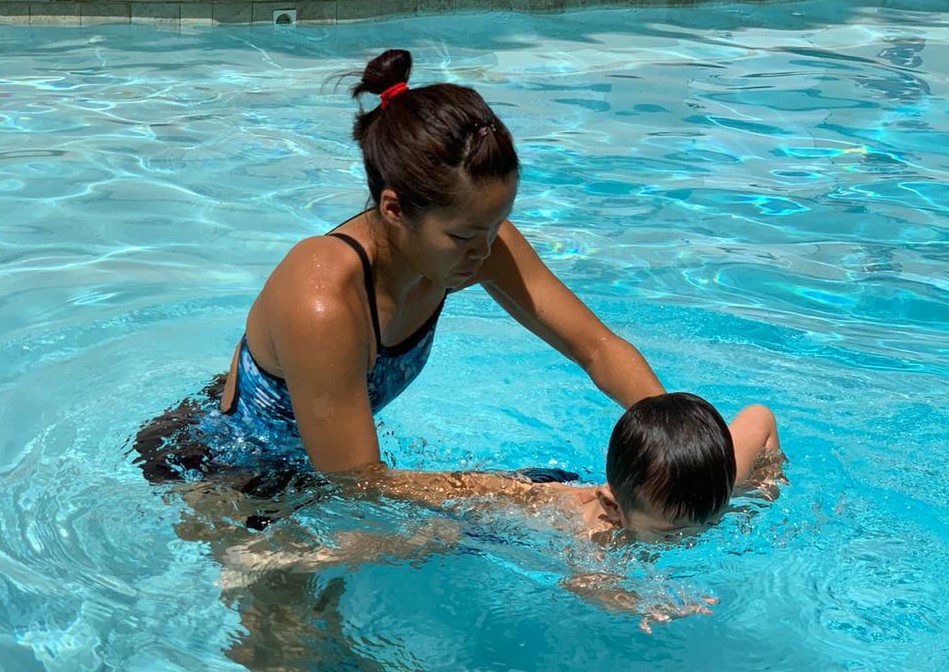 By Robert Balajadia
Before Manami Iijima Martin was a professional triathlete and even before she became Guam's fastest endurance runner, she was a swimming phenom that hit the water at three years old. Martin holds more than two handful of swimming records and her accolades in just the 2006 Micro Games alone accounts for 17 total medals.
The 2017 GSPN Athlete of the Year is as humble a star as they come. She has already fulfilled a long list of accomplishments before turning 30. Even in these unprecedented times, Martin stays connected to the sport of swimming by embracing the role of a swimming instructor, which just came as natural to her as the sport itself.
And although Martin has become a more comfortable teacher, she's dated back to leading a group as early as 10-years-old.
"I don't exactly remember when I officially started teaching. I think I was about 10 or 11, when one of the coaches couldn't make the practice for the younger kids so I was asked to help and I think that started it. I've always loved to help other swimmers from a young age so I think that's why I didn't hesitate to go and help coach," stated Martin.
It's a natural progression to have star athletes undertake a coaching or instructor role, but some of her clients aren't even able to read yet.
"I teach three-years-old and up. I don't remember how many people I've taken under my wing, but I do know that I loved helping each of them further their swimming and seeing their smiles when they too feel their progression," said Manami.
Manami's love for swimming is shown through her teaching as she always gets the most out of her students, as opposed to just getting from 'point A to point B' or 'being able to float'.
"I enjoy seeing their progress. The first day, most kids will cry but after a couple of sessions they become confident in the water and start enjoying swimming. It's very rewarding. One of the youngest swimmers I've had went from loving the water, but hating swim class, to swimming the whole length of the pool in less than a year. She is only three. It's impressive and I don't think I've ever seen a three-year-old do that. Also, I've enjoyed seeing the parent's reactions to the progress that their kids make."
The COVID-19 crisis hasn't affected Martin too much since most of her summer is already put into training and racing professionally, but the recent restrictions on traveling have made her want to open up more teaching sessions, with safety her top priority of course.
"I do want to get back into teaching, since there will be no races or traveling any time soon, but also would like my students to be safe. "
Manami is willing to accept more clients as soon as restrictions continue to lift from the pandemic and those interested can reach her on Facebook: Manami Iijima Martin or on Instagram @manamitris .
Manami's swimming accolades:
3rd – All Japan High School Swimming National Championships
6th – 33rd Summer Junior Olympic Cup
10 gold, 7 silver – 2006 Micronesia Games
5 bronze – 2005 Mini South Pacific Games
5 gold – 2005 Arafura Games


QUICK HITS
Guam MTB National Championship: Edward Oingerang and Jennifer Camacho are your 2023 MTB national champions. Oingerang finished the course in 1:13:24 while Camacho won her second straight title in 54:08.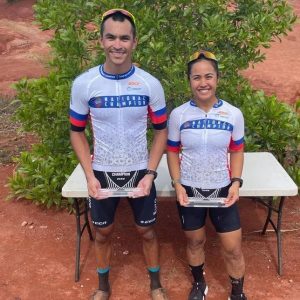 ——————————————
Kobe Miyashita, with St. John's coach Arvin Flores, was named the 2023 IIAAG Middle School Boys Volleyball MVP!