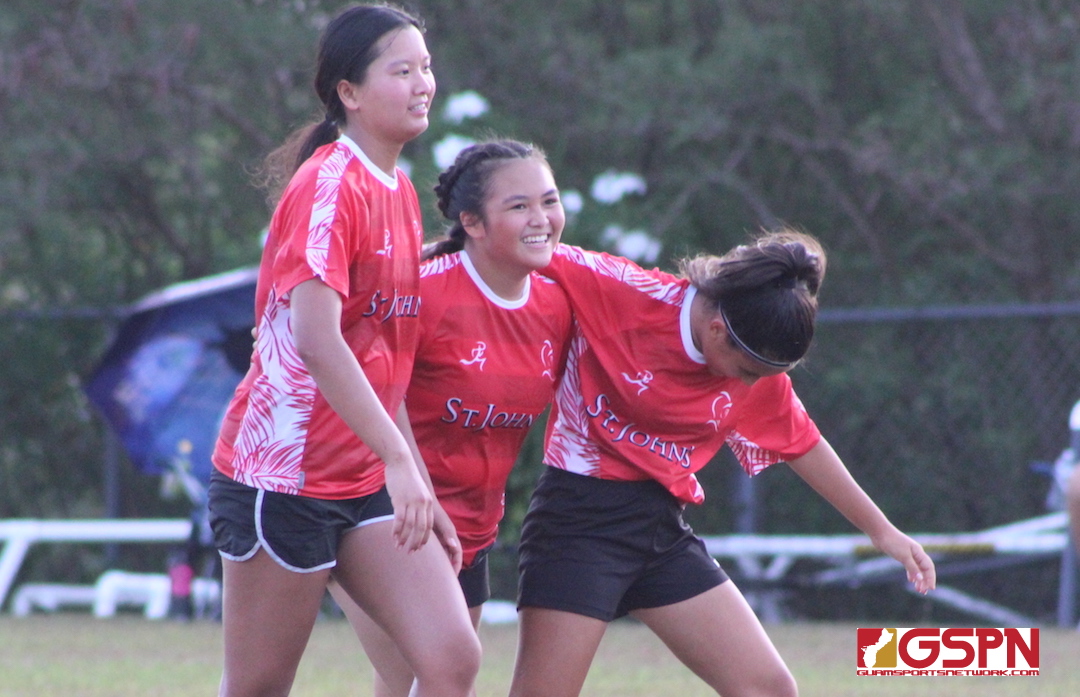 By Carmen Gogue
The St. John Knights dominated the defending champion ND Royals in a 2-0 victory between the leagues last two unbeaten teams in the IIAAG Girls Soccer League on Wednesday afternoon at the St. John's Field.
Wednesday's game provided a preview for this weekend's championship game which will take place at the same field this Saturday at 4:30 pm. With St. John's and ND sitting atop the four-team league, there will be no playoffs and instead the title game being played between the leagues top seeds, which wasn't going to change Wednesday no matter the outcome.
With veteran leadership on both sides, the hero of the day would instead be Knights freshman Annie Jones who scored the only two goals of the game in the 16th and 79th minute.
With this being Annie Jones's first high school season and playing against the defending champions of the league, it made the game that much more thrilling for the freshman.
"I was really terrified, but also really excited because I have a lot of friends on [ND] and playing against them means a lot," said Jones.
Scoring the only two goals of the game was motivating enough for the freshman standout as her teammates have come to rely on her ability to rise to the occasion.
"The goals mean a lot to me and their very special because it helps me take a bigger step forward for next season to do better." said Jones.
Not only was the Knights offense powerful, but a strong defense assisted to secure the win as junior Samantha Kenney and senior Tylee Shepherd played major roles in denying the Royals any chance of a goal.
To Jones, trust and teamwork is key for success.
"All of us trust each other with our own parts and we have to play together in order to win," Jones said. 
The Knights will challenge the Royals again for the IIAAG Girls Soccer League Championship this Saturday at St. Johns Field. Jones said her team is going to prepare for the second match up like a brand new game.
"You cannot look down on a team, they may come back a lot stronger," Jones said. "We're going to prepare for what they have next for us." 
The Guam High Panthers and Academy Cougars will play in the consolation game prior to the Championship.
PHOTO GALLERY BROUGHT TO YOU BY: