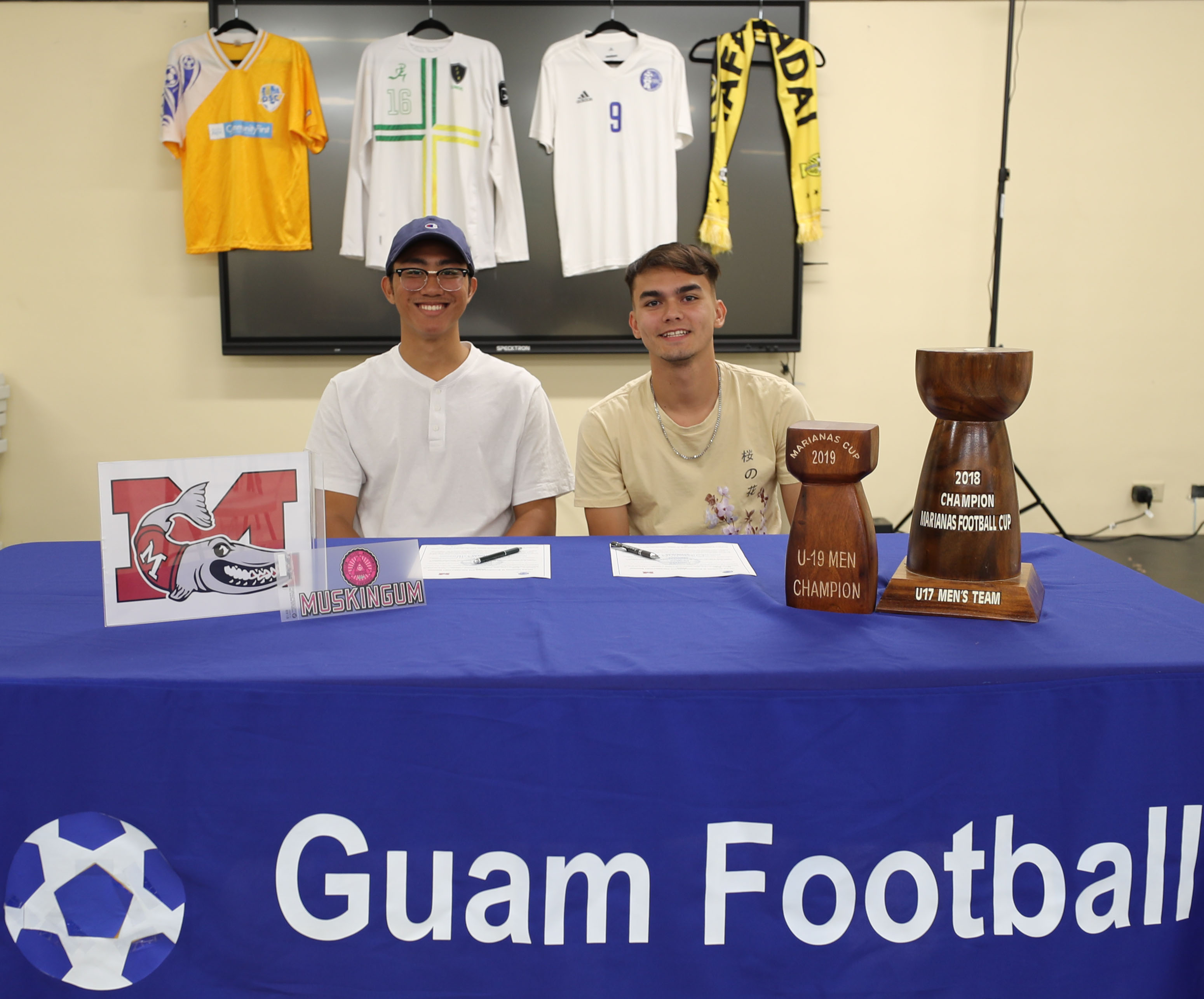 PRESS RELEASE – Christian "CJ" Kido and Noah Mueller are the latest standouts from the Guam National Program to move on to play intercollegiate soccer, with both John F. Kennedy High School Class of 2021 graduates signing letters of intent to play for the Muskingum University Fighting Muskies beginning this fall.
"I'm really excited to get this opportunity to play at the next level," Mueller said. "I'm expecting that it's going to be a lot faster, more technical – teams will have bigger guys.
"Being a Guam National Player and gaining international playing experience over the years, I know there are high expectations. I'm going to have to work hard to meet the standard at that level and perform well at that level," the 18-year-old added.
Both Mueller and Kido were introduced to the Fighting Muskies' Head Coach Adam Ponder through fellow Guam National Program teammate Morgan McKenna, who returns to the Ohio university's roster this year. Muskingum University competes in NCAA Division III's Ohio Athletic Conference.
"After getting this opportunity – I can't hold it in sometimes – I'm feeling a little nervous, but even more excited to play at the intercollegiate level," Kido, 18, said. "It'll be good to see where I'm at as a player at this new, higher level and to continue to improve as a player and contribute to my new team. 
"With this new opportunity, for me personally, I want to focus on academics first and soccer comes second at this stage; but this is definitely a step to where I want to go with the sport and I want to continue playing at the highest level I possibly can," added the Dededo resident.
Kido has been consistent with the Guam National Program, starting at the U10 level in the 2012 United Airlines GFA National Academy, working his way up to various youth national teams and competing in tournaments in Asia, including ones in China, Hong Kong, Vietnam, and Saipan. Mueller also has been a part of the Guam National Program, also traveling with Guam's youth national teams to a handful of venues in Asia, including Indonesia, China, Vietnam, and Saipan. Both have been consistently training with the U20 Manhoben team.
"We want all our players playing regularly at the highest level possible," said Dominic Gadia, Head Coach of the U20 Manhoben team. "Playing intercollegiate football is one of the best avenues for such pathways. The potential to achieve academic success and continue playing football at a level Guam cannot offer at this time is beneficial for the entire local football community. Their experiences will only help inspire the next generation of players.
"I hope they enjoy themselves and the experience college football has to offer. I also hope they achieve all that they are setting out to do and that they someday realize that their hard work and consistency to remain committed to their investments are an inspiration to the youth of Guam," Gadia added.
Kido played for the Community First/Days Inn Dededo Soccer Club and the NAPA Rovers FC in the Triple J Auto Group Robbie Webber Youth League and also for the ASC Trust Islanders in the Aloha Maid Minetgot Cup Elite Youth League. Mueller played for the Wings FC in both the Robbie Webber and Minetgot Cup leagues. Both Kido and Mueller played in the Budweiser Soccer League Premier Division with Manhoben Lalahi.
Mueller is the co-MVP of the 2021 GDOE ISA All-Island Selection for Boys Soccer and Kido is a 2021 First Team All-Island Midfielder, both playing for the JFK Islanders. The Islanders finished its 2021 season undefeated for the championship. Both players also were key All-Island players for the JFK championship team during the 2018-2019 school year.
Kido is the son of Jack and Christine Kido and has three sisters, Cassandra, Celine, and Ciara. He plans to major in Computer Science.
Mueller is the son of Dean and Gigi Mueller and has three brothers – Dean, Gavin, and Isaac, and one sister, Kendra. He plans to major in Biology.
Both Kido and Mueller depart Guam Monday afternoon. Muskingum University will play against Carnegie Mellon University in its first men's soccer match this fall season on Sept. 1, according to the university's Athletics Web site.

QUICK HITS
Guam MTB National Championship: Edward Oingerang and Jennifer Camacho are your 2023 MTB national champions. Oingerang finished the course in 1:13:24 while Camacho won her second straight title in 54:08.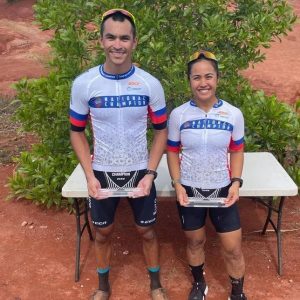 ——————————————
Kobe Miyashita, with St. John's coach Arvin Flores, was named the 2023 IIAAG Middle School Boys Volleyball MVP!