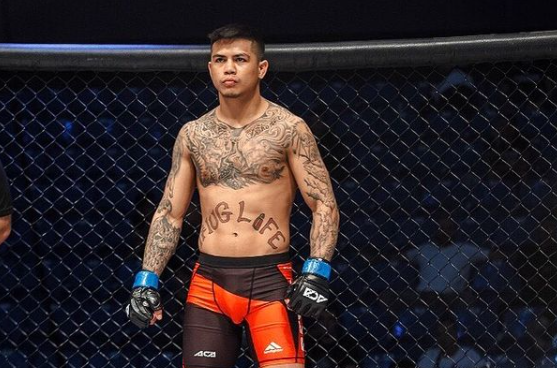 Kyle 'Boom' Reyes was put on life support after suffering an infection from his surgery last week. His family left a heartfelt message explaining the situation as well as how you can help:
As most of you may have heard our brother Kyle "BOOM" Reyes is in the ICU in Las Vegas, Nevada. He was found unresponsive Saturday night in his room. On Friday he had reconstructive surgery for his torn biceps on his left arm. The next 24 hours his health went downhill, and we almost lost him.
The doctors had found out he had an infection in his lung, pneumonia causing his right lung to collapse, oxygen levels at 50 which caused his brain to swell, he also had a temperature of 102°.
The infection had spread to both lungs, his organs were shutting down and we didn't know the extent of damage to his brains and if he would come back to the same goofy, determined, loving man that he is.
As of today Friday, one-week post-surgery, he is still in the ICU. He no longer has pneumonia, and his organs are healing and doing their jobs. He is still on the ventilator but he has progressed breathing on his own and hopefully they can remove the ventilators today. The doctors are concerned of the damage to his brain due to the swelling. He is more stable today, and they were finally able to do an MRI to see the extent of his brain injury. We are currently awaiting those results.
It was a long week for our family, each day small progress was made followed by heartbreaking news.
Our brother was a born fighter, and we all know he will get through this, he will continue to fight.
As we wait for the results of his MRI, our family asks you to say a little prayer for him.
In addition, many have asked how they can help. Our brother will not be fully functional and won't be able to return to his daily routine as a father and as a fighter. He definitely will need some help financially as he recovers and our family will also do all that we can to help him. If you can and want to, our family appreciates your donation during this trying time. It is okay if you are unable to donate, all we ask are for your prayers, for a full recovery. We believe in the power of prayer!
Thank you in advance!
Paypal: [email protected]
Venmo: [email protected] (@xena-joy)

QUICK HITS
The Figo Islanders 40s women's softball team took gold in the Senior Softball World Championship in Las Vegas. Figo came out of the loser's bracket and beat the Arizona Belles 17-3 in the AA division championship game Sunday afternoon.
Other Guam teams that played in the 40s tournament were: Team SOTTA (women's) and Bud Light Guam, Friars 671 and Sindalun Guahan (men's).
Sindalu finished a respectable 4th out of 24 AAA division teams.