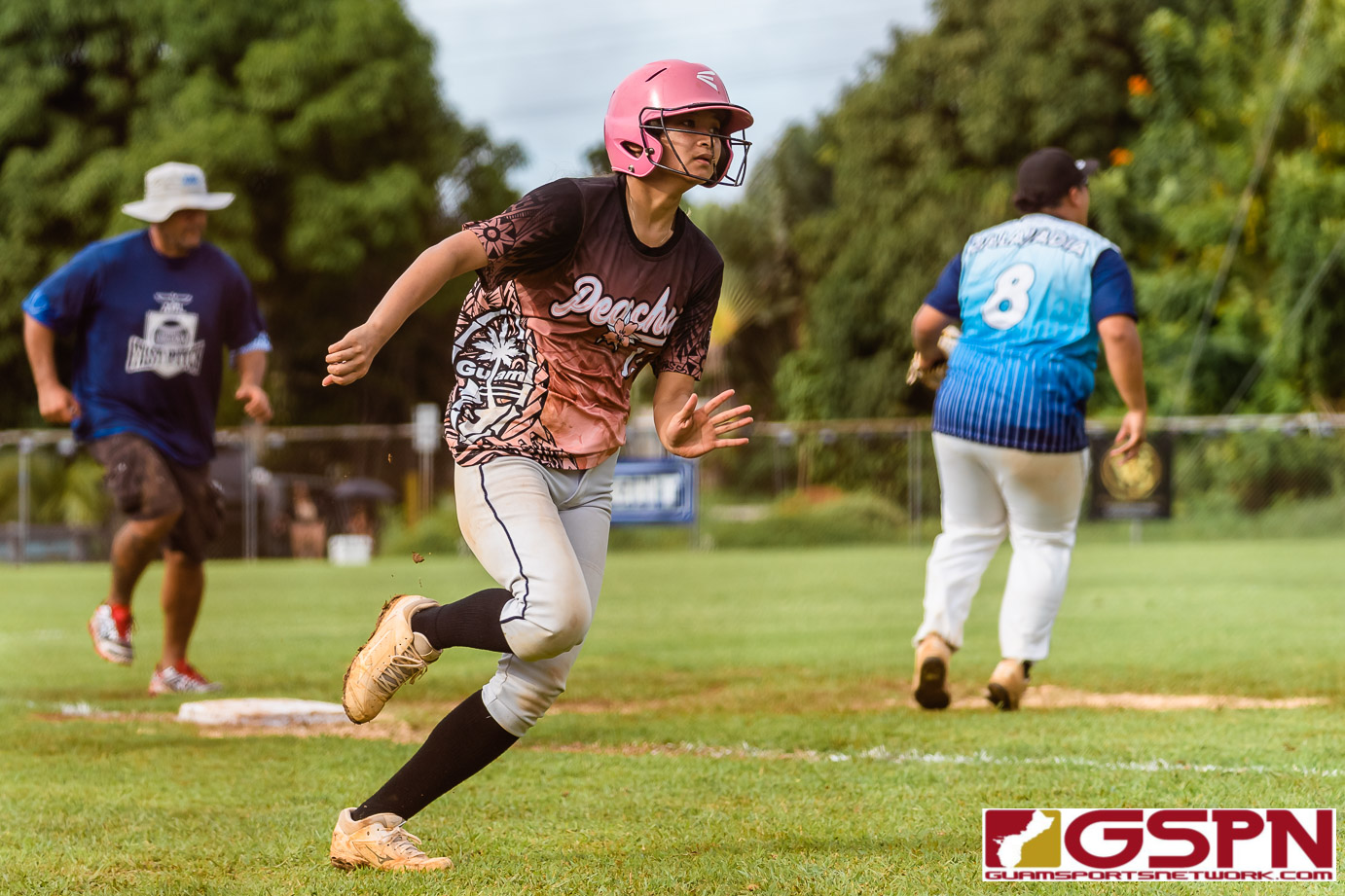 By Robert Balajadia
The APL Fastpitch Softball Championship Game will need an extra day of play as the underdog Peaches fought their way out of the 3rd place game and forced the 'if' game against the two-time champs Southern at the Piti Field Saturday afternoon.
Amidst a rain delay, the Peaches managed to take down the Blasters 12-4 in the 3rd place game and immediately jumped in to face Southern on a back-to-back, where they'd come out on top 15-10 to force tomorrow's winner takes all game. Southern went unbeaten in the double-elimination bracket which spots them their first loss.
A big 3rd, 4th and 5th inning where they scored 11 runs allowed the Peaches to stay alive another day. Down 6-2 in the 3rd, Talen Topasna unloaded a big two RBI double to get within 6-4, which turned into a 6-all game after Southern errors allowed two runs with two outs away.
An RBI single from Juliana Nelson would give the Peaches a 7-6 lead as RBI's from Ashley Mendiola and Janae Leon Guerrero put the Peaches up 9-6 in the 4th. An errant filled 5th allowed the Peaches to go up 12-7, the largest lead any team has had on Southern all season.
Southern fought back hard in the 6th scoring two runs to get within 12-10, but a crucial play was made at home made by Megan Maratita as she caught Jess Balajadia sliding at home for the final out after Balajadia attempted to go home on a pass ball.
Maratita added a big two RBI double in the 7th inning to get her team a 14-10 edge, followed by the final scoring play from Nelson to go up 15-10. Maratita stepped in as pitcher in the bottom of the 6th, with her defense closing out Southern three-up three-down in the 7th.
Southern looked strong early on in the first two innings with Tamisha Fejeran highlighting the 1st inning with an in the park home run to take a 2-1 lead. Southern kept the sticks hot in the 2nd inning with a double from Fran Blas sparking a big scoring spree. Southern would get three straight RBI doubles from Merced Flores, Fejeran and Jess Balajadia to take a 6-1 lead.
Starting pitcher Ashley Mendiola gets the win with three strikeouts and Maratita gets the save. Southern starting pitcher Kass Sanchez was relieved by Janise Quintanilla in the 5th inning as Sanchez finished with one strikeout and Quintanilla finished with three.
Tomorrow's game will begin at 12 pm tomorrow at the Piti Field!
PHOTO GALLERY BROUGHT TO YOU BY:

QUICK HITS
The Figo Islanders 40s women's softball team took gold in the Senior Softball World Championship in Las Vegas. Figo came out of the loser's bracket and beat the Arizona Belles 17-3 in the AA division championship game Sunday afternoon.
Other Guam teams that played in the 40s tournament were: Team SOTTA (women's) and Bud Light Guam, Friars 671 and Sindalun Guahan (men's).
Sindalu finished a respectable 4th out of 24 AAA division teams.