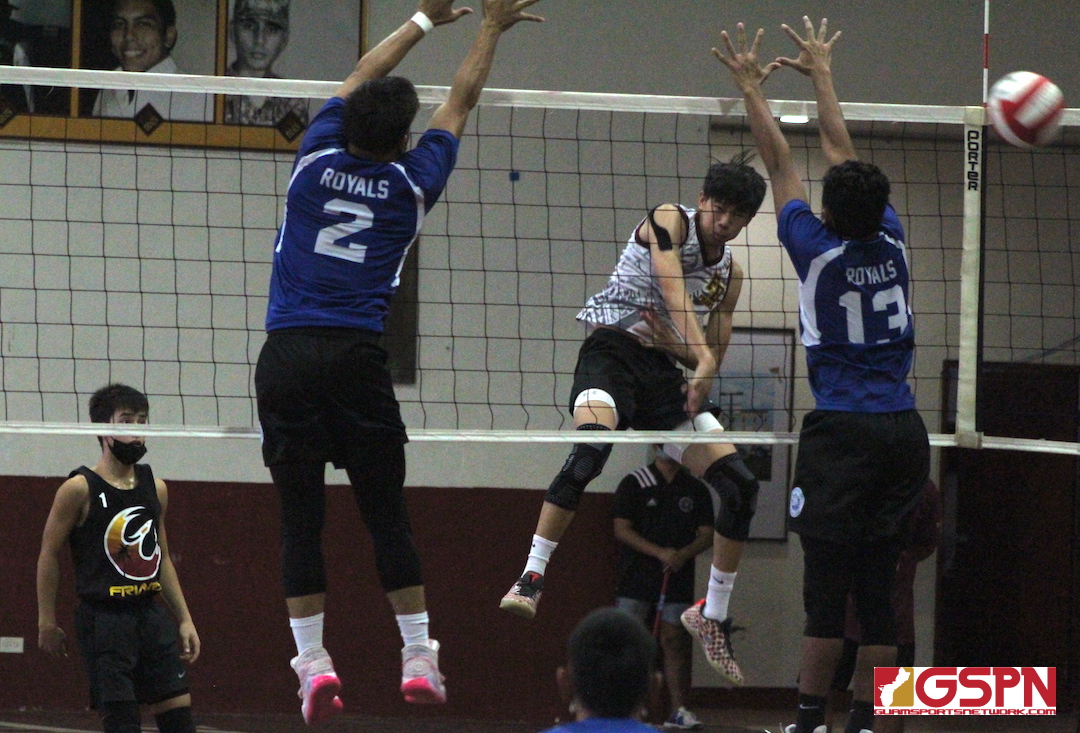 By Jay Leon Guerrero
The FD Friars are one step closer to making it four straight IIAAG Boys Volleyball championships. The top seed Friars kept their undefeated streak alive with a four set playoff semi-final victory over the ND Royals 25-19, 24-26, 25-12, 25-21 Saturday evening
The Harvest Eagles defeated the St. Paul Warriors 25-23, 23-25, 25-19, 25-23 at the Eagles gym.
FD's setter Elijah Garrido dished out crisp sets to the twin tower duo of Jeremiah Nguyen and Daryll Robles to entertain the home crowd at the FD Jungle. Nguyen and Robles combined for 26 kills to help the Friars advance to the championship game next Tuesday which will be against the Harvest Eagles.
"I'm excited to get back to the championship again especially since we missed it last year due to COVID. We are going to bring our best on Tuesday," said Robles.
Robles and Nguyen put on a show to start the contest combining for nine kills in the opening set with the Friars winning 25-19.
Royals make it a dog fight
The Royals stole momentum in the second set, jumping out to a 10-7 lead. ND's setter Justice Abalde provided good sets to Masato Rabago and Isaac Limtiaco to maintain their lead at 16-12.
The Royals were ahead 24-21 and looked to close the match but the Friars did not go down without a fight. Matt Santos from FD made two big plays, a block and a kill, to cut the Royal lead to 23-24. After a Royal timeout, the Royals had a chance to end the Friar comeback but a kill from ND's Nolan Sablan just missed the line and the game went into a deuce.
ND's Shayd Suarez gave his team the advantage with a clutch kill to go up 25-24. The Friars went to Robles to force another deuce but his kill was called out of bounds on the right side and the Royals tied things up 1-1 with a 26-24 victory in the second set.
Friars bounce back 
Going into the third set, the Friars regrouped and jumped ahead 5-1.
"We were playing kind of bad so our coach (Steve Pangelinan) told us to do what we do and play our best," said Nguyen.
The Friars committed just one service error in the third set. Santos also had two aces during the third set to help the Friars take a 2-1 advantage, winning the third set 25-12.
The Royals had their backs against the ropes and needed to win the fourth set or their championship hopes would be crushed. Sablan and Suarez each recorded a kill and ND was up 7-4 to start the fourth set.
The Friars regrouped and it was Garrido finding Santos for a kill that started 7-0 run. The Friars continued to increase their lead with Robles recorded two big kills and a block to put the Friars up 17-9.
The Royals did no go down easy with Charles Phillip, Sablan, and Rabago recording kills. Phillip's followed up with a huge block against Nguyen and the Royals were suddenly trailing by just three points (18-21).
The Friars responded after a timeout with Beach volleyball champion Kiko Damian making a clutch kill to go ahead 23-21. Garrido follows up after a free ball and finds Robles to set up game point. Santos served the final point with an ace to win 25-21 for FD.
The Friars will take on the Harvest Eagles which will be a rematch from two years ago. "We've been there before but we are just going to play our best and we will see how the outcome goes," said Nguyen.
The location for the championship game will be determined.
Nguyen had a game high 15 kills and four aces to lead FD. Robles added 11 kills and five blocks; Santos had six kills and four aces. FD underclassmen Ethan Alvarez had four kills, two aces and two blocks.
ND's Suarez had a team high five kills; Rabago recorded four kills. Sablan had three kills, four blocks and an ace for ND. ND will play Tuesday in the consolation game vs the St. Paul Warriors. 
PHOTO GALLERY BROUGHT TO YOU BY:

2022 GSPN I MÅS METGOT COMPETITION
2022 GSPN I MÅS METGOT COMPETITION
2022 GSPN I MÅS METGOT COMPETITION
2022 GSPN I MÅS METGOT COMPETITION
2022 GSPN I MÅS METGOT COMPETITION
2022 GSPN I MÅS METGOT COMPETITION
COMING SOON …
GNYFF Championship Saturday
2nd Annual Greg D. Perez Fishing Tournament on Saturday
GML Playoffs
1st Quarter Sports
QUICK HITS
Team Onslaught represented Guam at the National X-Ball League paintball tournament in Sacramento, CA. The squad finished in 3rd place out of 12 teams in the Division 5 category.
Front L-R: Frankie Borja, Robert Delos Reyes
Back L-R: Marvin Reyes, Ericka Camacho, Gavin Santos, Nick Rivera, Nikki Tan, Adrian Mora, Ralph Sgambelluri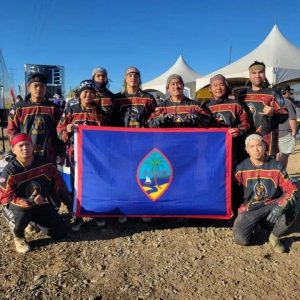 ———————————————–
Purebred Jiu-Jitsu Guam adds three more to their black belt stable. Daniel Cayanan, Cameron Mantanona and Peter Ungacta received their black belts on Saturday from Professor Stephen Roberto.