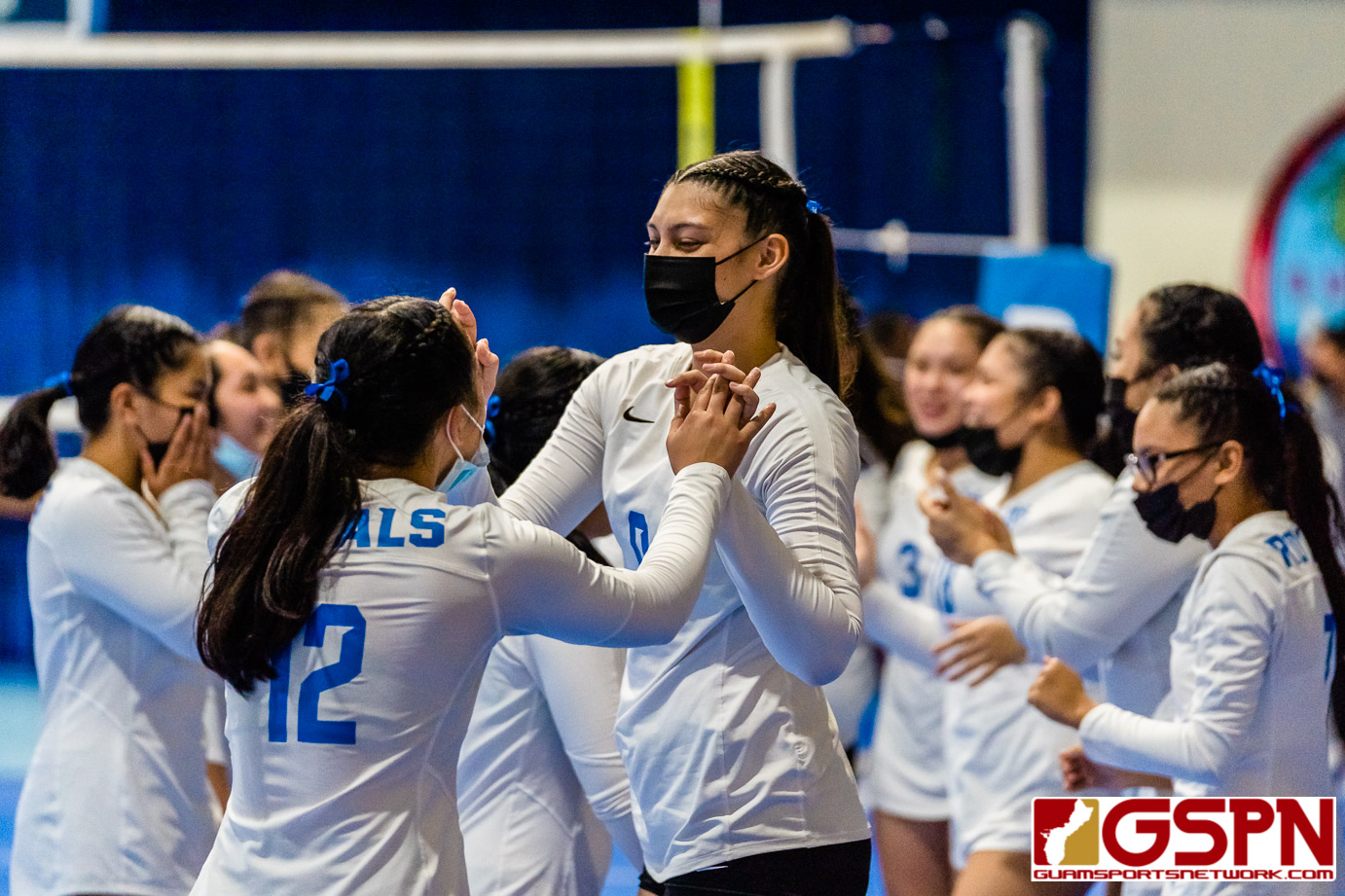 By Robert Balajadia
The ND Royals will be in the IIAAG Finals for the 5th straight season after defeating the Guam High Panthers in four sets 25-21, 28-26, 23-25, 25-18 in their semifinals showdown down South Friday evening. It was a close contest throughout, but the Royals got a big boost from their front line, namely junior hitter Seniayath Bell who led the team with 13 total kills.
Along with Bell, Royals middle Faith Piper had 8 kills and four aces while freshman Mercedes Mendiola-Cruz added 9 kills and two blocks to pace an efficient Royal attack.
"I knew that I needed to play a big role in this game. It's the playoffs and there's a lot of pressure, especially knowing we're challenging a good team like Guam High, you really have to bring it," said Bell on her big night.
A key point in the game was in the 2nd set where the Panthers held a 24-21 lead threating to tie the match at one set each. The Royals played calm and collected, leaning on Bell and Jaeana Lizama in their late set rally. Lizama would start the run by getting a big kill, followed by a serve ace from Bell to get within 24-23. Lizama would get another kill off a block to tie the game at 24 which set off a series of back-and-forth points.
Piper would put the Royals ahead on her fourth kill of the night 27-26 with Lizama getting an ace to end the set, putting ND up 2-0.
"Every time we play, our coaches always tell us to take one point at a time and we did just that. When we started gaining points again, the bench's support, along with the players on the court's support, really gave us the momentum we needed. We didn't dwell on the mistakes that were made and in the end, we just gave it our all," said Bell on finding a way to win the 2nd set.
Guam High didn't fold after losing the heartbreaking 2nd set, battling the Royals to another thrilling set finish in the 3rd. Panther Amoni Washington would shine late in the 3rd getting back-to-back kills to tie the game at 22. ND would turn to Piper, but she was unable to get going with two hitting errors and a service error allowing the Panthers to avoid the sweep.
The Royals didn't shy away from getting their leading lady in Piper going, once again turning to Faith late in the 4th set to put the game away. The Royals closed the 4th on a 7-1 run with three kills in that run coming from Piper.
"I love it. It's very fun when we're going back and forth like that. I knew we could do it, we may have got a little too comfortable, but we knew when it was time to pick it back up," said Piper on the thrilling end to each set.
The Panther duo had a stellar game as Kamryn Thompson had 14 kills and 5 blocks and Amoni Washington added 13 kills to lead their team. Bell was vital on the defensive end as well, digging up plenty of hits from the Panther duo after having trained with them under Guam Pro Volleyball Club.
"I kind of know their strengths and weaknesses and I tried to use that against them. Defense is such a really big thing for our team, we wouldn't be able to get any of those kills without the dig and the pass to set it all up," said Bell on keying in on defense.
The Royals will be without Piper for the Championship game next week as she's set to leave island. The team is expecting to ramp it up in practice with a full week between them and the title game next Friday.
"We're definitely going to be getting into some intense practices to work on our weaknesses, but we're going to play hard and keep playing the way we play," said Bell.
The Royals will play the winner of the St. John's Knights and Academy Cougars, which is set to go down next Tuesday.
PHOTO GALLERY BROUGHT TO YOU BY:

QUICK HITS
Bishop Obispos beat Mt. Carmel for the IIAAG Middle School Girls Basketball championship 37-25.
—————————————-
The Benavente Roadrunners crushed the Agueda Pirates 17-1 to win the 76 PONY Middle School Baseball League. Rodney San Nicolas was a beat, striking out 13 batters in a complete game while going 4-for-4 at the plate, including a homer and 4 RBI.