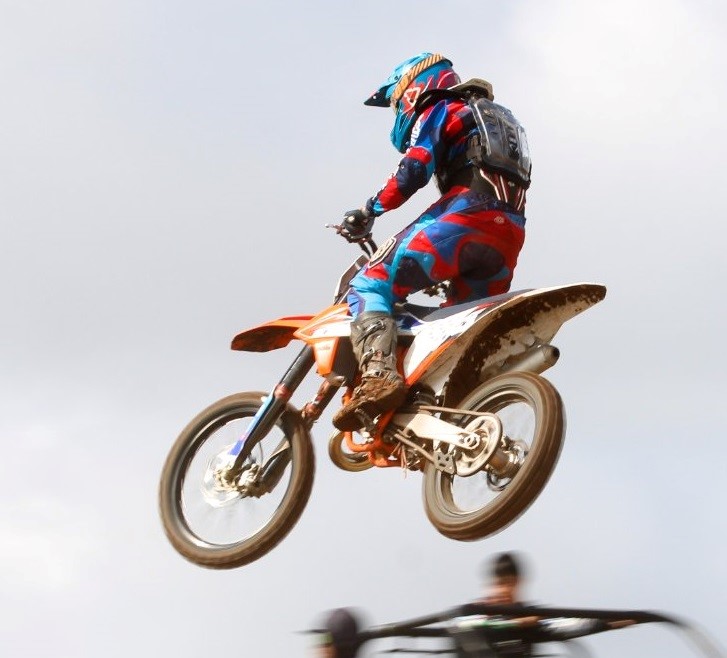 PRESS RELEASE – High speed offroad endurance racing was back at the Jose and Hermenia Calvo Memorial Offroad Park located at the Guam International Raceway in Yigo this past weekend as part of the APL Fiesta Race weekend.
From atv's and motorcycles to utv's and earth trembling fuel injected offroad racing rigs, this past weekend saw them all return for endurance racing after a long year of absence.
The course was spectacular with several features that sent the competitors soaring through the dust along with some quick sweeping turns mixed in the middle with a tight and technical section before you return to complete a lap. The course had a little of everything and who lot of challenges for the combatants.
First event up was the one-hour motorcycle and atv combined endurance where teams were limited to one machine and up to two riders who could then switch at anytime during the race in a designated hot pit location. The race was tough and included much of the motocross course along with a majority of the high speed offroad course which had a fresh thick layer of power sucking mulch spread on it.  At the start it was all team Wenden as the father and son duo got the early lead aboard their KTM 150 with Tim the father in control. Team Wenden held on to the lead for two laps before being slowly gobbled up by team Cycles Plus #85 Blaze Aiken racing ironman aboard the Kawasaki 250 took command of the race. Aiken was then followed by fellow team Cycles Plus Rider Little Jon Aguon aboard a Kawasaki 450 who was also able to get past team Wenden after several more laps.  At the 30-minute mark in the race the #85 of Blaze Aiken decided to come in for a quick pit which was all the reigning and multi time Guam motocross champion Little Jon Aguon needed to take the lead in the event.
After that, the race was all the #1 of Little Jon Aguon as he continued to click off the laps in the lead to take the checkers and the overall win with 20 laps completed. #85 Blaze Aiken finished second overall with 20 laps completed making it a one two overall finish for team Cycles Plus Kawasaki with team Wenden aboard their #33 KTM finishing in third overall with 20 laps completed. The rest of the field finished as follows:
4th #25 Team Larry and Lawrence Limtiaco 19 laps completed
5th #23 Team LG Racing with Jordan Leon Guerrero ironman19 laps completed
6th #921 Jason Monnin ironman 18 laps completed
7th #96 Team Local Strains of Sandlin/ Cruz 18 laps completed
8th #111 team of Merkley/ Smiley 18 laps completed
9th #57 team of Aiken/ Aguon 16 laps completed
10th #203 Jacob Kendal ironman 15 laps completed
11th #13 team of Larance/ Wenden 14 laps completed
12th #19 Zachary Chang ironman 14 laps completed
In the Open atv class Local Strains team 1st through third place sweep with rider #27 James Lujan taking his Yamaha to the top step of the podium by never pitting and keeping a consistent pace throughout the one hour event completing his 14th lap at the checkers as an ironman. Finishing in second was #8 the Local Strains team of Quirino Cabe and Tony Diaz aboard a Honda completing 13 laps and in third was #11 Aaron Blaz on a Yamaha completing 9 laps as an ironman.
Class Results
450cc
1st Little Jon Aguon
2nd Jason Monnin
250cc
1st #85 Blaze Aiken
2nd #33 Team of Tim and Richard Wenden
3rd #25 Team of Larry and Lawrence Limtiaco
4th #23 Team LG Racing with Jordan Leon Guerrero
5th #57 Team of Aiken/ Aguon
6th #19 Team LG Racing with Zachary Chang
Over 40 Vet class
1st #57 Team of Aiken/ Aguon
Womens Open
1st #13 Team of Larance/ Wenden
Father/son team
1st #33 Team of Tim and Richard Wenden
2nd #25 Team of Larry and Lawrence Limtiaco

QUICK HITS
Guam MTB National Championship: Edward Oingerang and Jennifer Camacho are your 2023 MTB national champions. Oingerang finished the course in 1:13:24 while Camacho won her second straight title in 54:08.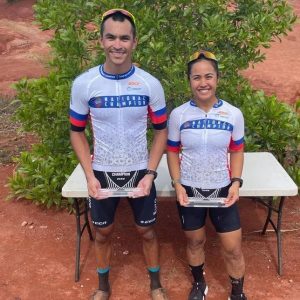 ——————————————
Kobe Miyashita, with St. John's coach Arvin Flores, was named the 2023 IIAAG Middle School Boys Volleyball MVP!