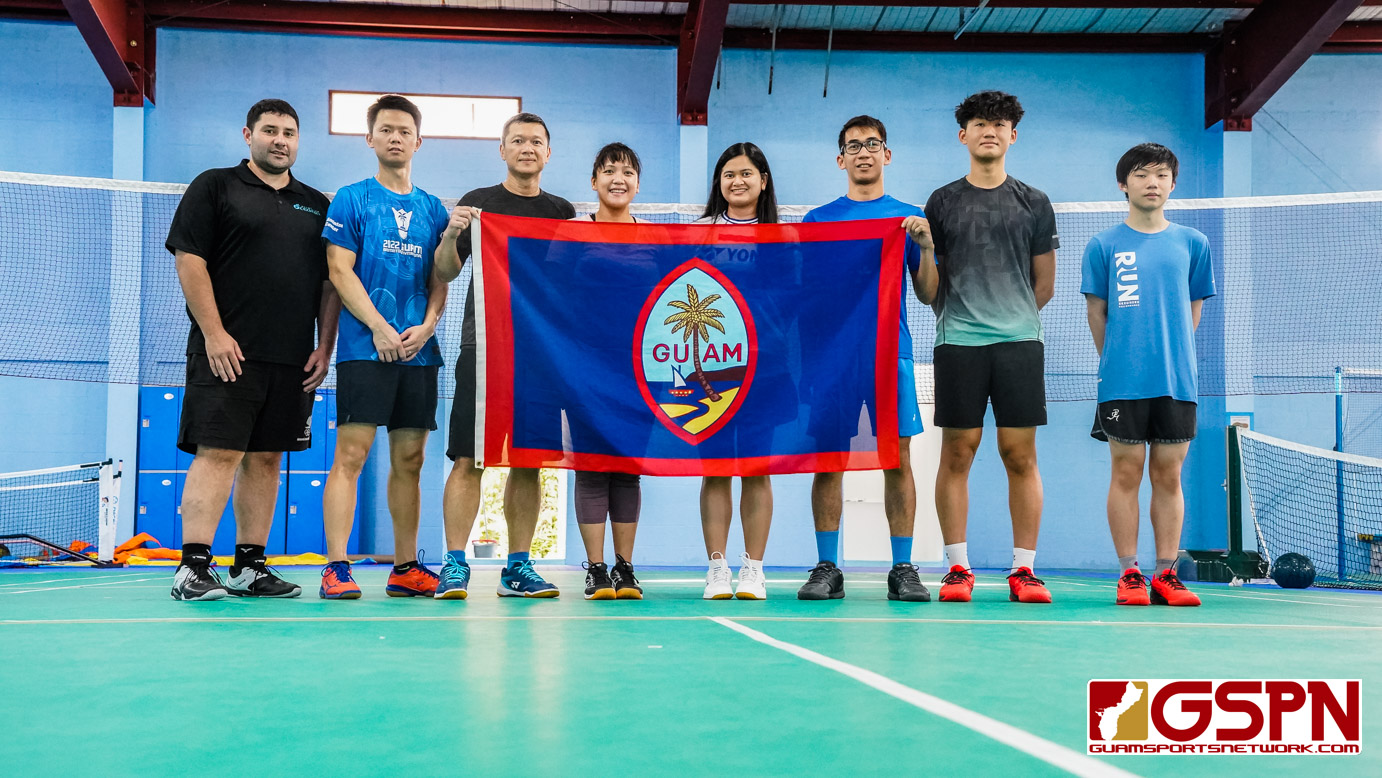 This is the eighth in a series of previews of Team Guam heading to Saipan for the 2022 Pacific Mini Games
By Jay Leon Guerrero
For the first time in Guam history, a national badminton team will represent Guam overseas. For their first competition, the team will have to take on the region's best at the Pacific Mini Games.
The Guam contingent will send a complete male team of four and two females. Their competition has started the preliminary rounds and will end on June 25th. All games will be played at the Gilbert C. Ada Gymnasium. A total of seven countries will play with a total of 64 athletes.
A HOME OF THEIR OWN
The Guam National Badminton Center opened their new gymnasium recently along Bello Road. The sport is heading in the right direction and the Mini Games will be just the beginning of Guam Badminton.
Badminton roster:
Jin Zhe Chung
Chen Yang Hu
Mary Ellaine Labang
Sunardi Li
Raynold Quilla
Jennica Silva
Rui Wang, Coach
"The goal is to have the players to gain experience and compete against international competition," said coach Rui Wang. Wang said the new facility will help the sport grow and hopes to raise the level of competition in the upcoming years.
"This is the only dedicated badminton gymnasium on Guam. We are serving the community on Guam, not only for our players but anyone who wants to try badminton," said Wang. "We look forward to the future and welcome our juniors to join us."
"I'm very excited for my very first competition, it is an honor and a privilege to represent Guam at the Mini Games," said Jennica Silva. "Prior to the pandemic, we had training just Tuesdays and Thursdays at the Guam Sports Complex. Now, we have a new facility and we are training more often".
"Its great for us to have this new facility that is available to us daily," said Mary Ellaine Labang. "We had to share the facility before at the Guam Sports Complex, so having this new facility has helped us with our preparation."
Robbie Thackham, who is with Oceania Badminton, paid a visit to the Guam team to help them for their first international tournament. Thackham, who is from New Zealand, will also travel to Saipan to assist with the Games.
"It's really groundbreaking to have a new badminton gym here which has opened new opportunities to new players," said Thackham. "Its a good strong foundation for future players, especially to junior players."
Games Overview
The 2022 Pacific Mini Games will commence from June 17-25 in the Northern Marianas Islands. A total of nine sports will be played with seven sports played in Saipan while the other two sports take place in Rota and Tinian.
Athletics, Badminton, Baseball, Beach Volleyball, Golf, Tennis, Va'a and Weightlifting will be in Saipan. Beach Volleyball consolation matches will be played in nearby Tinian and the triathlon will take place in Rota.
The Guam contingent will be the largest since the 2005 Mini Games held in Palau. Guam's best performance was in Palau with six gold medals, nine silvers and 14 bronze medals.
Guam sent small contingencies to the 2009 (Cook Islands), 2013 (Wallis and Futuna) and 2017 (Vanuatu) Mini Games but were unable to come home with a gold medal.
The 2022 games will be the first time since Palau hosted the Games in 2005 that Guam will be sending a larger contingent. Guam will be sending more than 50 athletes which is the largest to date.
PHOTO GALLERY BROUGHT TO YOU BY:

COMING SOON …
High school girls volleyball playoffs
Brawl 3: Oct 13
Guam's Strongest Man and Woman Competition October 29
QUICK HITS
The Figo Islanders 40s women's softball team took gold in the Senior Softball World Championship in Las Vegas. Figo came out of the loser's bracket and beat the Arizona Belles 17-3 in the AA division championship game Sunday afternoon.
Other Guam teams that played in the 40s tournament were: Team SOTTA (women's) and Bud Light Guam, Friars 671 and Sindalun Guahan (men's).
Sindalu finished a respectable 4th out of 24 AAA division teams.