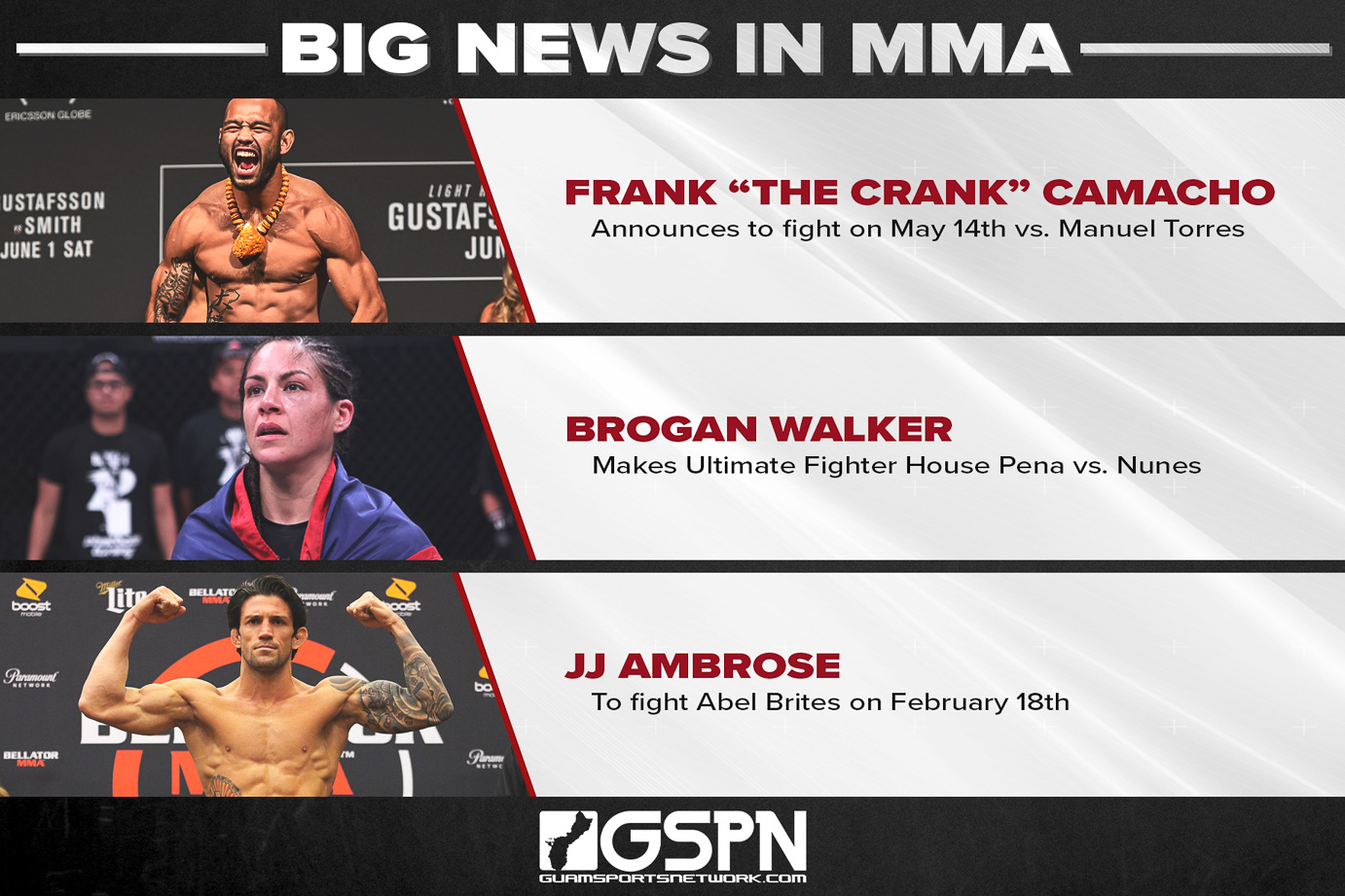 By Robert Balajadia
This past weekend was a big one in the world of MMA for Guam as Frank 'The Crank' Camacho, Brogan Walker and JJ Ambrose all broke news of upcoming events.
Camacho announced that he's scheduled to take on Manuel Torres on May 14th, his first UFC fight since 2020 after missing fights due to COVID-19 and a car wreckage that required rehabilitation.
Brogan Walker also made UFC headlines after announcing that she'd been selected to compete in UFC's Ultimate Fighter 30 Pena vs. Nunes.
Ambrose also shared that he's scheduled to fight on February 18th against Abel Brites in Hex Fight Series 22 .
Camacho excited to showcase two years of training
Marianas local fighting favorite Frank 'The Crank' Camacho happily announced he's headed back into the UFC Octagon after two years. The biggest difference this time around is that Camacho's fight day is in May, which is giving him over three months of prep time instead of what he's used to in six weeks of fight prep. The three months in between now and his fight will be spent on fine-tuning, but Camacho has been putting in a world of work since his last fight and is excited to showcase his improved version.
"Endurance," said Camacho in what he feels has really benefited in his improvement. "I did a lot of long distance running, cycling and such which has unlocked a new game to fighting… It's nice to actually begin a training camp in shape. The COVID-19 situation really helped me incorporate more workouts outside of the gym."
The physical anguish Camacho has dedicated to training is tough enough, but the mental aspect from being away while sitting on two-fight skid has been a battle as well. Although, Camacho credits his support system for holding it down for him whenever he needs.
"I really did missed out on fight experience these two years. It's missing two years of climbing the ranks and freaking income! That adds all in the mental aspect. I'm so fortunate that I have a very strong support system. You only see 15 mins of me, but outside the ring and 24/7 it's Frank Camacho, his family and Island. I'm fortunate to have a strong group of friends and a very supportive family and wife. That's been the key," said Frank.
On the upside, becoming mentally strong and adding new elements to his game may have just been the recipe what Camacho feels is the best MMA version of himself.
"Totally," said Camacho on if he feels he's in his prime. "You know how they say this is where all the stars align? I completely get what that means. This is what everyone is talking about. I feel like I'm dialing in everything right now. Being at this age is forcing me to not ignore that," stated Camacho.
Frank will spend majority of his time training on Guam before he leaves for fight camp as his fight draws near.
Walker makes Ultimate Fighter House
Coming off her biggest win yet in Invicta FC 44, an all-women's fighting organization, Brogan Walker will enter as one of the 16 flyweights in UFC's Ultimate Fighter series Pena vs. Nunes. Brogan has a professional record of (7-2). The Ultimate Fighter 30 is set to start airing on May 30th.
Brogan becomes the second Guam athlete to compete in the Ultimate Fighter as Jon Tuck represented Guam in 2012.
Purebred Jiu-jitsu was the first to break the news of Walker's acceptance into the house, sending a press release about the big accomplishment over the weekend.
Ambrose to fight Brites on Feb. 18th
'Superman' JJ Ambrose (34-9) will lace up to take on Abel Brites (12-7) in a couple of weeks as part of Hex Fight Series 22 in Melbourne, Queensland, Australia on February 18th.
Ambrose is sporting a (4-1) record in his last five fights with his lone loss coming via stoppage by Spike Carlyle late last year. Ambrose did showcase excellent striking and wrestling in his fight against Carlyle in the opening round before the knockdown and stoppage in the 2nd round.
JJ agreed to do a post fight feature after his bout with Brites!

QUICK HITS
The Figo Islanders 40s women's softball team took gold in the Senior Softball World Championship in Las Vegas. Figo came out of the loser's bracket and beat the Arizona Belles 17-3 in the AA division championship game Sunday afternoon.
Other Guam teams that played in the 40s tournament were: Team SOTTA (women's) and Bud Light Guam, Friars 671 and Sindalun Guahan (men's).
Sindalu finished a respectable 4th out of 24 AAA division teams.