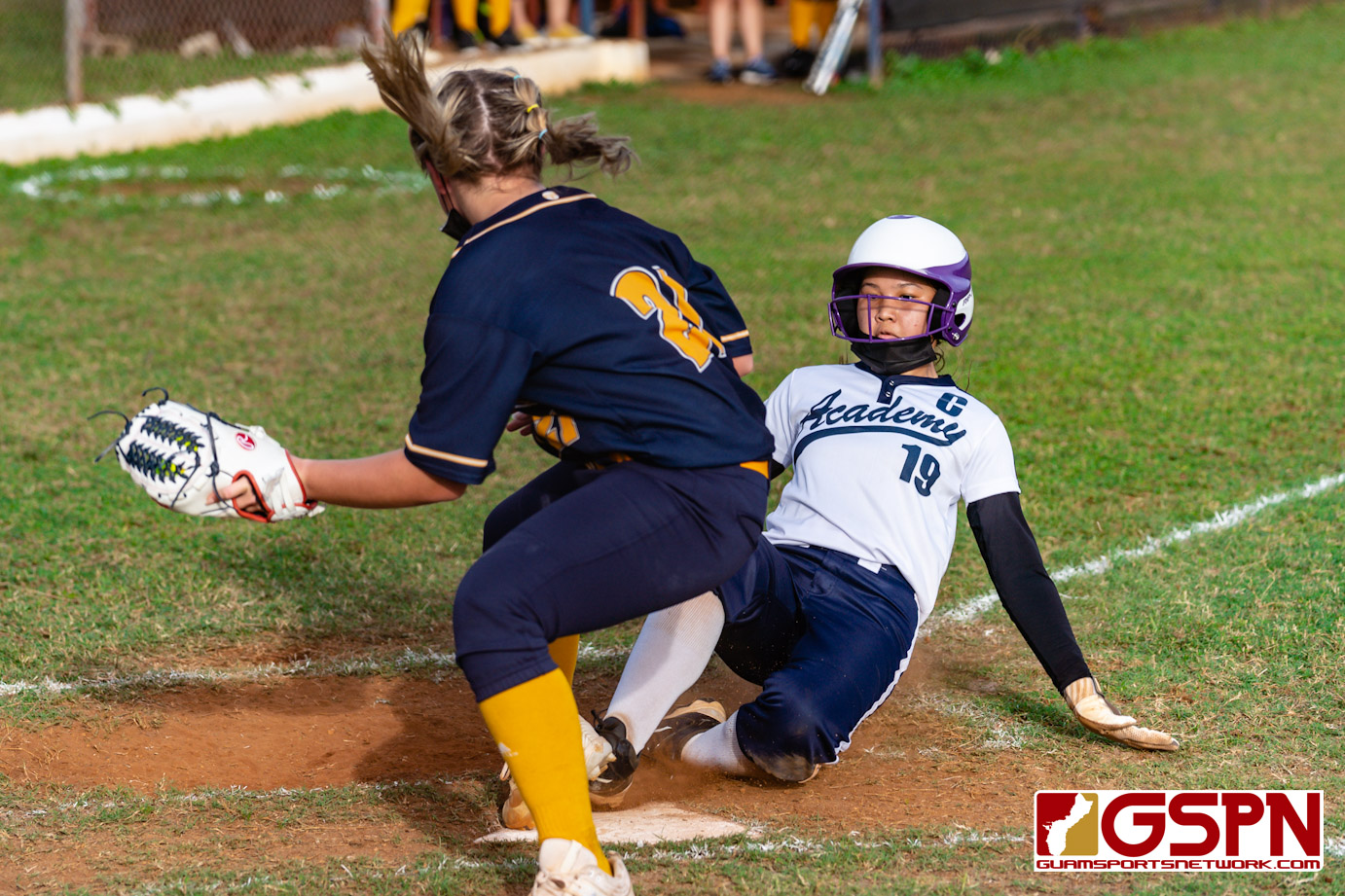 By Robert Balajadia
The defending champs of ISA Softball, the Academy Cougars, were in a bit of a rut Thursday as they were staring down a 4-0 deficit against the Guam High Panthers heading into the bottom of the 4th inning. The Cougars flipped a switch and woke up the sticks for the rest of the game as they rallied to beat the Panthers 9-7.
While down 4-0 and heading into the bottom of the 4th, Cougars coach Marissa Maratita huddled the girls together for a pep talk and the Cougars instantly responded.
"We just had each others back and knowing that we should always keep composure with each other. And no matter what happens, we should always just laugh it off because every pitch is a new pitch," said Dangan.
Cougar Kadynce Chaco got the momentum going with a lead single. Teammate Giana Sablan followed suit with a single of her own which prompted an error that gave the Cougars their first run of the game. Jenevea Guerrero smacked an RBI triple for the teams second run and Noelle Chun added to the fire with an RBI to get within 4-3.
"It came down to who had the most heart and I believe we did. The pressure really helped us because pressure is a privilege," said Chaco on the girls playing from behind.
Dangan would tie the contest off an RBI triple that really ignited the Cougar dugout.
"We feed off each others energy. The bench was really there for us today," added Dangan.
"We have to thank the bench because they're our biggest supporters," added Chaco.
Academy took the lead off a Branwen Saville sac-bunt, allowing courtesy runner Micah Lacson to trot home safely.
Guam High responded in the 5th after starting pitcher Brinlynn Hardt tied the game off an RBI double, but the Cougar defense would keep the game tied at five each.
Academy's sticks stayed hot in the 5th with Chaco highlighting the inning with a triple. A pass ball would allow Chaco to steal a run to retake the lead, and this time for good. Errors would plague the Panthers in the 6th, including a triple from Savanna Aguon that turned into a Cougar run after confusion in the infield from Guam High as soon as Aguon hit 3rd base to allow Academy to jump out to a 9-5 lead.
Hardt would bring in the Panthers final run in the top of the 7th inning to get as close as 9-7, but the Cougar defense would get the final out to secure their second win of the season.
The Cougars will take on the Bulldogs next week Tuesday while the Panthers will face the GW Geckos on Tuesday as well.
PHOTO GALLERY BROUGHT TO YOU BY: